This creator built an LGBTQ+-friendly site for car talk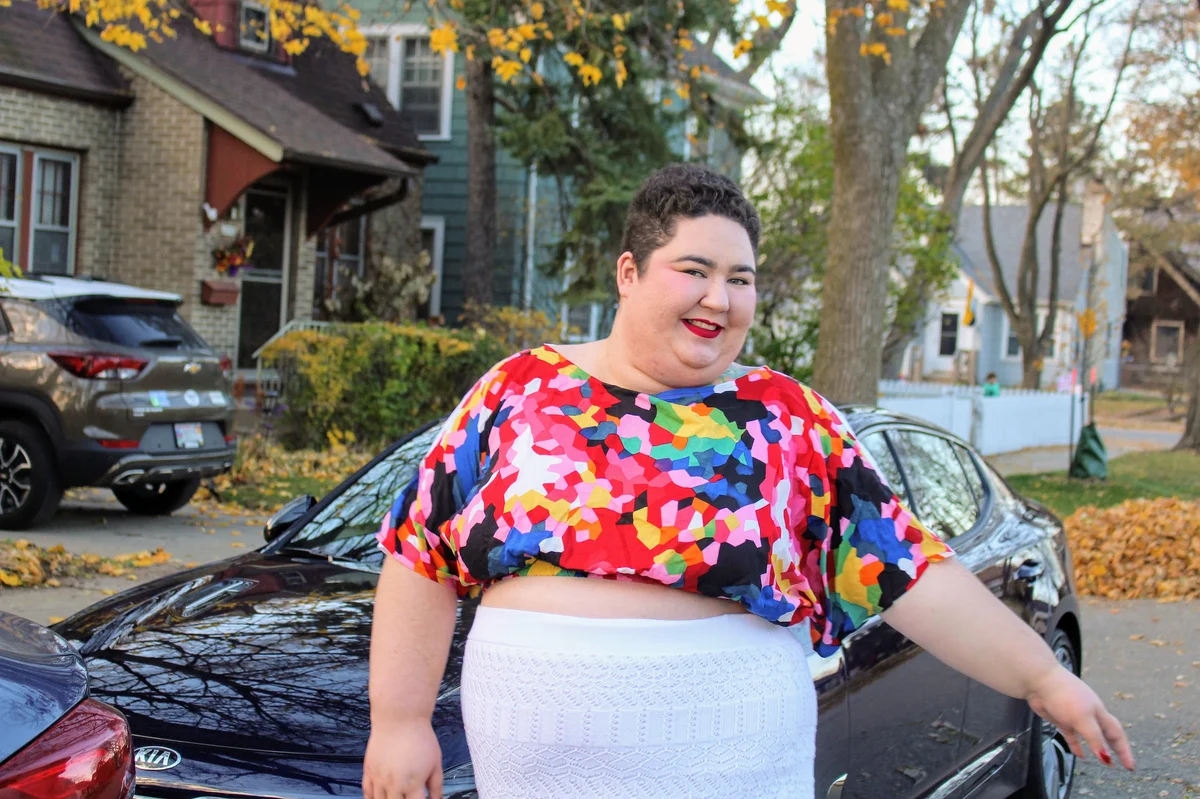 Queer automotive educator, journalist and influencer Chaya Milchtein has carved out an unexpected niche at the intersection of the LGBTQ+ community, car repair and empowerment. Starting with blog posts that answered common questions about auto maintenance, she gradually built up her brand, Mechanic Shop Femme, into a mini-empire that spans workshops, one-on-one consultations, articles and podcasts, and more.
It wasn't a path she ever expected. On her own at the age of 18, Chaya was "desperate" for a job. A connection landed her a position in the auto department at Sears, even though she didn't even have a driver's license when she interviewed for the job. But she really enjoyed working with customers and explaining what was wrong with their vehicles. "I'm what I like to call a translator — I translate complex car topics and information into language that the average consumer can understand," she explains.
While she enjoyed the work, she felt she had reached a ceiling by 2017. Climbing the corporate ladder was a possibility, but she didn't want to stop working directly with customers, the part of the job that gave her the most joy. Meanwhile, friends in the queer community were regularly reaching out for car advice. A career coach suggested starting a blog — and even though Chaya didn't have a lot of confidence in her writing skills, she jumped in.
Chaya's posts demystify all things automotive for an inclusive audience.
Almost immediately, Chaya started planning her next steps and trying to figure out how to turn her concept into something bigger. In addition to the blog, she started offering online classes on car topics, which led to more classes and speaking engagements. She also launched a career as a freelance writer, landing bylines in publications like Real Simple and Shondaland.
All of that came in handy when she got laid off from her job in April 2020 and decided to scale up her efforts. Mechanic Shop Femme is now her full-time gig. Chaya explains how she managed to build a following and unite a diverse range of interests under the umbrella of her website.
Show your whole self
From day one, Chaya was open about who she was, from the name of her site to posts about her wife. "It was important to me that I could show up as my full self," she says. She also recognized that her unique point of view is an attraction. "There's lots of places where you can learn about cars, but none quite from my perspective," she points out. "Cars are what draws people to me. And they learned that I was queer and obviously saw that I was fat and where I come from, and they would stick around for the full meal. Because that's what was interesting."
Showing that she's part of the LGBTQ+ community also helps build trust among an audience that may feel intimidated by or excluded from car-centric settings. "I want to make sure that the people who come to my platform know that they're not just there to learn about cars, that the space I created is not just something where they're an afterthought, but that they're welcome."
Venture outside your niche
One piece of advice Chaya often heard was to focus on one topic. "While that might be great advice for some people, that's not necessarily good advice for everybody," she says. On the blog, Chaya weaves in a queer or body-positivity angle on everything from fashion to travel in addition to her car content. Exploring different topics helps attract different and new readers, and it keeps her from burning out on car talk.
Besides cars, Chaya regularly posts about fashion, body positivity and sex. Her plus-size swimsuit lookbook is one of the most popular posts on Mechanic Shop Femme.
Treat your site like a business
Chaya refers to her work as an octopus with different tentacles — her blog, her classes, her journalism and her consulting, with her website at the center. "If you want to book a call with me, if you want to pick a class, if you want to read my writing, my website is going to have all of those things," she says. From the start, it was important for her to own her platform rather than focus solely on social media, where influencers have less control. "I've spent a lot of time on TikTok, it's part of my overall business strategy," she explains. "But I'm aware this platform can go away, unlike my site, where I own the content."