Gen Z creator uses the web to educate on racial justice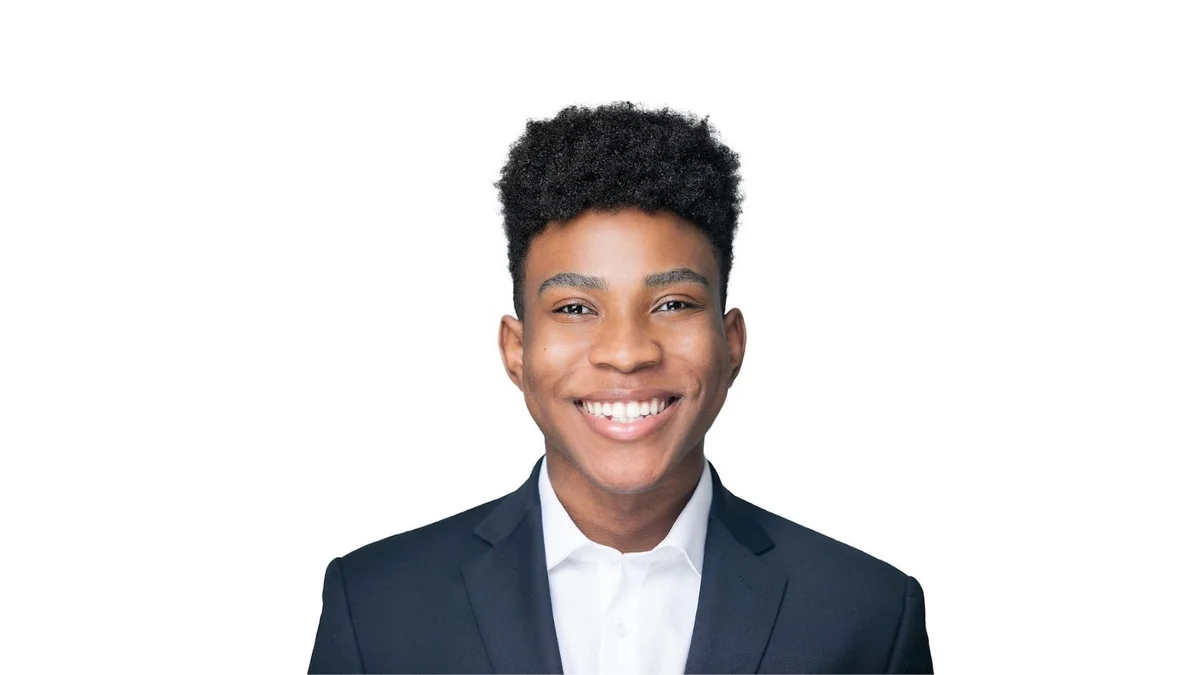 Kahlil Greene is a self-described "Gen Z historian" who uses social media to advocate for change. He established himself as an influencer, educator and voice for justice with his thought-provoking videos, engaging oratory style and eye-catching graphics. He has more than 500,000 followers and 20 million views across his social media profiles — with 5.5 million likes on TikTok alone.
From influencer to entrepreneur
Kahlil first used social media to educate, activate and inform students while he was a sophomore at Yale. He was elected the college's first Black student body president, and worked to represent student activists, whose voices were historically marginalized or suppressed. To help do so, he designed social media infographics for the Yale College Council, and their Instagram post on "Being the Change" lists over 70 advocacy projects that were completed under his leadership.
Off campus, Kahlil worked to develop an online presence as a racial justice advocate, using his TikTok and Instagram accounts to spark candid conversation about Black history and racism. His Juneteenth slideshow on Instagram from July 2020 "went insanely viral," with over 57,000 likes. Another post from a month earlier about how people talk about violence against the Black community gained as much attention.
Kahlil's Instagram profile features his take on current events, using videos and infographics.
Today, Kahlil is an in-demand public speaker and consultant, educating schools, nonprofits and businesses on diversity, equity and inclusion (DEI) initiatives. He also works with brands on their corporate social responsibility campaigns. "I share a Gen Z perspective on subjects related to history, culture and politics," he explains. "I can amplify arguments that other Gen Zers might not be able to make. I'm forging a bridge between our generational ideas and large organizations and their leaders."
Brands value the perspective and insights Kahlil brings, as they seek to reach Gen Z — a socially conscious, social-media savvy generation. "Society is trending towards the values that Gen Z holds," Kahlil says. "Gen Zers are graduating college and choosing where to work. I wrote a Harvard Business Review article about how companies fail to meet those standards. Diversity and inclusion is not a 'nice to have' anymore. It's a 'need to have.'"
As Kahlil's influence grew, businesses were reaching out to him via his email links on social media. "But those [profiles] didn't tell people enough about me," he says. "Other creators I admired had websites with blogs that looked very professional." Kahlil decided he needed his own website to develop his voice as a writer, showcase his work and create a hub for his brand.
Kahlil's website pulls together his experience as the Gen Z Historian.
Creating a business website
Kahlil launched his Gen Z Historian website in March 2021, bringing together his ideas, experiences and media coverage. "I wanted my own space where I could document my journey and develop deeper connections with people," Kahlil says. A website also gives Kahlil ownership over his content, he notes. In January 2022, he launched his blog, where he posts long-form articles such as "What Is DEI in the New Decade?," a popular topic for his public speaking.
Kahlil keeps an editorial calendar and posts frequently, including around holidays, remembrances and other events, such as Martin Luther King Jr. Day. His ongoing Instagram series on "Hidden History" tells America's untold stories, such as the link between racism and the Salem Witch Trials. He plans to reach an even wider audience through book, podcast and TV projects in the works.
Kahlil encourages other advocacy-focused creators to find their voice on major online platforms to engage and enlighten audiences.
Finding a voice
To creators seeking a platform for advocacy, Kahlil offers this advice: "Find out what is not being said clearly, and use your voice to clarify that. Also, find topics that haven't been talked about to death. A lot of my niche and audience come from either ideas that I clarify with my communication style or ideas that exist but haven't been shared for mass audience engagement. Those are the ways that you grab an audience if you want to be an online educator."