How these photographers built a strong web presence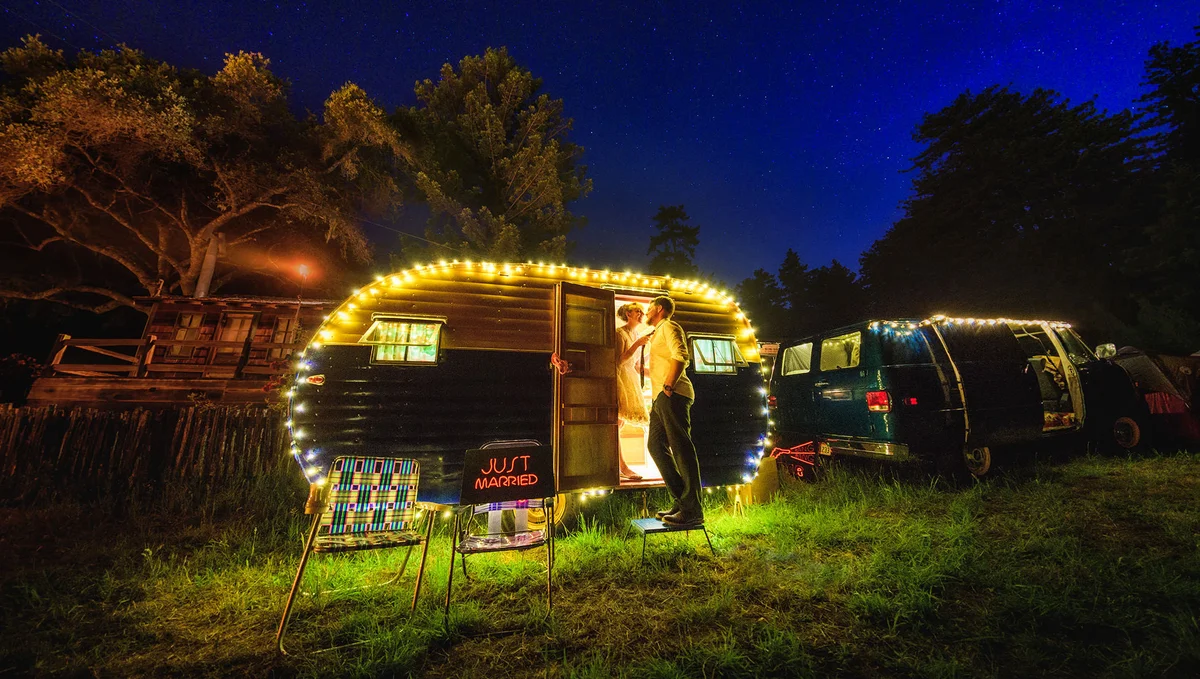 Lily Chou and Chris Anderson, the married duo behind Wild About You Photography, have captured a lot of people in love. The California-based wedding photographers started their business in 2012, and have become known for their dramatic shoots of unconventional engagements and nuptials — like ones in forests, at amusement parks or with a sci-fi fantasy theme.
The Wild About You website hosts a vibrant portfolio of the couple's work, along with a blog that shares behind-the-scenes stories from the celebrations they photograph. Although Lily and Chris admit it can be tough to regularly update the site with fresh content, they say their business couldn't exist without an engaging hub online.
"You can't have a business without a website," Lily says. "For random people to find you, a web presence is crucial in this day and age."
And because most of their clients find them through a web search, Lily and Chris know it's worth the time and effort to make sure the content they post on their site looks good, represents what they do, stands out from their competition and is easily discoverable.
Here are some tips Lily shared for photographers, small businesses and other creators to maximize their web presence.
Chris Anderson and Lily Chou are the married couple behind Wild About You Photography.
Use a website builder that speaks to your needs
Thanks to platforms like Squarespace, Wix and Weebly, most people can build a website without knowing how to code — but it's important to find the right match. When Chris and Lily first launched their website, they used a general template from a standard website service. It did an OK job, but it wasn't quite the right fit for uploading and displaying images. After a few years of "just making do" with two websites built from general templates, they built a new site using Good Gallery, a platform specifically geared towards photographers.
"The photo-focused website builder made everything easier, like uploading photos, organizing them into galleries and presenting them," Lily explains.
Chris and Lily say using a website builder geared towards photographers was a game changer for maintaining their website.
Get to know SEO
Lily credits the marketing and business strategy classes she's taken with helping her understand the importance of search engine optimization (SEO) in growing a business. "It's all about SEO when you're trying to be found on the internet," she says.
The couple says a big selling point that convinced them to try Good Gallery is its baked-in SEO-optimized features. For example, when they upload photographs onto the site, each image is clickable and opens as its own URL, which Lily and Chris customize with a string of keywords that potential clients might search for — like "Bay Area wedding photographer" or "elopement photographer San Francisco City Hall."
Boost your visibility with a blog
Adding a blog to a website is another way to beef up a site's discoverability. "More words, more SEO opportunities," Lily explains. But she stresses that writing a blog purely for SEO purposes isn't going to work. You have to make good content that speaks to what readers want and need.
Lily says the main reason they write their blog is to give clients a "rounder, richer experience" about their services and provide helpful resources. Each post gives a backstory about the event they shot, including how and why a couple chose the location, historical details about a venue, what the decor looked like and even what the weather was like that day. "The photos can only tell you so much," Lily says. "The backstory is helpful for whoever is planning a wedding."
Potential clients who visit the Wild About You website can find plenty of examples of unconventional engagement and wedding shoots, which are Chris and Lily's specialty.
Stand out in a crowd
Those personal backstories are especially important for Wild About You, which caters to a diverse clientele looking for creative engagement and wedding photo experiences. Lily says their website helps clients see how Wild About You stands out from other wedding photographers.
One couple, for example, hired Wild About You to shoot their wedding at Mather Redwood Grove in Berkeley, California because of their past photos and blog posts documenting other weddings in the woods. "They saw our website and loved our redwood wedding photos," Lily says. "Her parents had wanted to get married in a redwood grove but hadn't, so it was a tribute to them."
And Lily says they've heard from several people who appreciate the representation of same-sex couples in their portfolio and blog. "All the same-sex weddings we do are touching in their own right," Lily says. "Couples often talk about how happy they are that they can get married, about how it wasn't always allowed. It feels good to capture that for them."