How this travel blogger pivoted during the pandemic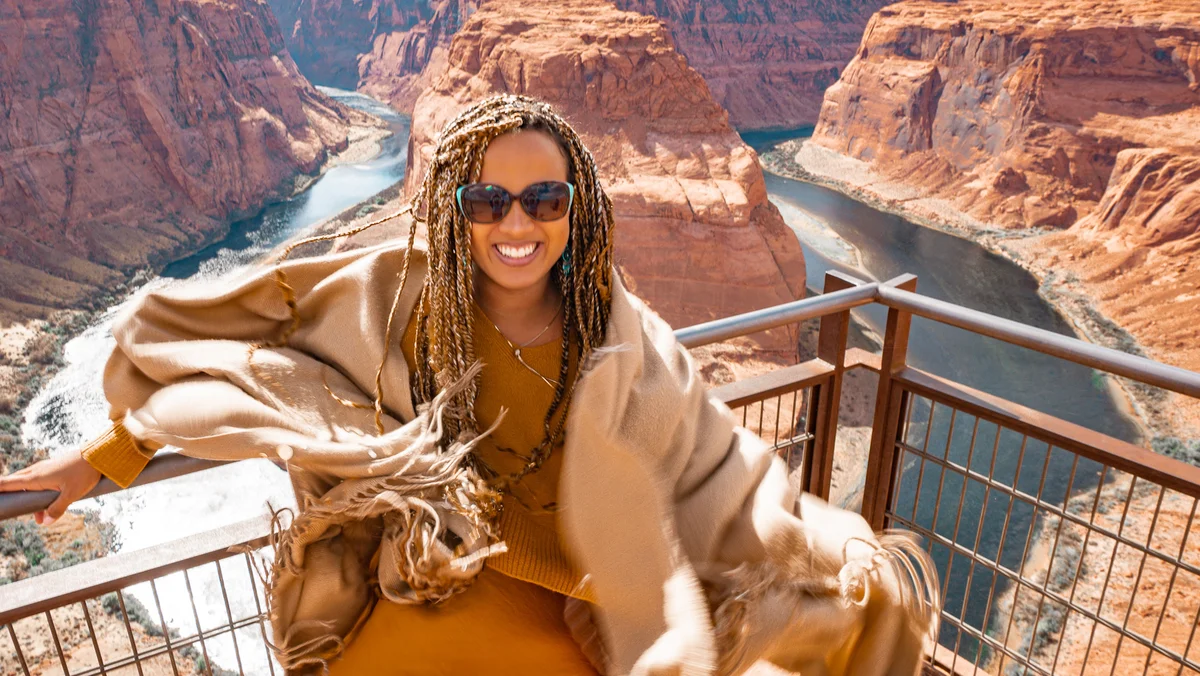 Gabby Beckford is an expert planner, even when things don't work out as expected. Shortly after graduating from college and getting her first job in engineering, she realized that working in an office wasn't for her. But this didn't throw her off course, it presented an opportunity. Over the next two years, she used savings from her job to become a full-time travel blogger. On her website Packs Light, Gabby writes travel tips for Gen Z, offers influencer guides and services and runs occasional partnerships with travel brands and companies.
In February 2020, Gabby planned to go to Bali for a month. But just a week later, the lockdown took hold and airports started to shut down. True to form, she decided to turn things around. "When the pandemic hit, I was in a reactive state anyway," she says. "It was actually a benefit because I could pivot kind of easily."
Luckily, she could live at her mom's house and had a consistent, if small, income from the blog. Even though she (and everyone else) was stuck at home, she doubled down on travel writing — but now, she was pitching publications.
Gabby is happily traveling the world again, and now incorporates guidance on doing so responsibly during the ongoing pandemic. She has some tips for how creators can pivot in the face of unexpected challenges, and even uncover new prospects for growth and success.
Don't quit, adapt
Gabby noticed that many travel bloggers shifted their focus to topics like beauty or fitness, but she decided to stay true to her core mission. "I knew that no matter how long this pandemic lasts, there would be a travel reboot eventually," she says. "So it was an investment in myself to stay in this industry and continue building when the competition was low."
Sticking to her mission while pivoting to evergreen topics, like how to apply for a passport or travel as a full-time student, also aligned with what her followers were interested in. "Just because people stopped traveling doesn't mean all 10,000 of my Instagram followers stopped caring about what I did, or about travel in general," she points out. This continued focus cemented her reputation as a dedicated travel blogger.
Gabby posts about evergreen topics in addition to travel destinations.
Be ready to jump on opportunities
In the corporate world, Gabby was used to planning things a year in advance. But the uncertainty of the pandemic forced her to think just a few months ahead. "Every three months, we were reassessing," she says.
Luckily, growing up in a military family that moved around a lot prepared her to react quickly. She started proactively reaching out to write content. "In the beginning, brands were screaming, 'Someone give us an idea, our content schedule is out the window,'" she remembers. "It was a very unique opportunity to partner with brands I probably would never have partnered with before."
Focus on community building
Sharing opportunities with other creators helped promote her brand and expand her network. "[On] Patreon, I'll share if a brand comes to me for an opportunity and I can't take it because the rate isn't right or it's not my brand," she says. She also posts paid travel opportunities on her site.
Building a community grounded in generosity was essential not just for business, but for Gabby's mental health during the early months of the pandemic. "You want to make sure you're on the same page as everyone," she says. "Is everyone feeling the same way I am? Is anyone else still indoors?"
Gabby is writing about travel again, with a special focus on responsibility in the age of COVID-19.
Trust yourself
In difficult times, it's natural to second-guess your choices. But indulging in doubt can be damaging. "You don't have to have everything figured out, but you have to have the confidence and trust in yourself that you can figure it out," she says.