An inclusive digital future with US Ambassador Caroline Kennedy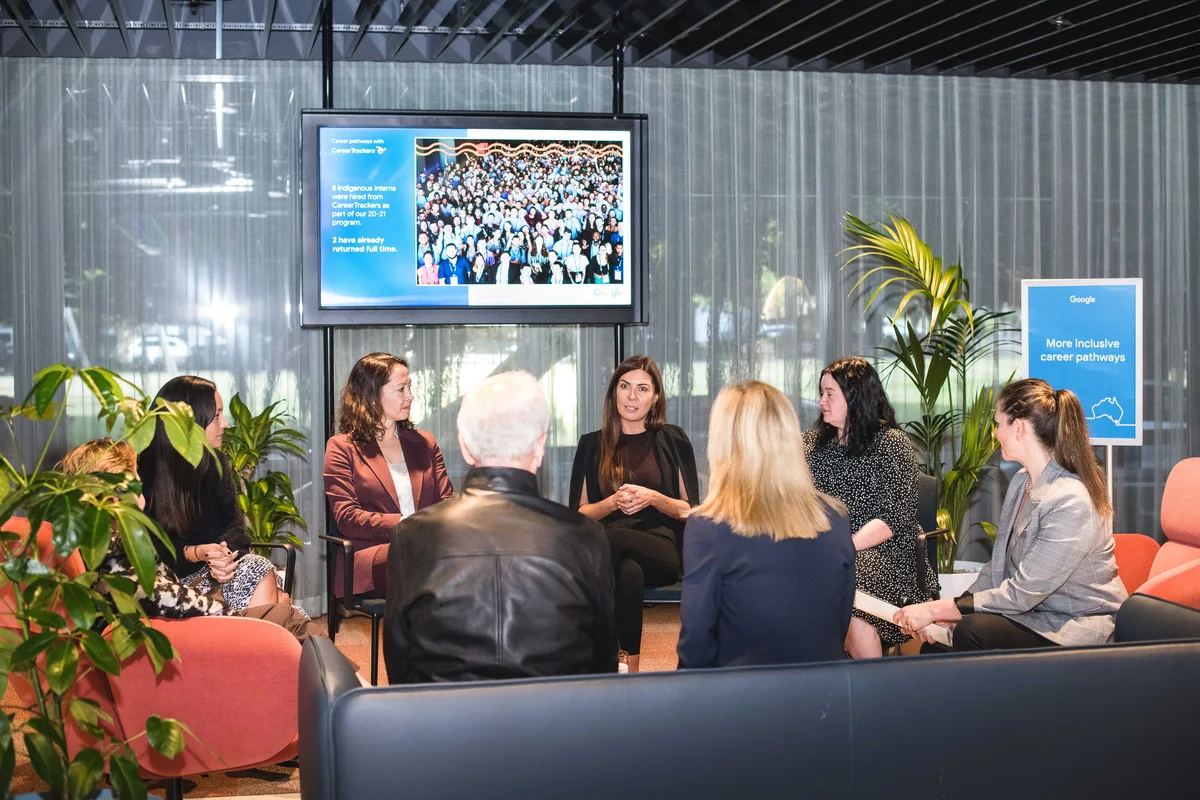 Today, we were delighted to welcome US Ambassador Caroline Kennedy to Google's Sydney office to discuss how we can work towards an inclusive digital future for all Australians.
Ambassador Kennedy began her service in Australia in July this year, after recently serving as US Ambassador to Japan between 2013 and 2017.
Australia's economy is digitising rapidly, and as our society uses technology to deliver more services, develop businesses and solve problems, it is important that we don't leave anyone behind. Today we introduced the Ambassador to some of the people we're building this inclusive digital future with, and for.
Mel Silva, Ambassador Kennedy, Dr. Edwin Schlossberg, and Consul General Christine Elder
Helping build inclusive STEM education
An inclusive digital future is one where every Australian, regardless of their background, has the opportunity to access technology, and the skills to use it.
That starts with providing inclusive STEM education at an early age, which is why we've partnered with Schools Plus, a national education charity, to provide opportunities for Australian students to build skills and pursue pathways in technology.
Students benefit through new high-tech classrooms and workshops to build STEM skills, while teachers benefit from professional development training in technology, including the use of tools like robotics and software.
This partnership has supported 2,000 students and 500 teachers across Queensland, New South Wales, Tasmania, Perth, and Adelaide and we have plans to build on it in the future.
Google's Marie Efstathiou and Mel Silva with Schools Plus talking with Ambassador Kennedy and Consul General Christine Elder
Helping build inclusive career pathways
We also discussed how Google is working to create meaningful pathways into high skill, high value work for Aboriginal and Torres Strait Islander communities, including partnerships with CareerTrackers.
This builds on other broader partnerships we've announced, including a new fund for innovative projects that support communities and a digital skills workshop for Indigenous business owners and entrepreneurs.
Artist: Jessica Johnson (Warumungu / Wombaya) from Nungala Creative (Trading Blak)
Helping build inclusive AI technology
We've recently announced exciting progress on Google Research Australia, one of the key initiatives within the $1 billion Digital Future Initiative, which is our biggest ever investment in Australia.
Google Research Australia will be led by leading AI scientists Dr Grace Chung and Dr Peter Bartlett, who today talked through how Google is building inclusive AI technology.
One of the ways we're working to do that is through Wooloroo - a tool to preserve endangered languages, including Yugambeh from south-east Queensland where it hasn't been spoken fluently for decades. It looks simple, but it uses machine vision and machine translation technology to help people who want to explore the language to get the names for objects in their environment.
It was an honour to host Ambassador Kennedy today and we are committed to continuing our efforts to build a stronger, more inclusive digital future for all Australians.