Building a stronger digital future in Mackay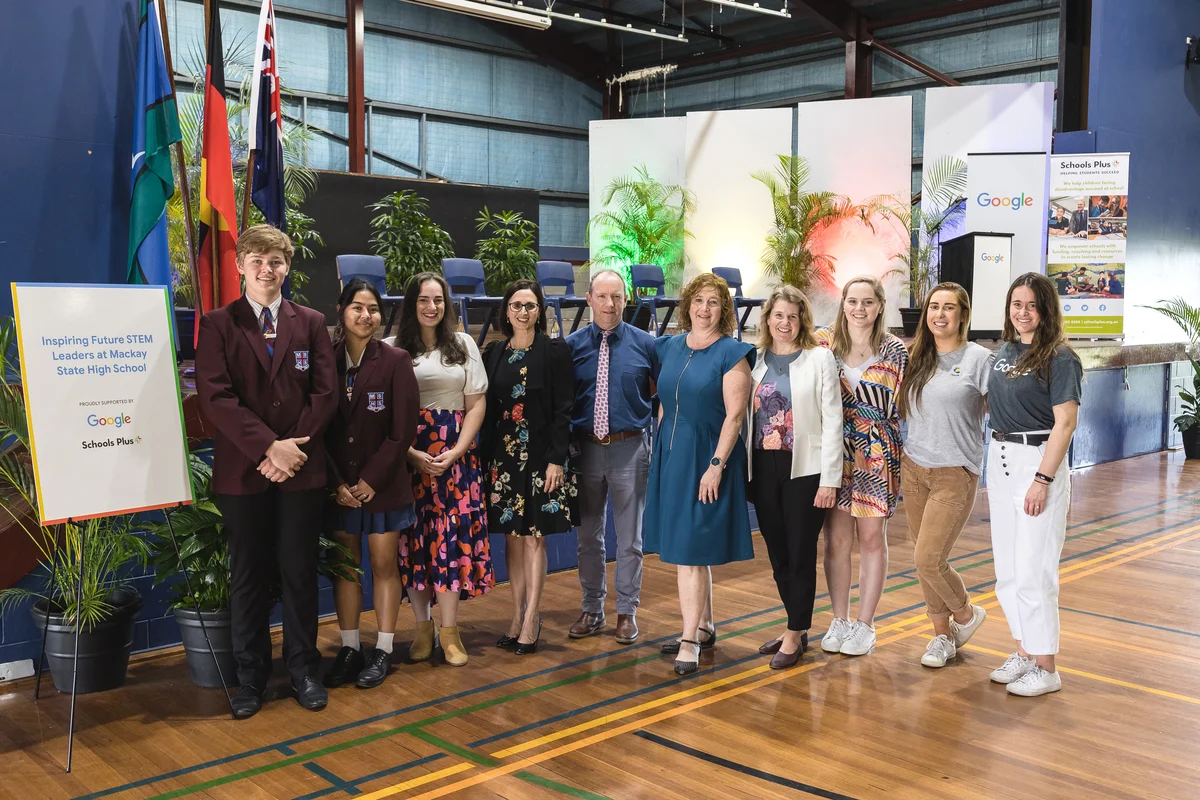 For the last four years, Google has been working with Australian Schools Plus to help students, teachers and schools across the country develop STEM capabilities.
The partnerships encourage students and teachers to engage with technology and learn new skills which open career pathways and showcase the opportunities available in STEM fields.
This week, we've been thrilled to announce the next phase of this partnership at Mackay State High School.
Through the grant, students will undertake hands-on classroom activities using a range of technologies and devices. This opportunity has been made possible by national education charity, Schools Plus and funded by a $33,000 donation from Google. The program will benefit 150 students to begin with, before being expanded to more students at Mackay State High.
Students will undertake workshops run by STEM Punks, a Science Technology Engineering and Mathematics (STEM) education provider, while teachers will benefit from professional development training in technology, including the use of tools like robotics and software.
Google is committed to helping Australia build a stronger digital future and an essential part of that is ensuring students have access to technology and the skills to build it. We want students to learn those key problem solving, computational skills that are transferable across industries and use digital tools to solve the big problems.
Over the last four years, we've worked with Schools Plus to support 12 schools, and almost 2,000 students and 500 teachers. We've funded similar STEM school projects in Tasmania, Perth, Adelaide and Sydney
Through our Digital Future Initiative, Google plans to invest $1 billion over five years in Australian partnerships, research and infrastructure as we work to support Australia's goal of becoming a leading digital economy.
What our partners are saying
Sherrill Nixon, Schools Plus' Director of Donor Relations
"Devastatingly, students in regional and rural locations are around 1.5 years behind metro students in STEM-related subjects. That's why we're so passionate about working with supporters like Google to give students learning opportunities that will make a real difference to their future
"This project will not only equip students and their teachers with much-needed skills, but it may well spark newfound passions and produce Australia's future coders and engineers right here at Mackay State High."
Felicity Roberts, Mackay State High School Principal
"We are excited at the new opportunities this will enable for our students and staff. The learnings taken from the pilot year in 2022 will see more students engage in similar digital and STEM opportunities in the future, as this will remain a priority for Mackay State High School. STEM education and the skills it develops – like creativity, problem solving and teamwork – are so critical to our students' futures."
Mayor Greg Williamson, Mackay Regional Council
"Mackay High, you are now at the precipice of being able to participate in some fantastic opportunities for our region in the future. Congratulations on your application to Google. Thank you very much to Google for accepting it. Google's going to invest a billion dollars over the next five years into Australia in terms of partnerships and infrastructure and research. So we need to be a part of it. And you are all kicking it off at Mackay High. I'm very proud of you."
Andrew Willcox MP, Federal Member for Dawson
"Thank you Google for being involved. I want to interact with the students. Let's see what we can do and further down the track, I would absolutely love to see one of the students in this room win a Nobel Prize for developing technology, creating something that can change the world. When they finish that speech, the last thing they could say is that it all started with a grant from Google back here at Mackay High."