Applications are now open for the Google for Startups Accelerator: Black Founders & Women Founders cohorts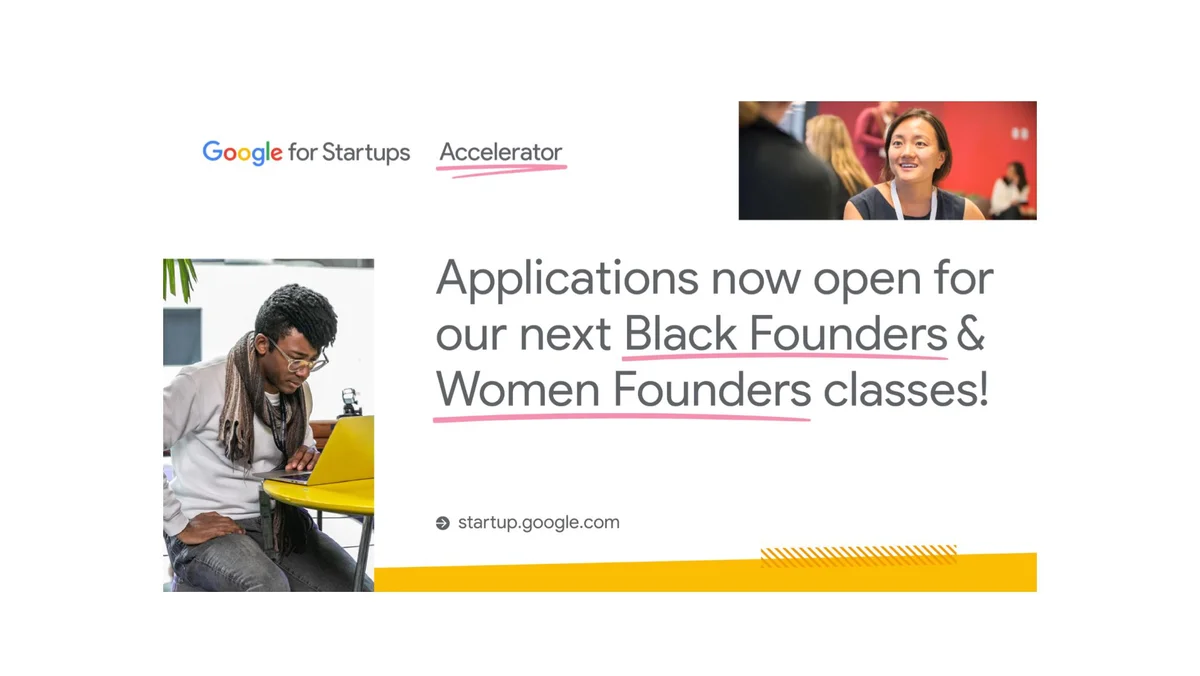 Google for Startups Accelerator: Black Founders and Google for Startups Accelerator: Women Founders are open for applications. Ten to twelve North American startups will be selected to each accelerator, for an intensive three-month bootcamp to give founders and their teams the tools to prepare for the next phase of growth.
As the world re-opens, it's been thrilling to see the entrepreneurial spirit of founders as they get back to what they do best - creating new and innovative businesses.
While the startup ecosystem continues to recover, navigating through the COVID-19 pandemic has shown us that there are significant structural barriers preventing founders from diverse communities from accessing the support and resources they need to grow their business.
As part of our commitment to support underrepresented founders, we're thrilled to bring back the Google for Startups Accelerator: Black Founders program and the Google for Startups Accelerator: Women Founders program. This marks the third year for both programs across North America.
These accelerators are designed to not only help startups identify and solve technical challenges and grow their business, but also provide tailored programming and mentorship focused on the specific longstanding barriers and challenges that these underrepresented groups face.
Black and women entrepreneurs continue to be underrepresented in Canada's tech startup ecosystem because many lack access to resources required to launch their business. For Black founders, a recent study underscores how securing funding, financing, capital or sales is the most significant barrier to scaling their business. Similarly for women founders, the study also highlights challenges faced with accessing venture capital and support. Compared to their male counterparts, women are less likely to receive venture capital or angel funding and other forms of leverage such as trade credit or capital leasing. In fact, data revealed global venture funding to female-founded companies fell significantly in 2020, with only 2.3 per cent of funding going to female-only founders.
Similar to previous cohorts, we will be selecting 10-12 tech startups from across North America for each accelerator to provide unique programming that addresses the specific needs of Black and women-led startups. Along with mentorship and technical project support, accelerator programming will also feature deep dives and workshops focused on product design, customer acquisition, and leadership development for founders. Participants will also hear from a roster of speakers and facilitators who deliver both technical and non-technical programming through the lens of their communities.
We heard from a few of the startups from past cohorts who had the opportunity to participate in our accelerators:
"With emphasis on the challenges unique to Black Founders, I would highly recommend this Google for Startups program to all Black Entrepreneurs looking to take their business and product to the next level."
-Dennis Cail, Zirtue CEO, Participant in the 2021 Black Founders Cohort
"The accelerator gave me a sense of community that I haven't felt in a long time! It was the perfect balance of content, community and subject matter expertise to push us forward. Our OKRs helped us focus, communicate and execute. We've done more work and delivered more value faster than ever before."
-Joanna Smith, CEO, AllHere Education, Participant in the 2021 Black Founders Cohort
"Google impacted Paperstack enormously. Our Google mentors addressed every corner of our business and helped us solve unique and complex challenges. We released our app, increased our number of customers, expanded to the US, and attracted strategic advisors and investors. We are forever grateful for all the insights and expertise you have generously shared with us. Because of our incredible mentors, we were able to solve problems in days that would have taken months otherwise. In almost every conversation with mentors, peers, founders, investors we bring up Google Accelerator support. The help was tremendous, it saved us so much time, energy, and money. We met such a diverse group of talented and kind individuals, thank you so much!"
-Assel Beglinova, CEO and Co-Founder, Paperstack, Participant in the 2021 Womens Founders Cohort
"I love Google, and I've said it to so many people. The Google for Startups Accelerator: Women Founders program is like no other Accelerator! Most accelerators will tell you what you should do and can do. No one will take the time to actually get 'hands-on'. With Google, we actually partner together and work with mentors to address the biggest challenges we face. Googlers become part of the team and it feels like you've joined us in this journey. To me, that makes all the difference!"
-Annie Cyr, CEO and Co-Founder of Tengiva, Participant in 2021 Womens Founders Cohort
We hope that these accelerator programs are a small step in the ongoing effort to create a more inclusive and equitable tech startup ecosystem for underrepresented founders. Startups in Canada & the US can apply for the Google for Startups Accelerator: Black Founders, the Google for Startup Accelerator: Women Founders, or both, from now until July 28.
Apply here: Google for Startups Accelerator: Black Founders
Apply Here: Google for Startup Accelerator: Women Founders
We can't wait to start working with the next generation of diverse founders and innovators.