Calling all local Startups: Applications are open for the Google for Startups Accelerator Canada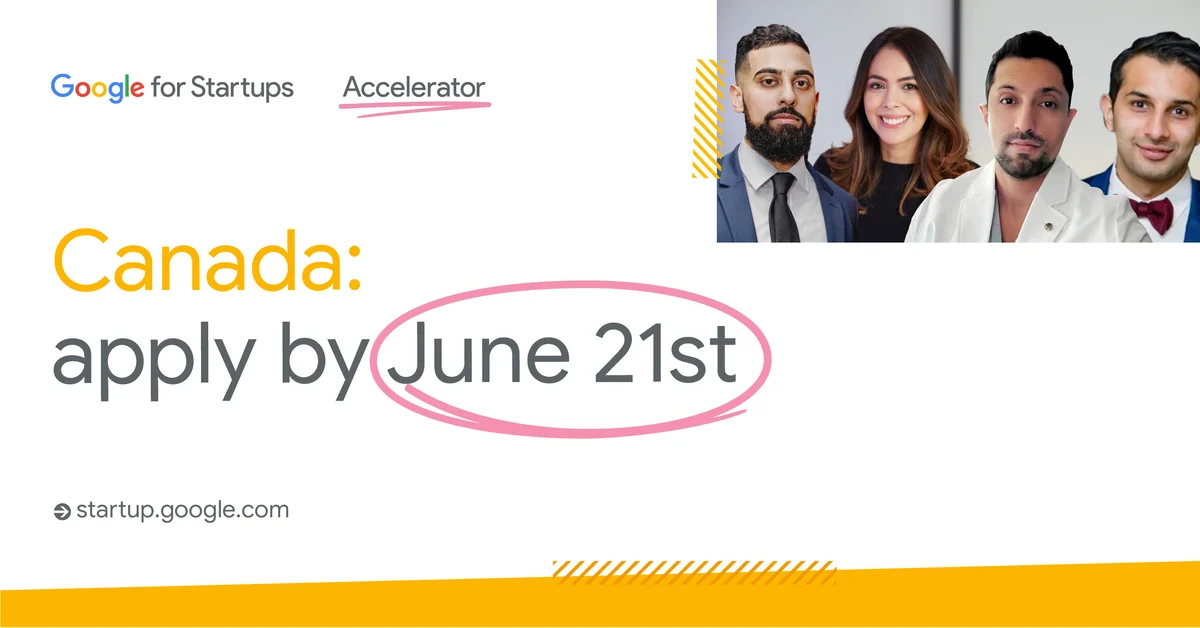 In 2020, we launched the first Google for Startups Accelerator in Canada. Since then, we've rolled out five additional accelerator programs to support different technical areas and founder groups, with over 50 Canadian startups graduating from our programs.
What's unique about our programs is that we focus on technical mentorship. Startup partners are able to tap into Google experts and tech to advance and enhance their strategy and systems.
The Google team acted as an extension of ours to not only help us expedite our technology, but to do so with the guidance and hindsight of expert partners.
Today, we're excited to continue our work within the Canadian startup ecosystem, as we announce that we are now accepting applications until June 21 for the third cohort of the Google for Startups Accelerator Canada. Past graduates have included Neurescence, a leading optical imaging company for understanding short and long-range brain circuits, ArkAngel AI, a team focused on using AI to quickly detect diseases in order to improve the patient experience. And AccessNow, a mobile and web-based app that allows users to discover accessible locations based on a variety of types of access criteria. The program is open to startups across all sectors, and will kick off the week of July 25th.
As with our other cohorts, we plan to work with 10-12 Seed to Series A tech startups that are headquartered in Canada. Participating startups can expect detailed technical training and high-level strategic development opportunities with our machine learning, people, product and growth labs. If you're curious how the experience has been for past graduates, here's some of the feedback we've received:
"I am so grateful to have had the opportunity to take part in this accelerator! Through this program I made connections with key individuals at Google who have provided tremendous value to my founder development and the growth of my company. Google mentors have all been extremely generous with their time, and the organizers have designed an experience that ran efficiently, smoothly, and with plenty of opportunity to establish real connections amongst the cohort members."
-Maayan Ziv, CEO and Founder, AccessNow, participant in Cohort #2
"Google for Startups Accelerator Canada has been impactful across every facet of our company. The Google mentors were incredibly helpful, offering validation and insight across tech, culture and scalability to expedite our growth and solve some of our most pressing challenges. Our time in this accelerator has been a considerable milestone in our journey as a company."
- Sara Benbrahim, COO and Co- Founder, Phelix AI, participant in Cohort #2

In our past programs, we've seen the wealth of startup talent across the country, and have had the privilege of working with founders and teams from Vancouver to Halifax. We want to continue to search and foster talent from coast to coast, and so we hope you'll share this application link with your friends, family and colleagues from all cities across Canada so we can support even more diverse and talented founders.

Interested startups can apply here. We can't wait to hear from you.