Get a faster connection with Wi-Fi 6E on Nest Wifi Pro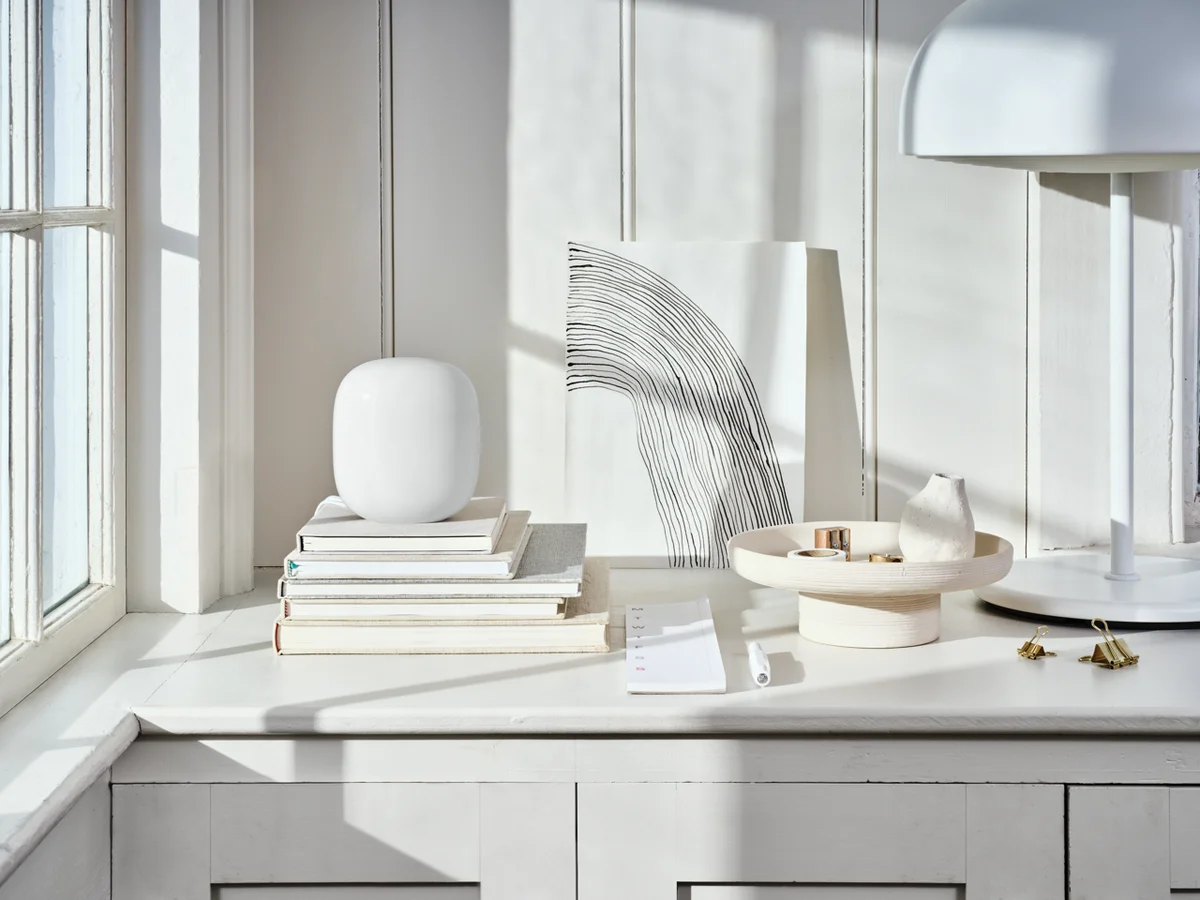 There are days when our home's Wi-Fi feels a bit crowded. One family member might be using it to take virtual meetings, while another streams their favorite show, and another downloads the latest game. And they all rely on a fast and reliable connection.
Today, we're introducing our latest Wi-Fi system, Nest Wifi Pro, with Wi-Fi 6E technology. This new advanced mesh Wi-Fi system helps make all those home connections faster, more reliable and simpler to manage.
Faster speeds for your entire home
So what exactly is Wi-Fi 6E? As its name — 6 "Extended" — suggests, it's a big upgrade from Wi-Fi 6. While Wi-Fi 6 was built on the same heavily congested radio bands used by Wi-Fi 5, Wi-Fi 6E uses an entirely new (and less crowded) 6 GHz radio band. Much like driving in the fast lane on the highway, the 6 GHz band provides a faster and more direct path to the most reliable internet connection.
As a result, 6E offers speeds up to two times faster than Wi-Fi 6. The first of our Wi-Fi routers to enable 6E, Nest Wifi Pro is set up to support the next generation of phones, laptops and other devices operating on more advanced technology.
Nest Wifi Pro is built to constantly analyze your network performance and optimize your connection to keep it fast and avoid congestion. And it knows how to prioritize high-bandwidth activities like video calls and streaming.
Simple to use
It's simple to set up your router using the Google Home app, which will show you easy step-by-step instructions to get your network up and running in minutes. The app is also the best place to monitor your network, whether you want to run speed tests, share your password or set up a guest network.
To avoid those frustrating connectivity disruptions, Nest Wifi Pro proactively scans for and diagnoses connection issues and notifies you in the app with any steps you need to take. Using Google intelligence, it can even automatically fix common problems, like recovering a lost connection.
And at no additional cost, you can better manage your kids' connections. In the app's Family Wi-Fi settings, you'll find parental controls like Wi-Fi scheduling, which allows you to restrict Wi-Fi access during moments like bedtime or dinnertime, and simple ways to block unsafe content.
Safe and secure out of the box
With so many connected devices, home networks can be susceptible to unauthorized downloads and router hacks. We built safety and security measures directly into Nest Wifi Pro to help protect your connection. For example, in the Google Home app, you can see every device that's connected to your network to help you easily identify and pause any that might look suspicious.
Automatic software updates also keep your Nest Wifi Pro running smoothly, helping protect your router and network from security threats.
Foundation of your smart home
Designed with our many Wi-Fi needs in mind, each Nest Wifi Pro can accommodate nearly every connected device in a typical home. And it has the speed and capacity to handle several high-bandwidth activities at the same time, like taking video calls while watching 4K videos and streaming your security cameras. One router has the power to cover up to 2,200 square feet alone.
Nest Wifi Pro also includes a built-in Thread border router so you can connect all your Thread smart devices to your home network — and save energy, thanks to Thread's low power mesh.
Shortly after Matter, the new smart home protocol, launches, you'll be able to use your Nest Wifi Pro router as a Matter hub, too. It will control and connect to all your Matter-enabled devices, making it that much easier to manage and add devices to your smart home in the future.
Beautiful and sustainable design
Let's face it, many Wi-Fi routers aren't that attractive with their long antennae and blinking lights. Because of this, they're often tucked away into a cabinet or closet, stifling their signal and performance. Nest Wifi Pro was built to fit in with your home, offering a beautiful high gloss finish inspired by ceramics.
Color was an important consideration when designing the Nest Wifi Pro. These devices are available in four, natural earth tones — Snow, Linen, Fog and Lemongrass — to inspire a tranquil environment and blend with any style. Snow is a soft cotton white that easily fits in with your other Nest products. Linen, a new neutral color to our hardware lineup, brings warmth to any room. Inspired by nature, Fog is a muted, restorative hue that matches cool-toned decor, while Lemongrass provides a burst of color and energy.
We've also considered sustainability at many levels, from how the product is made to the materials we used to build it. It's a sustainable home networking choice, built with over 60% recycled materials based on product weight.
Nest Wifi Pro retails at $529.99 for a three pack, covering up to 6,600 square feet. It's also available in a one pack for $269.99 to accommodate homes of all sizes. It will be available online and in stores October 27, with pre-orders beginning October 4.