Make connections that Matter in Google Home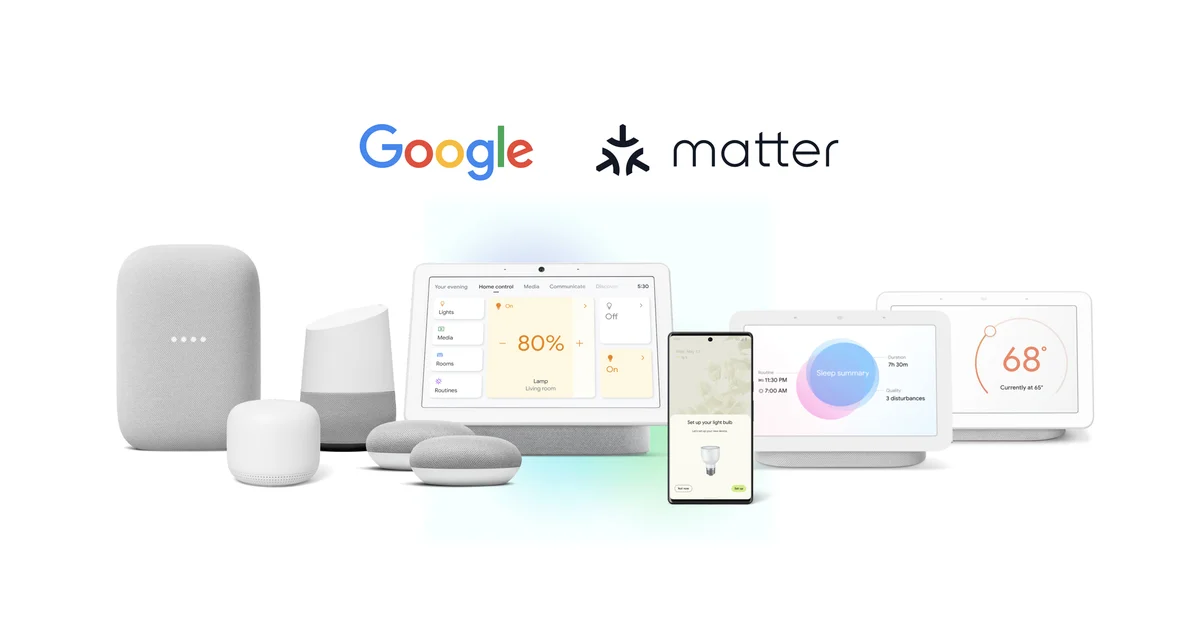 We're entering a new era of the smart home built on openness and collaboration — one where you should have no problem using devices from different smart home brands to turn on your lights, warm up your living room and set your morning alarm. All of them should work together in harmony.
Matter, the new smart home industry standard we developed with other leading technology companies, is making this possible. Whether you're shopping for or building your own smart home devices, let's take a closer look at how Matter can help you make more connections with Google products and beyond when it launches later this year.
Connect your favorite smart home brands
When you buy a Matter-enabled device, the set-up process will be quick and consistent. In just a few taps, you can easily link it to your home network, another smart home ecosystem and your favorite apps. Support for Matter through Fast Pair on Android makes it as easy as connecting a new pair of headphones. And because Matter devices connect and communicate locally over Wi-Fi and Thread, a wireless mesh networking technology, they're more reliable and responsive — reducing lag and potential connection interruptions.
To help you get ready for Matter, we'll update many Google Nest devices to be Matter controllers. This will let you connect all your Matter-enabled devices to Google Home, and control them both locally and remotely with the Google Home app, smart home controls on your Android phone or Google Assistant. Matter controllers will include the original Google Home speaker, Google Mini, Nest Mini, Nest Hub (1st and 2nd gen), Nest Hub Max, Nest Audio and Nest Wifi.
Meanwhile, Nest Wifi, Nest Hub Max and Nest Hub (2nd gen) will also serve as Thread border routers, allowing you to connect devices built with Thread — like backyard lights that need long-range connectivity — to your home network.
We've also rolled out a new Google Home site to help you explore everything you can do with your Google Home in one spot. You can discover thousands of smart home devices that work with Google Home and learn how to get the most out of your helpful home — including automated routines to make everyday life easier, safer and more convenient.
To make it easier to find products that work great with Google Home, we're updating our "Works with" partner program. Works with Hey Google is now Works with Google Home. Partner devices that carry this badge have gone the extra mile to build high-quality experiences with Google using Matter or our existing integrations. It'll take some time for all our partners to start using the new badge — but if you spot either of these badges on a smart home product, you'll know they easily connect with Google and our home control features like routines, voice control through Google Assistant devices and Android home controls.
Build more connected smart home devices
Developers, take note: With Matter, there's no need to build multiple versions of a smart home device to work across different ecosystems. You'll only have to build once, and that device will work right away with Google Home and other smart home brands. This means you can spend less time building multiple connectivity paths, and more time innovating and delivering devices and features.
To help you do that, we've launched a new Google Home Developer Center that brings together all our resources for developers and businesses. You can start learning today how to build smart home devices and Android apps with Matter, discover new features to integrate into your devices and explore marketing resources to help grow your business. You'll also find new community support tools for device makers building with Google Home.
On June 30, we'll launch the Google Home Developer Console, including two new software development kits (SDKs) to make it easy to build Matter devices and apps. The Google Home Device SDK is the fastest way to start building Matter devices. This SDK will also introduce Intelligence Clusters, which will share Google Intelligence — starting with Home & Away Routines — with developers who meet certain security and privacy requirements.
The new Google Home Mobile SDK will make it easy to build apps that connect directly with Matter devices using new built-in connectivity support in Android. This makes the set-up process simpler, more consistent and reliable for Android users. And with connectivity taken care of, developers can spend more time building unique features and experiences.
We can't wait to see how you use Matter, Thread and Google Home to build and create the smart home experience that best suits you. Check out home.google.com and developers.home.google.com to learn more and sign up for future updates.