Google for India 2023: Partnering India's success in a new digital paradigm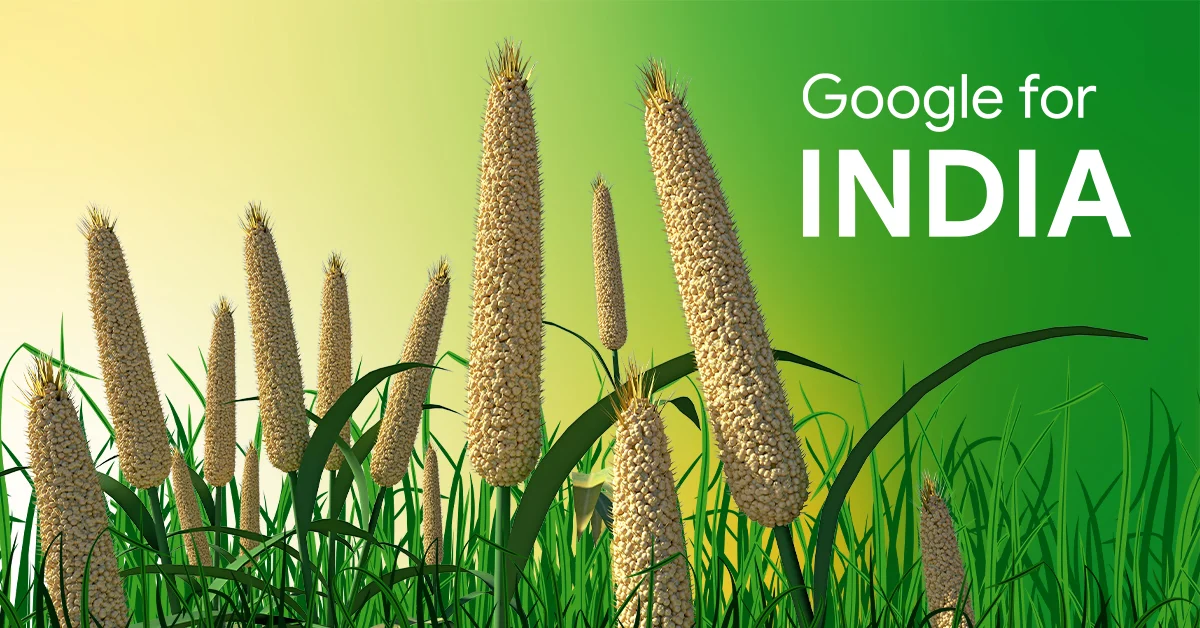 With India looking at a billion connected people in the near future, the country's digital journey is underpinned by the large strides it has taken in a short timespan by improving access and low cost data for everyone across the length and breadth of the country. This, combined with the home-grown Digital Public Infrastructure led by UPI, and the purposeful inventiveness and ambition of creators, start-ups, and businesses, has positioned India to take the next leap forward – into the new technology paradigm with the advent of gen AI, and its power to synthesize, predict and create at a scale that has been unimaginable till now.
Underlining our longstanding contribution to propel India's digital transformation forward, today, at our annual flagship event, Google For India, graced by Shri Ashwini Vaishnaw – Hon'ble Minister of Electronics & Information Technology, Communications and Railways, Government of India, we announced a slew of new efforts for India – focusing on making our core products even more helpful for India, and partnering deeply with leading Indian firms across banking and finance, cyber safety organizations, and supporting national efforts like Bhashini and ONDC.
We also announced our plans to manufacture Pixel smartphones in India. India is a priority market for Pixel smartphones, and we're committed to bringing the best of our hardware and underlying built-in software capabilities to people across the country.
Looking ahead, we will chart the path of our partnership in India's digital journey by:
Elevating our product experiences through AI
Expanding the reach of formal credit in India
Strengthening the online safety charter for the Indian internet
Powering new age solutions with Gen-AI to expand digital commerce and access to citizen-centric information services and solutions
Elevating our product experiences through leading-edge AI and deep local partnerships
Applying AI to our products to unlock useful benefits for users and businesses has been core to our work in India, and we're delighted that, in 2022, businesses unlocked US$17.8 Bn in economic activity using our AI-powered products and services. Breakthroughs in generative AI are helping us take this even further. It's helping us reimagine what a search engine can do to better serve the information needs of our users in the country. Today, we introduced new visual and local capabilities to our generative AI-powered experience in Search in India. From bringing images and videos into many AI-powered overviews, to soon helping you explore places and things to do nearby more seamlessly by incorporating user reviews, and also easily access critical information of over 100 government schemes, with generative AI, we're exploring new ways to make Search even more helpful for our users in India. We have also launched novel ways to enable small businesses to show up better in Search with richer details in their listings, and are using gen AI to help automatically create high-quality catalogs to amp up consumers' shopping experiences. We continue to be inspired by opportunities to better serve millions across the country – dive into all the product updates here.
Expanding the reach of formal credit in India
We launched Google Pay, six years ago on the uniquely Indian Unified Payments Interface or UPI rails on the invitation from the government to support digital payments and financial inclusion in India. Just as digital payments have been a game changer for the economy, we believe digitizing credit, with consent and privacy safeguards, can provide ways of expanding the reach of formal credit to millions of eligible but underserved Indians - so that they too can access opportunities to prosper.
Credit is a key lever for growing economic momentum and creating greater economic opportunities for citizens. However, credit remains significantly under-penetrated in India compared to global as well as regional averages.
Google Pay is collaborating with its partners in the financial ecosystem such as banks and NBFCs to create products that are aimed at addressing the credit gap in India.
These products are underwritten by regulator-authorized financial institutions and made available to users through the Google Pay platform. They also form the foundation of Google Pay's Digital Pragati initiative, aimed at growing economic opportunities for every Indian.
Powering access to citizen-centric information services and solutions
One of the most critical areas of gen AI's impact is democratizing information and enabling everyone to succeed in the digital economy. This includes bringing citizen services and programs to more Indians across the country as well as giving farmers additional channels for income.
To fulfil this potential, Google Cloud has partnered with Axis My India to build an inclusive and multilingual super-app called "a", that aims to grow people's awareness, accessibility, and utilization of government social welfare schemes, basic day-to-day amenities, employment opportunities, and healthcare benefits. Axis My India will scale the reach of "a" with the power of Google Cloud's infrastructure so that it can reach every Indian regardless of whether they live in rural or urban areas. Gen AI from Google Cloud will also enable Axis My India to not only match user queries with the most relevant and personalized government information in real time, and in the language they speak, but it will also get smarter over time as it tracks touchpoints from initial query to the delivery of the final benefit to the citizen.
Pradeep Gupta, Chairman and Managing Director, Axis My India
"Our collaboration with Google marks a pivotal milestone in our endeavour to positively transform the lives of a billion Indians. By leveraging Google Cloud technologies, we aim to create an inclusive platform that truly empowers citizens with authentic information and solutions based on their needs. Axis My India's extensive reach and expertise affords us an unprecedented opportunity to bring information equity between rural and urban India through our platform. This free of cost app will act like a 'Guide to every Citizen' ".
Earlier this June, Google Cloud and ONDC announced the launch of the open-sourced solutions enabling buyers and sellers to onboard seamlessly onto the ONDC Network. To further democratize access to digital commerce, regardless of digital literacy, geography, or economic status, this partnership is being expanded to enable Farmer Producer Organizations, or FPOs, to sell their produce online, thereby giving farmers greater channels for revenue.
Built on Google Cloud's gen AI and language capabilities, FPOs will be able to easily onboard the ONDC Network as merchants to sell their produce online. They will also be able to build catalogs and reach out to merchants across the country with the power of just a few clicks.
T Koshy, MD & CEO at ONDC said, "ONDC is steadfast in its commitment to empower India's farmers by facilitating their access to digital markets and harnessing the benefits of e-commerce. With Google's genAI and cutting-edge tools, we are poised to provide a boost to India's farmers, enabling them to seamlessly navigate the digital commerce landscape, enhancing their visibility, and accelerating their path to success. Together, ONDC and Google Cloud stand proudly at the forefront of this transformative journey."
Partnering MEITY to launch Center of Excellence on Generative AI and Language Inclusivity
To accelerate the development of citizen-centric services in Indic languages, and accelerate the development of homegrown generative AI technologies, Google Cloud is collaborating with Bhashini within MeitY (MInistry of Electronics and Information Technology) to launch a Center of Excellence on Generative AI and Language Inclusivity. As a part of this initiative, we aim to equip more than 1 Million professionals and students with generative AI knowledge and skills so they can thrive in this new AI era.
Launches DigiKavach to combat online financial fraud
To truly harness the transformative power of digital, ensuring the safety and security of every individual online becomes not just a necessity, but an imperative. This means collectively developing and implementing safeguards or digital shields, to protect people from scams, malware, and online fraud and building a trustworthy and reliable digital environment where people can confidently use the internet in all aspects of their lives.
DigiKavach is our concerted effort to combat online financial fraud at scale. Through this program, we're studying the methods and modus operandi of scammers, developing and implementing countermeasures to new emerging scams, and responsibly sharing these insights with committed experts and partners, to collectively help create a safer and more secure digital ecosystem for all.
Towards this goal, we are proud to collaborate with The Fintech Association for Consumer Empowerment and onboard them as a priority flagger, as part of our consistent efforts to combat predatory digital lending apps on Play Store in India. As a priority flagger, FACE will support Google with market intelligence to inform detection and enable swift action against personal loan apps in India non-compliant with Play Store's policies.
Empowering people to make conscious and responsible information decisions online
Google.org is also taking its largest step yet towards online safety in India, supporting an effort that is working to ensure that progress for everyone is built on a strong foundation of trusted information. A new $4 million grant to CyberPeace Foundation will support a nationwide awareness-building program and comprehensive multilingual digital resource hub - with content available in up to 15 Indian languages - to equip nearly 40 million underserved people across the country in building resilience against misinformation and practicing responsible online behavior.
Vineet Kumar, Founder of CyberPeace: "In an era in which digital is deeply intertwined with our lives, knowing how to discern, act on, and share the credible from the wealth of information available online is critical to our wellbeing, and of our families and communities. Through this initiative, we're committing to help Internet users across India become informed, empowered and responsible netizens leading through conversations and actions. Whether it's in fact-checking information before sharing it, or refraining from sharing unverified news, we all play an important role in building a web that is a safe and inclusive space for everyone, and we are extremely grateful to Google.org for propelling us forward in this mission with their grant support."
Supporting changemakers deploying AI to improve agriculture outcomes
Across the country, nonprofit organizations have been channeling their zeal and innovation to make the benefits of India's incredible digital transformation felt across its farthest reaches. Google.org is now scaling the support it provides such changemakers, to over $50 million since 2015, to help them leverage the latest advances in AI and technology to deepen the multiplier impact of their solutions across the country's vast plurality.
A $3.3 million grant to Wadhwani AI will support its effort with the Ministry of Agriculture and Farmers Welfare (MoAFW) to apply AI-powered pest management technology to 10 staple food crops across the country, expanding the benefits of the technology that is already underlying the CottonAce application, previously developed with pro bono support from 9 Google.org fellows.
Shekar Sivasubramanian, CEO, Wadhwani AI: "We aim to boost efficiency and productivity in the Indian agricultural sector using AI. Our Cotton Ace app, supported by Google.org, has already increased farmers' profits by 20% and reduced pesticide use by 25%. This recent grant will help us expand this technology to safeguard staple crops like rice, wheat, and corn, supporting the UN's goal of zero hunger."
As India stands at a true ignition moment with the potential to widen the canvas of every aspirational Indian, we as Google are committed to partnering with India's journey at every step.