Google for India 2023: Elevating our product experiences through leading-edge AI and deep local partnerships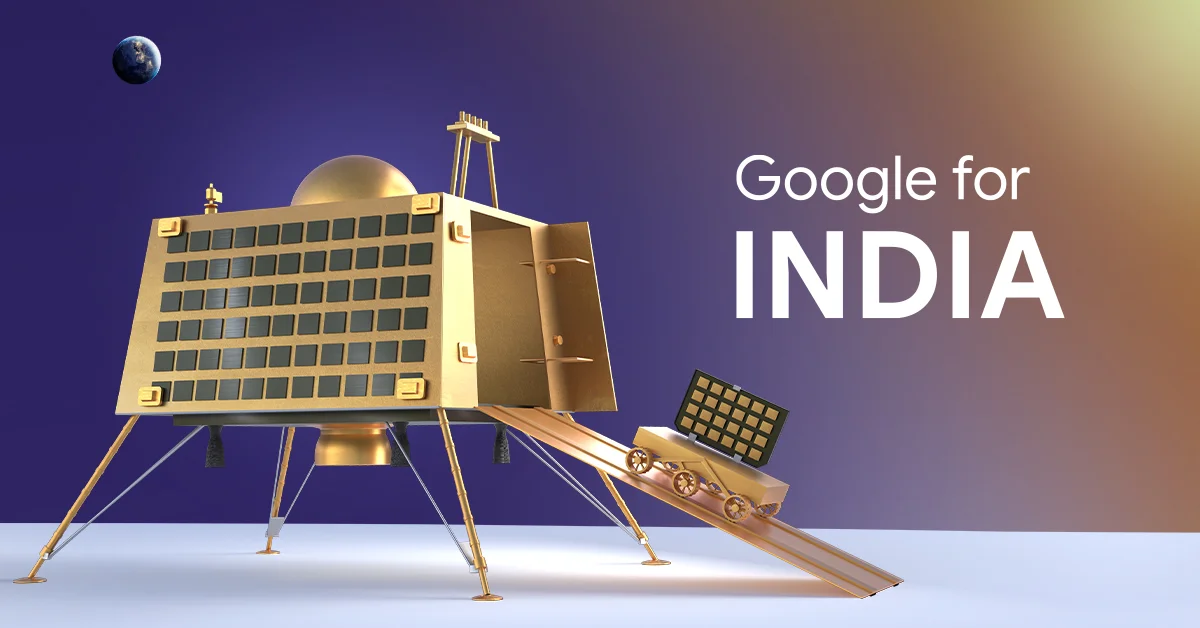 The momentous Chandrayaan-3 mission was in many ways a perfect example of how India is embracing technology. It's inspiring to see how readily Indians weave new technologies into their daily lives. But that also means we need to be constantly innovating to keep up with rocketing user expectations. It inspires us to push technology to its limits for our "moonshots" with a bold, but responsible approach: of building products to be evermore helpful, simple to use and secure.
And so today, at the 9th edition of Google for India event, we are honored to reveal new ways we're harnessing AI to bring exciting and helpful experiences across our products and services. From enabling more useful and inclusive internet experiences, to helping merchants reach buyers more effectively, to working with local partners to better the lives of people via easier access to credit, we continue to be inspired by opportunities to better serve millions across the country.
A more visual and local generative AI Search experience for India
New breakthroughs in generative AI have been helping us reimagine what a search engine can do. With this powerful new technology, we can unlock new types of questions you never thought Search could answer, and transform the way information is organized, to help you sort through and make sense of what's out there.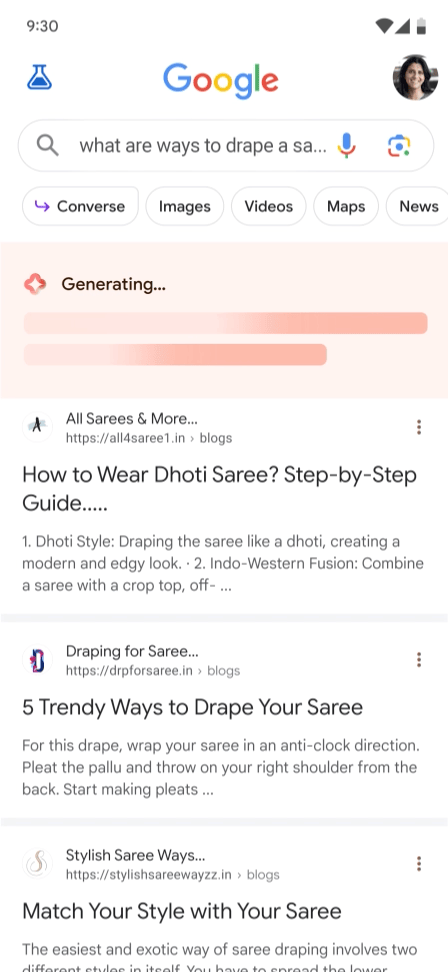 More visual Gen AI in Search
Earlier this year, we shared our first steps in this new era of Search, rolling out our generative AI experience (Search Generative Experience, or SGE) as an experiment in Search Labs – available in India in English and Hindi.
We're thrilled with the positive response SGE has been receiving in the country with users appreciating and engaging with its India-focussed features, including a language toggle button that helps people switch between English and Hindi overviews, and a text-to-speech feature that's helping people complete tasks while listening to responses.
Today, we're introducing new capabilities to the experience in India to help users with more useful AI-powered information overviews.
Often, it is so much easier to understand something by seeing it — so we're making the experience in Search richer and more visual by bringing images and videos into many of our overviews.
For example, when you search for something like, "what are the various ways to drape a saree?" you'll be able to reference a more visual and easy-to-follow AI-powered overview with images and videos of multiple types of drapes.
Generative AI in Search will soon also help you explore local places and things to do in a city more seamlessly.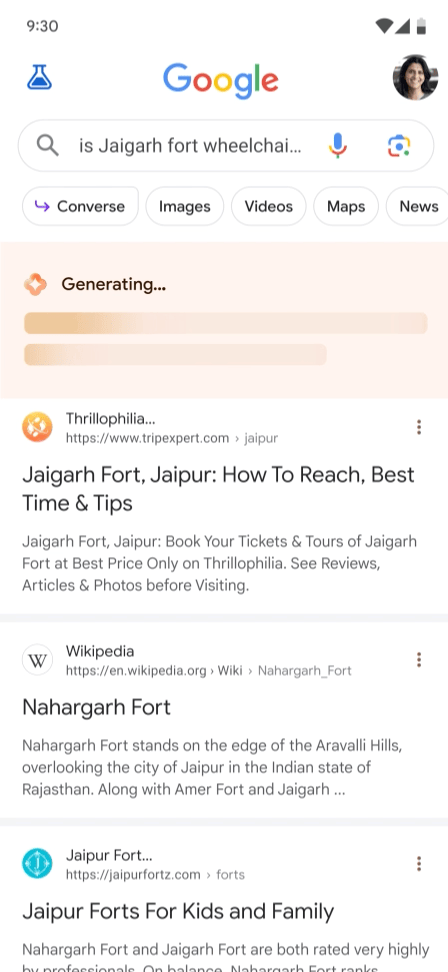 Incorporating helpful user reviews in SGE
Let's say you're visiting Jaipur and planning to visit the beautiful Jaigarh Fort. You may want to know some more specific details about the fort, like whether it is wheelchair accessible. In the coming weeks, SGE will help you with such details by incorporating user reviews.
Many users in India come to Search for authoritative information related to government schemes, and we want to simplify that experience. We are proud to share that in the coming weeks, our generative AI experience in Search will help users in India easily navigate and access critical information of over 100 government schemes spanning crucial areas such as employment, housing, healthcare, farming, women's welfare, and more, in English and Hindi.
We have been applying AI to make Google Search radically more helpful for many years. This has enabled completely new ways to explore the world's information – visual search with Google Lens is one example that's been extremely popular in India, with more people using Lens in India every month than in any other country worldwide.
Over time we have expanded the capabilities of this technology to help more people search for things they might not be able to describe with words alone.
Today, we're introducing a new capability on Lens to help people search for skin conditions visually similar to what they see on their skin. Just take a picture or upload a photo of the condition through Lens, and you'll find visual matches to inform your search.
Enabling digital credit to unlock economic opportunity
It is unprecedented how digital payments have brought millions of Indians into the fold of the formal economy over the last 6 years. Just this last year, the value processed through UPI was a staggering ₹167 lakh crores. With interoperability at its core, UPI has brought about a population-scale transformation in how people pay. Google Pay is proud to have played a role in this success, and we remain committed to working with RBI, NPCI, the government and our financial ecosystem partners toward more milestones.
With India being home to the world's largest youth population, our digital payments infrastructure presents a unique opportunity to help address another key area – accessing responsible credit responsibly. From paying for a device toward a child's education, to accessing funds for kick starting a home business, quick access to responsible credit can help millions turn their life around. Where only 1 in 5 credit eligible users in India currently get access to formal credit, many have no recourse but to turn to informal lenders and often get mired by exorbitant interest rates.
Responsible credit is the solution, but only a small section of people in India can get formal credit as it requires a high threshold income and cumbersome paperwork. This excludes millions of eligible but underserved Indians with lower incomes and fewer assets from the economic opportunities that unlock with formal credit.
Just like UPI revolutionized digital payments, digitizing credit – with consent and privacy safeguards – can provide ways of expanding the reach of formal credit. And the lower transaction cost of digital credit delivery can enable smaller minimum ticket loan sizes, making it more suitable and approachable for more borrowers.
Working with our partners in the financial ecosystem, we are proud to announce products – tailored for consumers and merchants – to help address both the organized and unorganized sector.
MERCHANT OFFERINGS
Merchant credit line, powered by ePayLater
Google Pay is enabling a credit line for merchants in partnership with ePayLater. This product will help solve the working capital requirements of merchants. Merchants can use this line across all online and offline distributors to buy their stock and supplies and grow their business.
Sachet Loans, powered by DMI Finance
Merchants often require smaller ticket loans and simpler repayment options. To address this, Google Pay is enabling on its platform, sachet loans in collaboration with DMI Finance. These start as low as ₹15000, and can be repaid with easy repayment options starting at just ₹111. This offering is aimed at bringing ease and convenience to SMBs.
Expanding the portfolio of merchant loans
On the merchant side, we are happy to announce our new partnership with ICICI Bank & seamless repeat loans powered by Indifi.
CONSUMER OFFERINGS
Expanding the portfolio of personal loans on Google Pay with Axis Bank
Personal loans have been available on Google Pay for the last few years in collaboration with its partner DMI Finance. This portfolio is expanding with Axis Bank making its personal loans available on Google Pay, with more partners to follow shortly.
Credit on UPI
Earlier this year, Google Pay added the facility to add Rupay credit cards to the app, and using them to seamlessly make payments via UPI.
Extending this functionality further, in collaboration with its PSP ICICI Bank, users can now avail credit lines from banks on UPI, and use it to make payments via Google Pay in the same way that they would with a UPI payment.
Core to our approach to building products, these features have been built on a bedrock of responsibility, with data privacy, security, consent, and control underpinning all of these offerings.
Empowering small businesses with new tools to succeed online
Small businesses have always been the beating heart of India's economy. It is hugely gratifying to play a role in the success of many businesses driving meaningful connections with their customers.
To help facilitate even better experiences for consumers and merchants, the shopping experience on Search is now getting even more helpful. We're helping businesses show up in the best way for shoppers, and are expanding discovery for small businesses to engage even more customers.
We have reimagined the shopping experience on Search to make it easier for people to find new products and connect with merchants in an even more visual way. Starting today, if you search for something like "Best phone under Rs. 15,000" on Google Search, you'll now see a more visual feed of products to explore, with filters to help shoppers quickly and easily find the products they are looking for. Clicking a product will show stores selling the product, latest prices , and even the option to set price drop alerts. When shoppers are ready to purchase, they are just a click away from the merchant's website where they can complete the transaction .
During the shopping journey, it is sometimes simpler just asking questions, and now you can. Introducing Business Messages in Shopping on Search, for getting quick answers to questions like "What's the warranty?" or "How reliable is this phone I'm considering buying?" by simply tapping the chat icon next to the store of your choice. Business Messages will be available to everyone early next year.
Next, after you've honed in on a product, you may want to check it out at a physical store near you before buying it. Now nearby stores that may have the product will appear highlighted in Search. These listings can even include helpful details on inventory, deals, and shipping timelines.
Finally, better online store catalogs deliver more impressions and engagement. Now with the new Google Merchant Center Next small businesses can do this using AI in an easy, intuitive way. When a merchant is setting up their business on Merchant Center Next, we'll start automatically populating their online feed with information we can detect from their website - helping you save time. All the while allowing merchants full control on what gets added to their feed. It also offers valuable insights on top-selling products, enabling merchants to better plan for demand. It has started rolling out for new users and will be available for everyone early next year.
Enabling more businesses to easily connect with shoppers is core to the shopping experience on Google, and we can't wait to see how these features help deliver an improved, engaging shopping experience for both buyers and sellers.
Easier ways to get information, and get around
Contributing over INR 16,000 crores to the Indian GDP and supporting more than 750,000 full-time equivalent jobs in India in 20221, YouTube's creative ecosystem remains a powerful force for education, entertainment, and economic impact.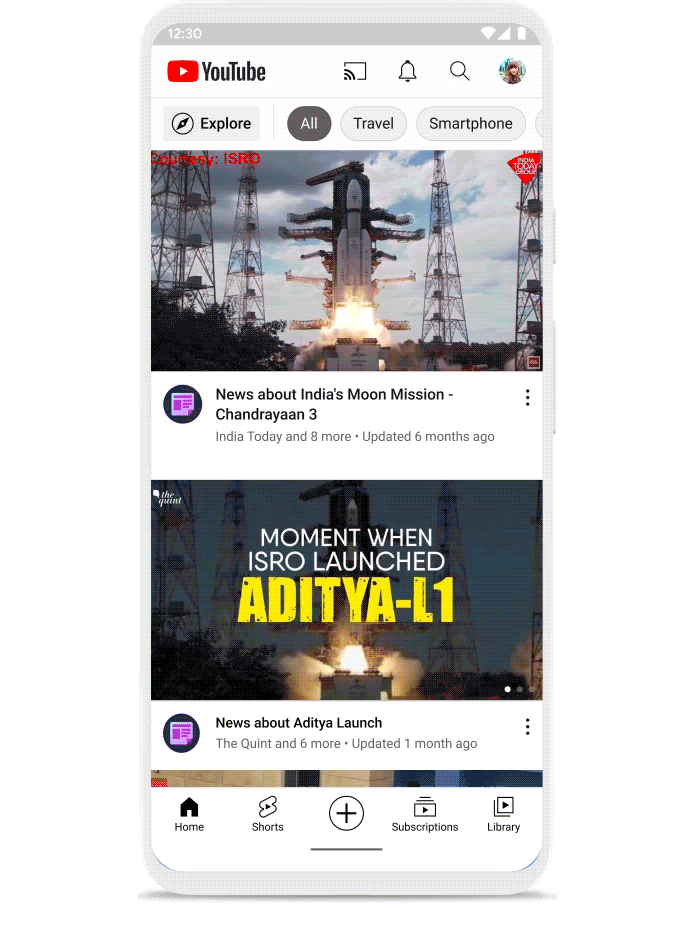 Today, to enable viewers with an even better experience deep-diving into news topics they care about, YouTube announced that it will roll-out a watch page for news – an immersive way to experience news stories in India.
The watch page for news will bring together a diverse and credible range of news sources on YouTube for viewers who want to go beyond the headlines and explore a story, recommending content across video on demand, livestreams, podcasts, and Shorts. The watch page for news builds on our efforts, over the years, to elevate authoritative news sources, with features like the Top News and Breaking News Shelves, and will become available in 11 Indian languages, starting Q4 2023.
This launch reinforces YouTube's long-standing commitment to connecting viewers with timely and substantive news content, while also helping news organizations engage with their audience through multi-format content in unique ways.
Advancing security innovations, powered by AI
To truly harness digital's full potential, online safety is imperative. Across our products and services, we remain committed to building a secure digital environment and experience for all, doubling down our efforts to protect people against ever-evolving scams, malware, and fraud. As part of this, we have been investing in built-in protection across our products since the beginning. An example of this is Google Play Protect, our built-in, proactive protection against malware and unwanted software that scans 125 billion apps daily to help protect you from malware and unwanted software, on and off Play Store. Today, starting with India, we are making Google Play Protect's security capabilities even more powerful with real-time scanning at the code-level to combat novel malicious apps that leverage methods, like AI, to avoid detection. Google Play Protect will now recommend a real-time app scan when installing apps that have never been scanned before to help detect emerging threats.
Our investment in India is unwavering. And we are always looking for ways to help more people reap the benefits of technology to improve their lives.