Launching the Spot Platform powered by Google Pay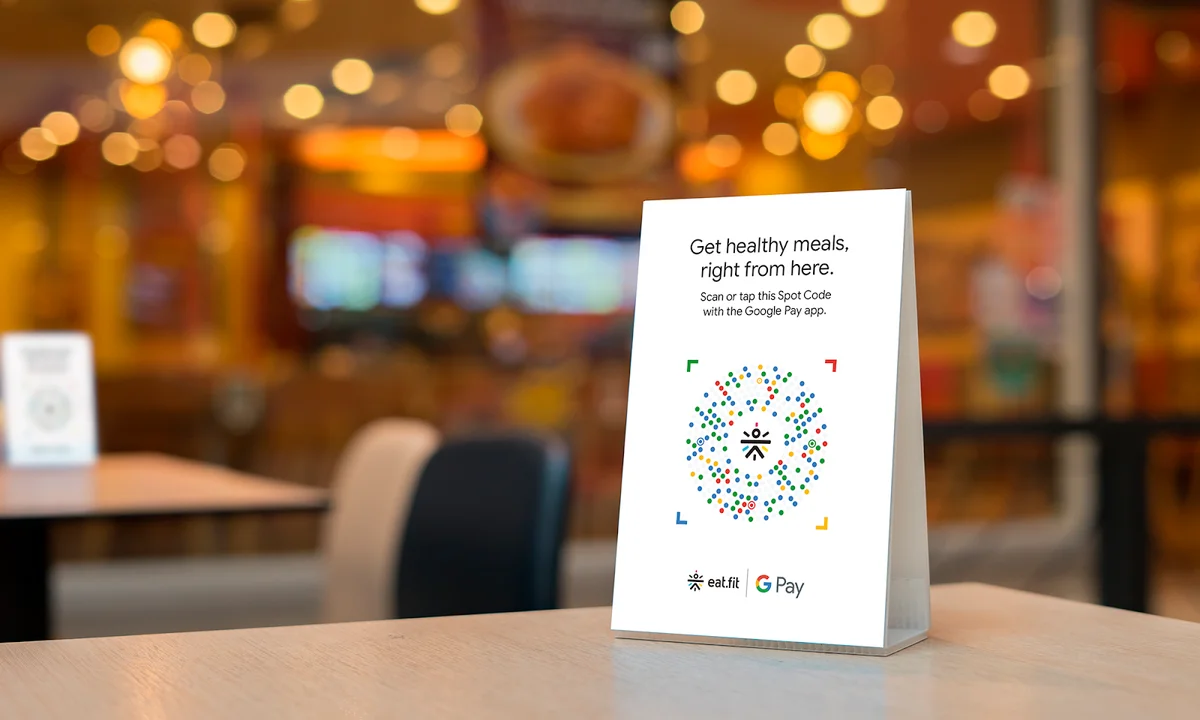 Enables merchants to create branded commercial experiences that bridge the offline and online worlds.
We launched Google Pay two years ago with the mission of making payments Simple, Secure and universally Accessible for every Indian - whether it's a tenant paying rent to their landlord or a brother buying gold for his sister on Raksha Bandhan or an entrepreneur selling locally. Google Pay with its conversational UI and machine-learning based fraud protection made it easier and safer for individuals and businesses to connect. Today, there are millions of people who use Google Pay for their daily needs.
Image 1 & 2: Google Pay's conversational UI makes it easy; Image 3: Fraud detection keeps it safe
But we're just getting started. One area we have been focusing on is enabling businesses to grow. Say, someone like Parul who owns a chain of sweet shops in Delhi. Parul has a business website but would love to both sell her sweets beyond her neighbourhood and deepen her relationship with her existing walk-in customers. Her customers keep forgetting that she has a website, and building an app which customers would download and keep on their phones, is hard. This challenge isn't unique to Parul's business, think of an electronics chain that wants to let you know that the latest phone you've been waiting for is back in stock, or an online travel service that wants to send you the itinerary of an upcoming trip. Each of them want to build customized and branded experiences, where customers can discover, buy and engage directly with a business without having to install an app, create new accounts or share payment details with every business they use. 
That's why, today, we're launching the Spot Platform powered by Google Pay that enables merchants to create branded commercial experiences that bridge the offline and online worlds.
A Spot is a digital front for a business that is created, branded and hosted by them, and powered by Google Pay. Users can discover a Spot online or at a physical location, and transact with the merchant easily and securely within the Google Pay app. The Google Pay app also surfaces the relevant Spot to the user when they need it, directly on the homescreen. This means that someone's favourite restaurant Spot might show up around lunchtime, or the cab booking Spot might show up before your morning commute. Users can also easily share a Spot on the Google Pay app or on their favorite messaging app.
Search, select, pay and track your order right within Google Pay

Offline-Online and everything in between
But, what is unique to the Spot Platform is how it brings the online to the physical world. Businesses with a physical presence can place a 'Spot Code' at specific locations. Customers can scan this Spot Code or tap (for NFC enabled phones) on it to go straight into the business's Spot on Google Pay. This works because Spot Codes are a combination of a custom visual code and an NFC tag. Just scan or tap and you're in the Spot. Yep, it's that simple! 

Quick, easy, light. Made with love for HTML and Javascript
A Spot is built using HTML & Javascript so developers can leverage their existing investments into mobile websites or progressive web apps (PWA) and transform it into a Spot,  by just adding a few lines of Javascript. This makes it possible for a merchant to have a truly scalable solution while keeping their digital experience consistent.
Enabling connections, not just transactions
We understand that discovery is where it starts, but building deep connections is what matters the most - a connection that doesn't just end with a payment, but extends to effective post sale engagement. The Spot Platform helps merchants own this relationship by providing a conversational framework, so that order updates, offers, and recommendations can easily be surfaced to the customer. This is powered by our Order API which is specialised to provide real time tracking for delivery orders, and the Messaging API which can surface relevant messages post checkout to the user. 
Primitives done right
The Spot Platform provides APIs for things like identity and payment management that have been developed based on user and partner feedback and learnings from the last two years of developing Google Pay in India (originally called Tez). They provide frictionless UX for key actions like sign in, payments and sharing. For the merchant, this makes the development process faster, and helps reduce customer dropoff at these critical moments, leading to higher conversion. 
We respect privacy
Privacy and security are core to the Spot Platform. No device permissions or data provided by the user to Google Pay is passed on without explicit user consent to the merchant Spot. Users can grant, review or modify these permissions at any time, for each Spot individually.
We're thrilled about all the new possibilities the Spot Platform brings for both individuals and businesses. Many of our users have already experienced the underlying technology when they bought Train Tickets or Gold on Google Pay or played the Tez Shots game we built for the Cricket World Cup. The Spot Platform has been rolled out to all Google Pay users, and some of our early access partners who have created a 'Spot' include:
Today, we are broadening this early access program, and inviting developers and businesses to sign up to create their Spot and build engaging relationships with millions of users on Google Pay. Start here.