5 Ways YouTube Shorts Can Help Superpower Your Channel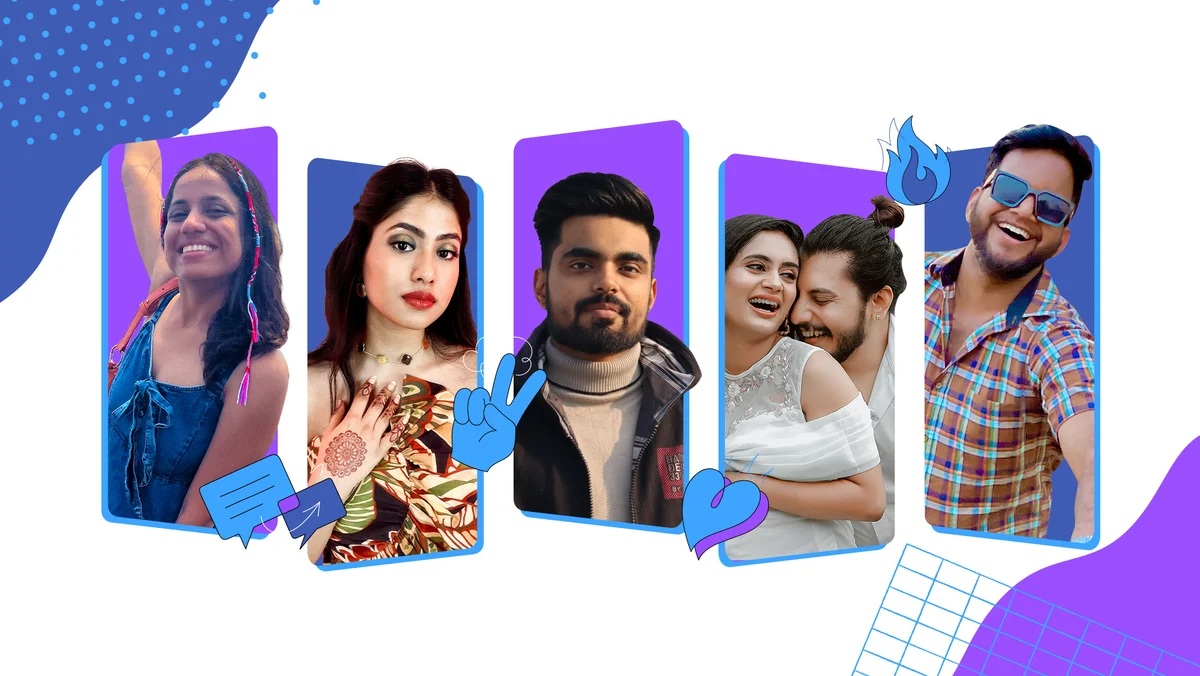 Every creator on YouTube has their own definition of success, whether it's to express themselves creatively, build a pathway to fame and fortune or to uncover new ideas from global communities. That's why YouTube offers creators a range of video formats for the creator to use as they see fit — from VOD to Shorts to Live — all while earning money from multiple revenue streams.
Our creators are pushing the boundaries of innovation as they lean into the freshest format available on YouTube: Shorts. Shorts has allowed creators to showcase their creativity uniquely and engage in different ways, whether they're just getting started on the platform or are tried and true YouTube creators looking to test a new approach. The arrival of YouTube Shorts - which is averaging over 30 billion daily views globally, that's four times as many as a year ago - has helped creators connect with more viewers. These new audiences have in turn expanded the reach of creators by exploring their content in other formats like VOD and live streaming. So, to say the opportunity is ripe for creators would be an understatement!
As we celebrate two years of Shorts in India, to help supercharge your channel, here are five creators who, in their own words, have made Shorts work for them in extraordinary ways.
Build subscribers

Dushyant's journey on YouTube is a true testament to the adage of try, try till you succeed! Driven by a passion for storytelling and an ambition to convert that into a lucrative career, Dushyant dabbled in video creation and experimented with various formats on YouTube, until he found his big break on Shorts. His light-hearted and relatable content, in his unique style, has helped him emerge as one of India's top shorts creators.
"When I first came to YouTube in 2016, I found it difficult to break in with long form videos, and eventually lost steam. But, I was determined to convert my passion into a profession and I relaunched my channel in 2019. I was still dabbling with music and comedy long-form videos when Shorts launched the following year. I began posting Shorts as an experiment as I was eager to grow my fledgling channel and build my community on Shorts. After analyzing the audience's preferences, I formulated a Shorts programming and content strategy to help me be more consistent. And, this paid off! Today, I have more than 16 million subscribers, and my next goal is to reach 20 million subscribers. I want to keep going and I want the whole world to watch my Shorts!"
Drive viewership

Anjali Dhingra has always been curious to try out new, even bizarre foods. When YouTube Shorts first launched in India she decided to share her unusual tastes in bite-sized videos. Her channel, So Saute, found an audience with a raging appetite for unique food on YouTube and the views began stacking up. Today, So Saute and YouTube Shorts are like chai and pakoda - a combination you just can't get enough of! Building on the views and engagements from her short videos, Anjali has now forayed into long-form cooking videos and has even launched another channel where she vlogs with her partner.
"I started my YouTube journey back in September 2020 but I only began uploading Shorts consistently since July 2021. It has been the BEST DECISION EVER! I have been able to attract and grow viewership finding new ways to engage with my fans, from shoutouts to 30 day challenges. I often crowdsource my ideas for unusual food combinations from my fans and that has helped me build an engaged audience. I also began using Shorts as a way to bridge audiences over to my long-form content as well. I would leave a pinned comment to my longer videos and steadily a lot of my viewers migrated to watching my long form content as well. Shorts has changed the entire trajectory of my career: from being a software developer to following my passion. Being rewarded for my efforts is truly an amazing feeling!"
Diversify audiences and reach new demographics

For husband-wife duo, Meeth Miri, their YouTube channel is not only a window into their world but also a gateway for them to entertain and inspire millions of viewers. The reality TV stars turned creators speak and create content in 4 languages including English, Hindi, Malayalam & Tamil, which has allowed them to appeal to a diverse audience. Recognising the rampant myths around pregnancy, the duo used their own journey to parenthood to challenge stereotypes. Today, the couple is helping a community of expectant and new mothers learn from each other's experiences through Shorts.
"For as long as we've been on YouTube, we have been committed to a singular goal: to inspire a large community of viewers by delivering social messages in an entertaining way. To reach a broad segment of viewers, it has been important to ensure that language is not a barrier. We create content in 4 languages but have found that some of our most popular Shorts contain no spoken word, and are simply set to fun music! Shorts helped us reach new audiences, our channel showed up in recommendations more often and we were able to engage more deeply with our fans. As a result, our community has consistently grown. When we became pregnant, we realized that many of our fans were curious - especially many of our young fans who were seeking to learn from our experiences. That's when we decided to invite our viewers to accompany us on our journey through the pregnancy. We received overwhelming support from our community and I am happy that, today, we have fans who are like family! "
Increase monetization opportunities

Ajay was 23 years old and running a small local store, when Shorts provided him with the perfect gateway to pursue his dreams to become a creator. He was among the first creators in India to experiment with short-form content that sat at the intersection of entertainment and inspiration, comedy with compassion. His videos which are humorous yet empathetic transcend barriers of age, language and geography, commanding over 9B+ views, with over 13M + subscribers. Today, Ajay is also inspiring many other Shorts creators in this emerging genre of promoting social good through comedy skits.
"I would always watch other content creators put out videos and had wanted to create my own content. I was managing a small kirana store and my family was concerned that I would be giving up on a safe, stable business. For a long time, I hesitated from pursuing my passion and didn't get started. However, with the launch of YouTube Shorts and with encouragement from my wife, I finally found a reason to join YouTube. With Shorts, I felt inspired and it has helped me deliver my message, experiment with creative expression and uplevel my storytelling. It has helped me gain 7M+ subscribers and millions of views - and this gave me the confidence to expand to long-form content and monetize my content effectively. I love to go Live as it gives me the opportunity to interact with my fans, unlocking fan funding opportunities too. Today, my brother is also a part of my channel, and my wife continues to support my content creation journey. The success of my channel means we truly have a new family business now!"
Broaden off-platform business opportunities

Hailing from Jaipur, Yashi is today known across the country for her exceptional fashion & beauty hacks. With a keen eye on the latest fashion trends, Yashi's consistency in uploading Shorts has allowed her to nurture an engaged community, which in turn has helped her collaborate more effectively with brands and build a successful offline fashion business.
"YouTube Shorts has given me the liberty to express myself everyday and in every way. I built out a content strategy for both long and short form video, and as I began diligently following the plan, my channel began to grow in terms of subscribers. Shorts helped me discover and express my funny side! Moreover, it has allowed me to connect with people who appreciate my humor and my fashion sense, which in turn helped me reach out to a wider audience. Building on this foundation, I have been able to grow my business - Shorts helps drive customers to visit my website which translates to real sales."
We hope hearing from these creators inspires you to take advantage of Shorts and all the video formats available on YouTube. Give them a try, Shorts may be the boost you need to supercharge your channel!