Two years of YouTube Shorts - what we've learned so far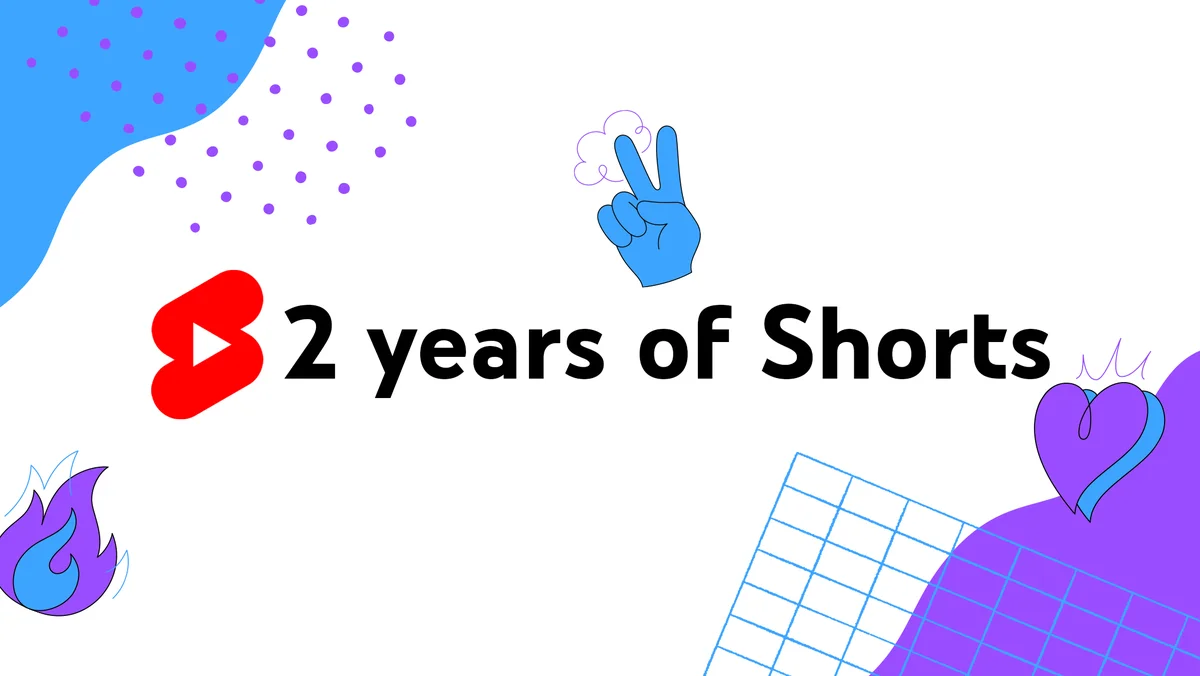 In September 2020, we introduced an early beta of YouTube Shorts in India to further our mission to give everyone a voice and help creators grow their audiences with short-form video. Today, as we celebrate 2 years since our launch in India and continue to build this experience with people across the globe, we wanted to showcase how our creators are embracing Shorts to herald new formats of storytelling, spotlight communities that are growing on Shorts, and share a few insights on what we've learned so far.
The rise of multi-format creators
YouTube is the only destination where creators can produce all forms of content while building community and earning money from multiple revenue streams. The multiformat creator moves seamlessly between different video formats on YouTube to connect their community with the right content at the right time.
Artists like Renuka Panwar and Dhvani Bhanushali have leveraged the full spectrum of video formats from long-form to Shorts and Live, to grow their channels and build sustained engagement with their fans even during low release cycles. From podcasts to tech reviews, skits and sketches to food & cooking, multiformat creators and artists create an infinite flow of content combinations to maximize their creativity, reach, community connection and revenue.
Winning hearts and minds with new formats
Shorts is helping capture the interest of mobile-first creators and viewers who only know life with a smartphone.
Not just entertainment - Shorts are transforming the way we learn! Whether it's sharing social messages or decoding complex topics like law, science, film editing and even farming, creators are leveraging the power of Shorts to connect viewers to helpful and purposeful information, ideas and inspiration.
Celebrating India's unique cultures and diversity
In India, Shorts is lowering the barriers for under-represented voices that may otherwise have not had a platform. Young creators from small towns and with big dreams are now able to unlock opportunities to express their creativity through Shorts.
Creators who represent the true flavor of their regions are having their moment in the sun. Celebrating their history and traditions, unique cultures and even distinctive local quirks, these creators are able to connect with a wide diaspora through relatable content, shared interest and even nostalgia. For instance: YouTube has become home for heavy automobile enthusiasts in Kerala, with BusTubers like NAZRU VLOGGER 2.0 accelerating growth for this niche, but growing community!
Content is created not only in Indian languages such as Bengali, Bhojpuri, Haryanvi, Hindi, Marathi, Punjabi, Tamil, Telugu, among others, we're even seeing content across regional dialects: from Bellary, the Godavari region, Mallapuram, Thrissur, Palakkad, Kanyakumari, Sivagangai and Madurai.
Part of the magic of Shorts is not only watching new trends but participating and reshaping their direction through a unique blend of culture and creativity. This has manifested in delightful ways from regional instruments and sounds synced to popular beats and lyrics to popular global hits reimagined in native languages.
A place for any and every community to take off
YouTube has always been a place for people to discover and connect more deeply with things they love, where any and every community can come together to connect, and YouTube Shorts is no different. From calisthenics to Rubik's Cube art, cricket, the comicverse and many more, communities on YouTube are bursting through from niches to the mainstream.
When poetry meets pop culture. Shayaris are having a moment on YouTube. Creators Sameed Saab, Tamkeen Khan, and Arunendra7 are helping reignite interest in the forgotten genre and reinvigorating ancient poets' culture with a modern twist, set to a soundtrack of popular music.
From nurturing ambitions to everyday living, you're never alone on YouTube Shorts.
Music grows and artists inspire
Music is coming to life on Shorts all over the world. Artists are creating one-of-a-kind music moments to connect with their fans and vice versa, fans are sharing glimpses into their own lives soundtracked by their favorite songs - all on Shorts.
We have millions of songs in our music library and are so happy to see that artists and fans everywhere are using them to create new trends and stay connected with one another. We are breaking new ground with the music industry and will be partnering with even more artists to create special music moments only on Shorts - stay tuned for more to come!
Early learnings as we build YouTube Shorts from the ground up
Short-form video creators have differentiated needs that we want to lean into as we build our team and our approach to creator engagement. We're thinking through strategies around content creation, community building, platform education, channel growth, fan engagement, and, of course, monetization.
As we continue to build YouTube Shorts, we're focused on three key areas: building a creation experience that empowers anyone to create and find an audience; refining our viewer experience to make sure we're helping people find Shorts that they'll love and discover new creators; and expanding more ways we can reward creators for the Shorts they make that delight the YouTube community.