Run audio ads easily with new tools in Display & Video 360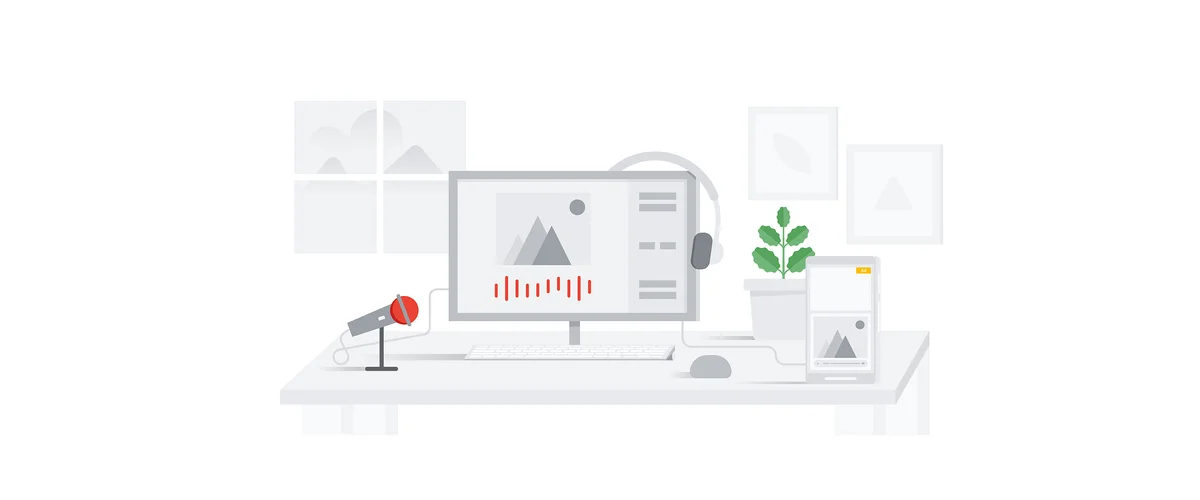 In 2020, U.S. adults are projected to listen to digital audio more than radio for the first time ever. As the audio landscape continues to shift more heavily to digital, marketers have more opportunities to reach their audiences and get their attention using a long-proven format. Google continues to help marketers embrace this shift with new and improved audio product offerings.
We're introducing new audio capabilities in Display & Video 360 to simplify the ad creation process, make it easier to find the right audio inventory for your brand, and improve measurement.
Easily create compelling audio ads at scale
Audio ads are a unique way to reach customers when they aren't looking at their devices, but are still engaged with content and receptive to brand messages. Whether listening to a podcast on a drive, streaming music while out for a walk, or using voice with a smart speaker, there are multiple times a day to reach users through audio. But creating professional grade audio ads can be difficult and costly. Our new audio ad creation tool, Audio Mixer, is a one-stop-shop for advertisers and agencies looking to easily create audio ads at scale.
With Audio Mixer, marketers are able to upload multiple tracks including music, sound effects and voice, while also having full edit control to create a high quality audio ad. Audio Mixer also allows brands and agencies to add the companion display creative that will be shown with the audio tracks. The preview gives marketers a better sense of their customers' full audio ad experience. Marketers can then share the complete audio ad and companion asset for brand approvals through a link that does not require Display & Video 360 access.
One of our Audio Mixer beta users, Joystick Interactive, has found the product to be both simple to use and impactful. Andrew Henry, Head of Client Services at Joystick, says that "the Display & Video 360 Audio Mixer platform is an ideal solution to create custom audio ads quickly. The user-friendly interface provides the tools to create professional, high quality ads no matter the level of technical expertise."
 A demo of Audio Mixer's track setup and editing ability
Audio Mixer is now available globally in Display & Video 360. For information on how to get started, please visit the help center.
Discover audio inventory in Marketplace
To help advertisers connect with audio publishers and view available inventory for their campaigns, audio will soon have its own section in Marketplace. Marketplace will showcase inventory from top audio partners including AdsWizz, iHeart, Pandora, SoundCloud (global), Spotify, Triton Digital and TuneIn, among others. It will also provide marketers with more audio-specific information, such as content type to distinguish between music, radio and podcasts.
A view of Audio in Marketplace
In addition to highlighting audio in Marketplace, we're working to increase access to new audio inventory. For example, advertisers can now access digital audio inventory through Programmatic Guaranteed deals and other programmatic transaction types on Google Ad Manager. As a part of this, Ad Manager is also introducing new audio monetization features that help publishers sell their audio inventory programmatically to marketers.
Building stronger brand measurement in audio
Google's Brand Lift offering is an ad measurement solution that evaluates the impact of ad campaigns on brand perception. As one of the most requested product features for audio, we look forward to expanding Brand Lift measurement to audio inventory later this year.
With Brand Lift, advertisers will have the ability to understand if their audio campaigns are impacting brand favorability metrics, such as awareness, ad recall, consideration and purchase intent. The offering will also provide programmatic buyers with actionable insights for in-flight optimizations as early as seven days into the campaign, with reporting slices across areas like creative and line item. Additionally, the tool will provide marketers with unified measurement across audio, video and YouTube campaigns.
As the ability to reach people through audio continues to grow, we are working on building additional features to help advertisers take full advantage of the growing audience opportunity. This includes solutions for dynamic audio creation, contextual targeting, podcasts and more. We are excited for what the future of audio will bring.