Alphabet
Bringing the Internet within reach of 100 million Indonesians from 20 kms above Earth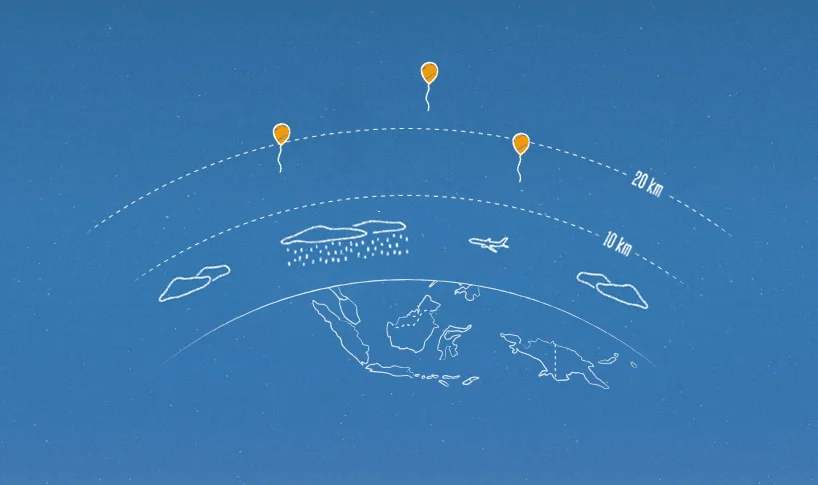 Baca turun ke bawah agar dapat melihat postingan ini dalam Bahasa Indonesia
In Indonesia today, only about 1 out of every 3 people are connected to the Internet. And even though most of their connections are painfully slow, they're doing some pretty incredible things. Startups like motorcycle delivery service
Go-Jek
are building impressive adaptations to Indonesia's unique challenges, while small businesses like fashionable hijab shop
HiJup
are using the web to redefine marketplaces.
Still, a majority of Indonesians don't have access to the educational, cultural, and economic opportunities of the Internet. That's why we're pleased to announce that Indonesia's top three mobile network operators—Indosat, Telkomsel, and XL Axiata—have agreed to begin testing
Project Loon balloon-powered Internet
over Indonesia in 2016. These tests represent an important step toward bringing all of Indonesia online.
From left to right: Ririek Adriansyah, CEO of Telkomsel; Dian Siswarini, CEO of XL Axiata; Alexander Rusli, CEO of Indosat; Mike Cassidy, VP of Project Loon; Sergey Brin, President, Alphabet Inc

Loon balloons act like floating mobile phone towers; flying on the stratospheric winds at altitudes twice as high as commercial planes, each balloon beams an Internet connection down to the ground, and as one drifts out of range, another moves in to take its place. Loon can help telecommunications companies extend their networks; high in the sky, we can help overcome the difficulties of spreading equipment across an archipelago of 17,000 islands of jungles and mountains, providing connectivity to even the most remote islands.

Project Loon balloons travel approximately 20 km above the Earth's surface in the stratosphere. Winds in the stratosphere are stratified, and each layer of wind varies in speed and direction. By moving with the wind, the balloons can be arranged to form one large communications network.
Over the next few years, we're hoping Loon can partner with local providers to put high-speed LTE Internet connections within reach of more than 100 million currently unconnected people—that's enough speed to read websites, watch videos, or make purchases. From Sabang all the way to Merauke, many of these people live in areas without any existing Internet infrastructure, so we hope balloon-powered Internet could someday help give them access to the information and opportunity of the web.
But it's not the only step Google is taking toward making the Internet both accessible and useful for people in Indonesia. Android One phones are helping to make high-quality smartphones more accessible in a country where most people first access the Internet on a mobile device. And along with that, we're working to ease the use of data with features sure as Search Lite, which streamlines search so pages load more quickly, or by optimizing web pages so that they require less data to load. Indonesia is also one of the first countries where YouTube users can take videos offline to watch later during periods of low or no Internet connectivity.
We're also doing what we can to ensure that language isn't a barrier to the opportunities of the web. Google Translate was introduced for Bahasa in 2008, and more recently we've expanded it to Sundanese, a language that's spoken by nearly 40 million people living on the island of Java. 
Soon we hope many more millions of people in Indonesia will be able to use the full Internet to bring their culture and businesses online and explore the world even without leaving home. And for those of you who've never been to this country of rich culture and natural beauty, we invite you to head over to Google Street View to explore the famous temples at Borobudur and Prambanan. 
---

Menghadirkan akses internet ke 100 juta penduduk Indonesia dari ketinggian 20 km di atas Bumi
Saat ini, perbandingan jumlah penduduk Indonesia yang bisa mengakses internet adalah satu banding tiga. Dan sebagian besar koneksi Internetnya pun sangat lambat, namun, mereka tetap dapat melakukan berbagai hal mengagumkan. Perusahaan startup seperti
Go-Jek
berhasil menyesuaikan diri dengan tantangan unik yang ada di Indonesia, dan perusahaan kecil yang bergerak pada bidang busana hijab seperti
HiJup
juga menggunakan Internet untuk mendefinisikan kembali pangsa pasarnya.
Bagaimana pun, mayoritas penduduk Indonesia masih belum memiliki akses Internet terutama kesempatan di bidang pendidikan, budaya, dan ekonomi. Itulah mengapa kami bangga mengumumkan bahwa tiga operator seluler di Indonesia—Indosat, Telkomsel, and XL Axiata—telah menyepakati memulai pengujian
Project Loon - Internet bertenaga balon
di Indonesia pada tahun 2016. Pelaksanaan pengujian ini adalah sebuah langkah penting membawa seluruh Indonesia menjadi online.
From left to right: Ririek Adriansyah, CEO of Telkomsel; Dian Siswarini, CEO of XL Axiata; Alexander Rusli, CEO of Indosat; From left to right: Ririek Adriansyah, CEO of Telkomsel; Dian Siswarini, CEO of XL Axiata; Alexander Rusli, CEO of Indosat;

Balon Loon berfungsi sebagai menara telepon seluler terbang, mengangkasa dengan angin stratosferik di ketinggian dua kali daripada pesawat komersial, masing-masing balon ini memancarkan koneksi Internet turun ke permukaan, dan bila salah satu balon ini keluar jalur, yang baru akan menggantikannya. Project Loon dapat membantu perusahaan telekomunikasi melebarkan jaringannya, jauh tinggi di angkasa, dengan mengatasi tantangan dalam hal penyebaran peralatan dalam menyediakan konektivitas ke penjuru paling ujung sekalipun ke seluruh Nusantara, yang merupakan kepulauan sebanyak 17.000, yang terdiri dari hutan dan pegunungan.

Dalam waktu beberapa tahun ke depan, kami berharap Project Loon dapat bermitra dengan penyedia lokal untuk membangun koneksi Internet berkecepatan tinggi berbasis LTE agar dapat menghubungkan lebih dari 100 juta penduduk yang belum terhubungi—kecepatan ini baik untuk situs-web, menonton video, dan melakukan pembelian online. Dari Sabang sampai Merauke, banyak dari masyarakat ini tinggal di wilayah tanpa infrastruktur Internet yang sudah ada saat ini, jadi kami berharap Internet bertenaga-balon ini dapat suatu saat nanti membantu mereka agar memiliki akses informasi dan kesempatan yang ada di Internet.
Namun, ini bukanlah satu-satunya langkah yang dilakukan Google untuk menjadikan Internet dapat diakses dan berguna bagi masyarakat di Indonesia. Perangkat telepon
Android One
membantu ponsel pintar bermutu tinggi agar lebih mudah diakses di negara yang kebanyakan masyarakatnya memiliki akses pertama Internetnya di perangkat seluler. Bersamaan dengan ini, kami juga sedang bekerja untuk memudahkan penggunaan data dengan fitur seperti
Search Lite
, yang mempersingkat penelusuran sehingga memuat laman lebih cepat, atau dengan
pengoptimalan laman Internet
agar data lebih sedikit ketika ada pemuatan laman. Indonesia juga merupakan salah satu negara pertama terkait
para pengguna YouTube yang dapat memutar video dalam keadaan offline
agar dapat ditonton di waktu kemudian saat konektivitas Internet sedang rendah atau tidak ada koneksi sama sekali.
Kami juga melakukan segala sesuatu yang dapat dilakukan untuk memastikan bahwa bahasa bukanlah rintangan yang menghalangi kesempatan yang ada di Internet. Google Translate diperkenalkan untuk Bahasa Indonesia pada tahun 2008, dan belum lama kami melebarkannya ke
Bahasa Sunda
, sebuah bahasa yang dipakai oleh lebih dari 40 juta orang yang tinggal di pulau Jawa.
Tidak lama lagi, kami berharap jutaan masyarakat Indonesia akan dapat menggunakan Internet secara utuh sehingga dapat membawa budaya dan bisnis mereka secara online dan mengeksplorasi dunia tanpa meninggalkan kediamannya. Dan, bagi mereka yang belum menginjakkan kakinya di negeri yang kaya budaya dan keindahan alam ini, kami mengundang Anda menggunakan Google Street View agar dapat mengeksplorasi candi-candi seperti Borobudur dan Prambanan yang sangat terkenal.