Google in Africa
Google for Nigeria: Making the internet more useful for more people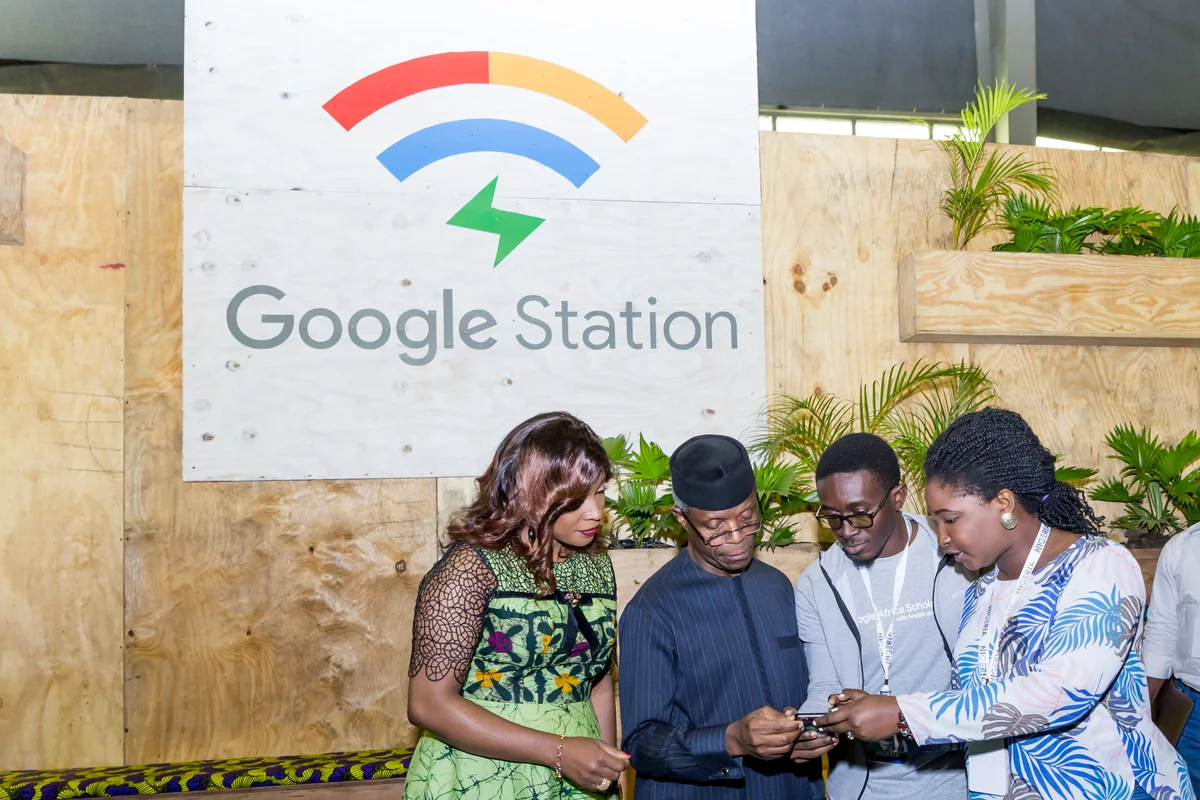 Today, at our second Google for Nigeria event, we announced more products and programs to help more people in Nigeria and across Africa benefit from the opportunities the web has to offer.
Google Station: high-quality Wi-Fi hotspots across Nigeria
Access to the internet in Africa is growing but it's still limited. Only 35 percent of Africans have access to the web, compared to 48 percent in Asia, 67 in Latin America, 85 in Europe and 95 in North America. Many internet users in Africa don't have Wi-Fi in their homes, relying instead on the few public Wi-Fi hotspots to connect, communicate and learn.
Today, we're announcing Google Station for Nigeria: a program to provide high-quality, high-speed Wi-Fi hotspots in partnership with 21st Century, one of the largest fiber network providers in Nigeria.
Google Station will be rolling out in 200 locations in five cities across Nigeria by the end of 2019, bringing Wi-Fi to millions of people. Sites will include markets, transport hubs, shopping malls, universities and more. Nigeria is the fifth country in which we're launching Google Station, after India, Indonesia, Thailand and Mexico.
Google Go: Listen to webpages read out loud
In April we launched Google Go, an app that makes it easy for people to discover the best of the internet, even on low-RAM smartphones or unstable network connections.
Today, we're taking this further by announcing a new feature within Google Go that reads webpages out loud and highlights each word so you can follow along. It's a new and easier way of using the web and it will be available for billions of pages and in 28 languages in the coming weeks. So whether you're learning something new, need to have your hands free, or just want to kick back and let your phone do the work, Google can read it for you.
Google Search and Maps: Helping you find what you need
In March, we launched our job search experience in Nigeria, Kenya and South Africa and this week, we're expanding it to another 32 countries in Africa. In Nigeria, we're also launching a new Search experience that allows you to explore health conditions based on symptoms. And our new recipe search experience helps you easily explore options for popular meals when you need them. Jollof anyone?
On Google Maps Go, we're launching a navigation feature so that users with low memory phones or unstable network connections can use turn-by-turn directions whether you're travelling by car, by bus or on foot.
We're also launching more Nigerian landmarks and natural wonders on Street View, so that Nigerians and others can discover more of the country. You can now virtually tour the National Museum in Lagos, Olumo Rock in Abeokuta, the Millenium Park in Abuja, Lekki Conservation Centre and many others—all from your phone.
YouTube Go: More control over downloaded videos
A year ago we introduced YouTube Go, designed to improve your experience when watching videos on a slower network, give you control over the amount of data used streaming or saving videos, and to let you share videos with friends nearby.
We've heard from people that they'd like to browse downloaded YouTube Go videos right from their gallery. So later this year, you'll be able to do just that. With the launch of the .yt video file, your downloaded YouTube Go videos will behave more like files, enabling you to also share videos via various apps or delete them in bulk. One tap on the video and it automatically plays back within YouTube Go.
Growing with Google
A year ago, we announced initiatives aimed at getting people the right skills and tools to make the digital world work for them, their businesses and their communities.
As of today, our digital skills program has trained more than 2.5 million Africans as we aim to reach the 10 million promised. We've also trained more than 9,000 Africans developers who are on their way to becoming Google certified. And together with our partners Udacity and Andela, we've provided 15,000 two-month "single course" scholarships and 500 six-month nanodegree scholarships to aspiring and professional developers across Africa.
Supporting startups and nonprofit organizations
In March, we kicked off the first class of Launchpad Accelerator Africa, our program to provide over $3 million in equity-free support to African tech startups including mentorship, working space and access to technology. Twelve startups graduated, with more than 20 teams from Google and 40 mentors from nine countries supporting them. The startups have directly created 132 jobs and, between them, have raised over $7 million in funding. Their products are being used by approximately 4.5 million people.
The ongoing Google Impact Challenge forms a part of our $20 million Google.org commitment to Africa over the next five years. We closed the application process with more than 5,500 entries. We're now in the process of selecting 36 nonprofit and social enterprise innovators who have the best uses of technology to tackle Africa's biggest challenges.

Android Go: Bringing the power of computing to more people
We want people coming online for the first time to have a powerful and reliable smartphone experience. That's why this year we launched Android 8.1 (Go Edition) in Nigeria and 29 other African countries. Android Go is a configuration of Android optimized for smartphones with 1GB of RAM memory or less. By enhancing our pre-installed Google apps to take up 50 percent less space, we've doubled the amount of available storage on entry-level devices.
Across Africa, Transsion, Nokia, Huawei, and Mobicel have launched various devices, starting at just over 17,000 Naira. Through Android Go, we're enabling entry-level devices to be affordable, fully functioning smartphones that can browse the web and use apps.
This is all part of our aim of helping more people to get access to computing, and of our ongoing commitment to building platforms and products that are useful for billions and that help people to make the most of the internet.
Image at top: HE, the Vice President of Nigeria, Prof Yemi Osinbajo at the launch of Google Station in Lagos.