Google in Africa
How a pharmacist's healthtech solution plans to improve access to medication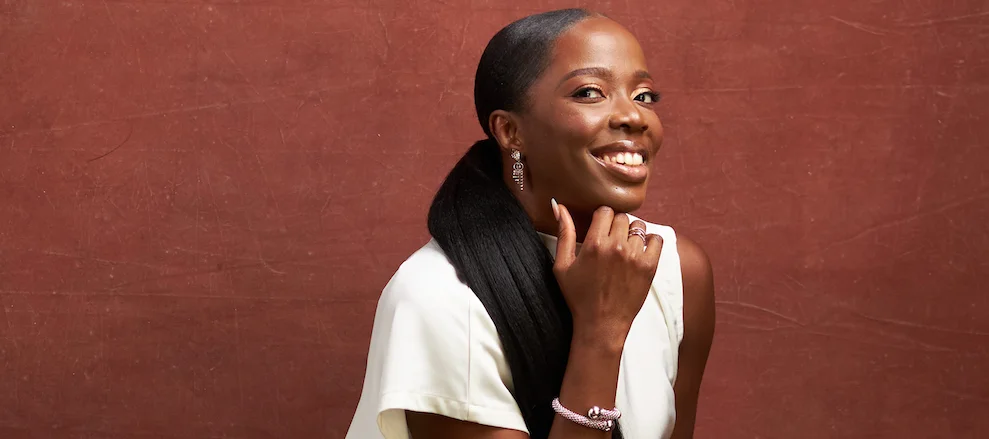 Like many other entrepreneurs, Adeola Alli only launched her business OneHealthNG to solve a problem that she herself faced. As a qualified pharmacist who had worked in both the UK and the USA, when she returned home to Nigeria, she struggled to easily access specialist medication for her child.
Fed up of having to rely on visiting relatives and slow importation deliveries — and despite no technology experience — she did what any other headstrong mother would do:she created the solution herself.
Adeola believed there had to be a better way of dispensing medicines whilst obtaining accurate healthcare advice from qualified pharmacists. So she developed OneHealth, an online pharmacy and digital healthcare platform in Nigeria enabling anyone to easily order medication to their homes from any smartphone. She credits her participation in the Google for Startups Accelerator Africa program for helping to improve her technical skillset to grow the business.
"The funniest thing is, I wasn't even trying to become an entrepreneur, least of all a tech founder!" she says.
Overcoming this lack of technical expertise could have been a potential barrier, but Adeola was resourceful and knew she had to work from scratch whilst surrounding herself with a competent team of tech experts.
"I knew the importance of sourcing the best tech talent for the business, so I got my husband to help me network with key contacts in the technology industry. Now I work with a fantastic group of really motivated computer engineers who enable me to get on with my role as chief problem solver."
Whilst the healthcare sector is diverse, the healthcare tech sector is still heavily male-dominated — particularly at the management level. Attempting to gain funding has been one of the more notable barriers and Adeola is aware of how woefully underfunded women are compared to their male counterparts. Acknowledging the inherent biases when it comes to female tech entrepreneurs securing investment, Adeola says women have to prove themselves so much more to secure funding. "I find investors tend to interrogate my business capability in a way they don't necessarily do with male founders - there's already an assumption that men possess business acumen," she says.
The best way to overcome these biases is to let her extensive career as a pharmacist speak for itself so, hopefully, investors focus on her expertise rather than her gender.
"I've found that surrounding myself with a capable tech team bolsters my pitch to investors who may be sceptical of my lack of technical knowledge."
Joining the Google For Startups Accelerator Africa
"The support and resources we gained from the accelerator were absolutely critical as it helped us with everything from product design templates, humanizing the website's chatbot dialogue flow and accessing mentors who advised us on soft pivoting our business model to identify additional revenue streams," she says.
A strong understanding of the benefits of search engine optimization has helped OneHealth build strong organic traffic helping them to reach over 60,000 visitors each month. Indeed, digital tools like social media have proven instrumental in the business growth with a Valentine-themed sexual health campaign garnering 1,000 leads for the company. As a result of applying the digital skills gained in the accelerator, OneHealth achieved its business goals and ultimately doubled revenue.
Adeola's mission for OneHealth is to provide access to medicine and healthcare solutions for the long term survival of Africans. She hopes her business success will be an inspiration to young women on the continent, sceptical of entering the technology industry.
"We should always try to make the tech sector more inclusive and address the perception that technology is difficult and scary. When you empower yourself with digital tools from Google, you can learn how to run a tech business or find a tech adjacent career like a product manager. Once we accept that technology can be simple, we can encourage more girls to enter into the industry."
---
58% of Africa's entrepreneurs are women. That's why we're empowering them with the platform and tools to grow their businesses. #LookMeUp is a call for all to #BreakTheBias. Find out more here.