Ripples Nigeria and the power of geojournalism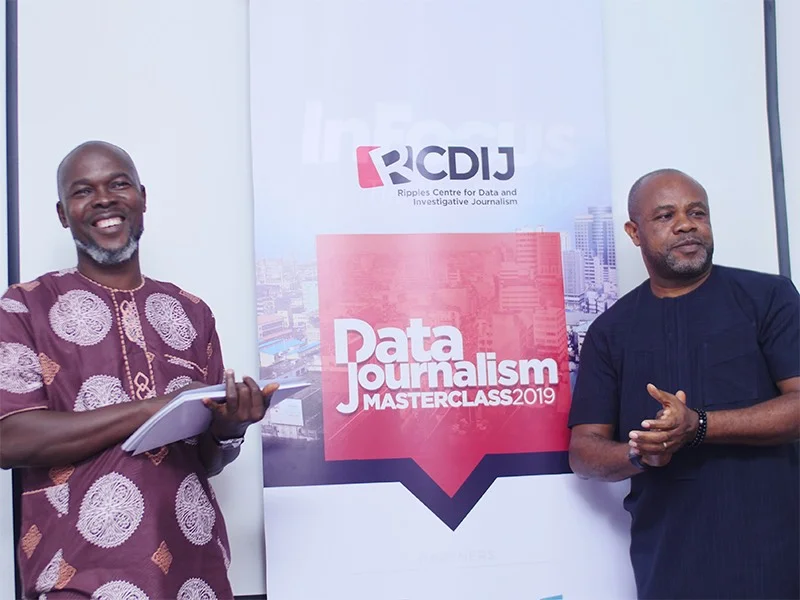 In 2015, Samuel Ibemere and his colleagues founded Ripples Nigeria, an online newspaper that aims to bring data journalism into the mainstream. And they're particularly focused on geojournalism: the harnessing of earth data to accurately report on big stories and important changes in the environment. "The media sector cannot stand by idly while other industries in Africa are contributing to help protect the environment," Samuel tells us. As well as bringing geojournalism into the mainstream in Nigeria, the hope is that it will also help track climate change.

In 2021, Ripples Nigeria received funding from the Google News Initiative Innovation Challenge for its latest project, Eco-Nai+, Nigeria's first digital geojournalism platform. The Keyword sat down over Google Meet with Chinedu Obe Chidi, Assistant Editor of Ripples Nigeria, Programme Director of Ripples Centre for Data and Investigative Journalism (RCDIJ) and Team Lead of Eco-Nai+ to find out more about the work being done. 

How would you define geojournalism and its importance today?

Geojournalism uses scientific data on the earth to report the environment. It's a fusion of journalism and earth sciences to create a brand of journalism that allows us to have objective, visual, measurable, interactive yet broadly accessible coverage of issues surrounding the environment. Without it, people could still write about the environment. But by relying on technical tools — like image geotagging and authoritative open data sources like Google Earth —  we can better communicate from a scientific perspective how best to interpret changes to the environment. It's about getting more informed, more reliable coverage of issues like rising sea levels, droughts, rainfall, erosion — the many issues tied to the question of climate change, where technical reporting is vital. 
What's the origin story behind Ripples Nigeria? 
In 2014, two slightly unrelated developments acted as a pull on a group of young Nigerian professionals in the media space. After years of struggle, Nigeria finally entered the internet age - and the media industry rushed to take advantage of new digital opportunities. With that, investigative and data journalism became even more important, helping resolve local and global concerns around corruption, illiteracy, diseases and the environment.

Ripples Nigeria was a product of these fundamental shifts. Realizing the gaps and opportunities at the time, the plan was to build a fiercely independent multimedia platform that would rise to speak truth to power, stay committed to the ideals of solution journalism and become Nigeria's most influential news source.
Can you tell us about your initial work in data journalism?


We've been focusing on data journalism for the past five years. There's a huge lack of familiarity with the subject on the continent and the more esoteric area of geojournalism is even newer to writers and editors. In 2017, we set up Ripples Centre for Data and Investigative Journalism (RCDIJ) to equip journalists, primarily through our Data Journalism Masterclass, to effectively and accurately embark on data reporting and investigative stories  in key areas like the environment. The Masterclass, in its third year now, has graduated more than one hundred journalists. 
How does Project Eco Nai+ use data?
We rely on three main sources of data. First, we work with user-generated data from those most impacted by environmental changes, like farmers and other rural workers. We thought that if we could get these people to tell their own stories — what things within their natural operating environment were like five to 10 years ago versus today, for instance — they could contribute valuable data to the platform and help document these changes. Second, we use authoritative sources of data such as Google Earth, data from meteorological agencies, and other third-party official or trusted open data sources. Third, we use data collected by people we deploy to the field — researchers, analysts, data collectors, data and investigative journalists — who look at the environment in different communities where irregularities or changes have attracted our interest. These three sources represent a very broad data set that will form the rich database of Eco-Nai+ digital platform. 
What do the next few years look like for Ripples Nigeria?

Beyond creating Nigeria's first geojournalism digital platform with Eco Nai+, we want to launch Nigeria's first geojournalism lab, a center where journalists can access our tools, training and resources. It's about empowering journalists across the country to be "geojournalists in practice,"  and contributing collectively to more accurate, responsible reporting on the environment. Eventually, we intend to scale the project to cover journalists across the African continent.

Ultimately, we want to be able to mobilize different interest groups across Africa to buy into the idea of using data to protect the environment. Yes, we're well aware of our commercial objectives, but as a social enterprise, we believe that at its core — at a time when climate action is needed and fast — Eco-Nai+ is about much more than profit; it is about lasting social impact. We believe that our social mobilisation agenda is good for the country, good for the continent, good for the industry and good for the environment.