On your mark, get set, go! Stay up to speed with the 2018 Asian Games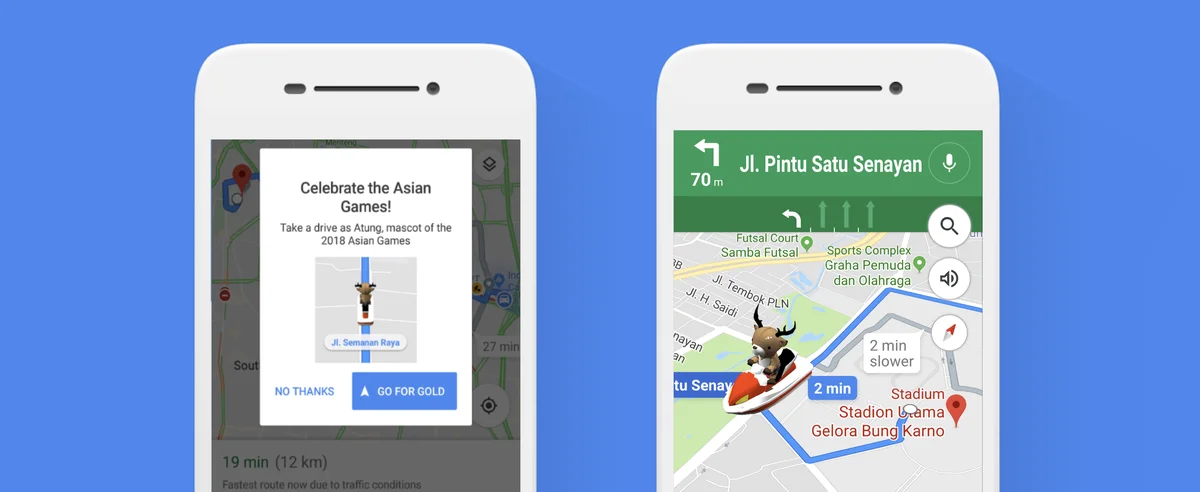 After 56 years, the Asian Games are coming back to Indonesia. This Saturday, thousands of athletes from 45 nations in Asia will go for gold in Jakarta and Palembang, the two cities hosting the games this year. Here are some ways you can get in on the action.

Track your country's victories with Search
When you search for Asian Games on Google Search, you'll find up-to-date information at the top of Search results. Sprint through the medal tally rankings and recent results to see if your country is in the lead. You can also watch videos of highlights and catch up on top news related to the Asian Games.

Up your Games on Google Maps and Google Earth
If you're lucky enough to catch the action live in Indonesia, Atung, one of the friendly Asian Games mascots, will show you the best route on Maps when you search for directions. Wondering where your seat in the stadium is? You can sail through the gantries and find it quickly with indoor maps of event venues. And even if you aren't in Indonesia for the games, you can explore its amazing archipelago, and get inspiration on where to go on Voyager in Google Earth to make the most of your trip.

Explore the Komodo islands (pictured) and other amazing Indonesian attractions with Google Earth.


Check out Gelora Bung Karno Stadium and other Asian Games venues on Street View.


Find your seat quick with indoor maps of event venues.


Let Atung, one of the Asian Games mascots, show you the way around Jakarta and Palembang on his jet ski.

Can I Play, too? Yes you can.
Head to the Google Play Store and check out selected Asian Games content and deals from Google Play.

Judo-n't want to miss out on the 18th Asian Games, and with a few helpful tools from Google you will stay close to the action.