A whole new world for silk carpets, (hand)made in China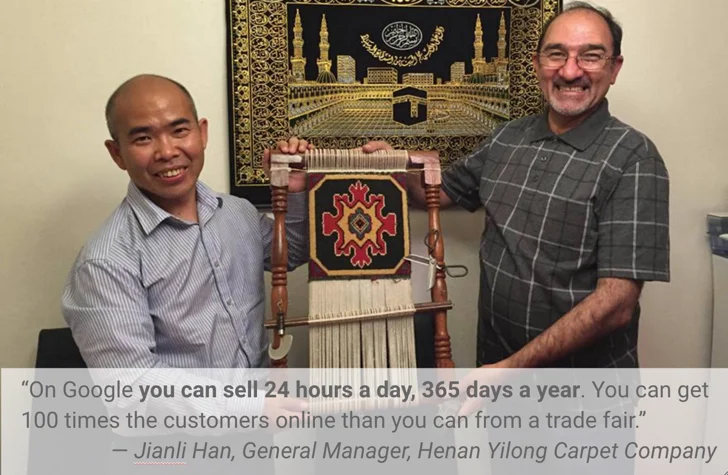 As part of our series of interviews with people across Asia-Pacific who use the Internet to create, connect, and grow, we asked Jianli Han how online tools helped grow his handmade silk carpets business, the Henan Yilong Carpet Company, into China's largest exporter of handmade silk carpets.
How did you get into the carpet business?
Fresh out of university in the eighties, I was assigned a job in a state-owned enterprise in Nanyang, Henan province. The wife of a fellow worker was Uyghur and she excelled at weaving woolen carpets. Henan province was short of wool but had a long tradition of silk-making, so she tried to weave carpets with silk for personal use.
One year, I took one of her silk carpets to the Canton Fair, where I'd been assigned to work. I had put it in the corner, but on the first day of the fair, a businessman from Kuwait immediately picked it up for quite a tidy sum of money. It was then that I realized that silk products from Henan might be a promising business opportunity, and so I launched into it with the help of my fellow workers.
30 years later, we're producing over 60,000 square metres of hand-knotted carpets every year, which is enough to cover 8 soccer pitches. Smaller carpets take several months, but larger pieces can take up to a year to make.
Why did you decide to sell carpets online?
Participating in overseas trade fairs was expensive. On top of registration fees, I had to ship several carpets and then send a number of colleagues to staff A booth. So I started looking for other ways to promote my business. In 2007, a friend told me about Google's tools and products and showed me how to use them. After that, I decided to switch my investment from trade fairs to Google. On Google, you can be open and sell 24 hours a day, 365 days a year. You can easily get 100 times the customers online than you can from a trade fair.
You have a mobile-optimized website, but do people actually buy carpets on their phones?

In fact 80% of our buyers come via mobile search and the vast majority of them come from outside China. A hand-knotted silk carpet is something special, so people searching for them generally know quite a bit about what they're looking for. Our website includes a lot of information about our products, making it easier for customers to find what they're looking for — even a high price tag doesn't discourages them. Also, mobile payments have enabled transactions to take place anywhere and everywhere. 
Do you have any tips for other businesses wanting to use the Internet to grow?
User experience is the top priority. Your site should be optimized for mobile to guarantee a favorable customer experience when they make a purchase online. Apart from that I'd say it's important to keep an open mind and be prepared to try to new things.