Amanotes: a symphony of music and technology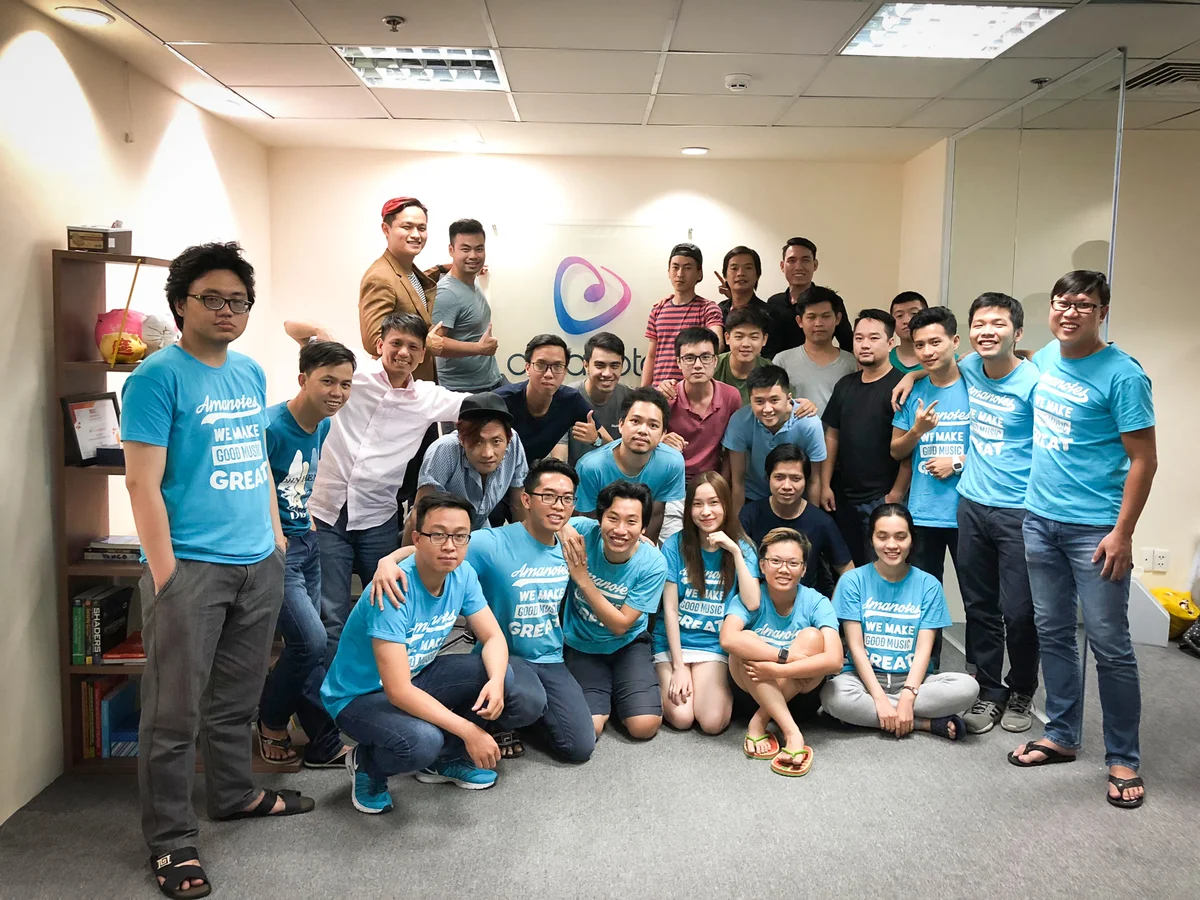 As part of our series of interviews with people across Asia-Pacific who use the Internet as a tool to connect, create and grow, we spoke with Bình Võ, the co-founder and General Manager of Amanotes, an Asian game developer whose team (pictured) is spreading love for music with their apps. Amanotes' Magic Tiles app is the top piano game in more than 50 countries. Amanotes participated in the 2017 Indie Game Developer Day in Vietnam, a training program for the best indie game developers in the country
Tell us about yourself and your path to becoming an entrepreneur.
I've always loved music. My father taught me how to play the piano when I was six and I picked up the guitar and Vietnamese bamboo flute on my own. I also love technology and that's why I chose it as my major in university. Music and technology are quite different, but they both improve our quality of life. My mission is to combine these two passions and share my love for them with the world with great music game apps.
How did you start Amanotes?
MusicKing, the first music game startup that I founded in 2009, failed. But that experience made me much better prepared for when I and cofounder Cường Nguyễn established Amanotes. We still wanted to focus on our love for music and technology, but we realized that we needed revenue to be viable! So we started out by producing websites for companies in Vietnam. With the income from that work, we funded the creation of Magic Tiles, a game that lets you play different musical instruments like piano, guitar and drums on your mobile phone.
How did you succeed the second time round?
We had some promising early reviews for Magic Tiles, but not many people were downloading it. So we asked Google for help. The Google App Developer Sales team helped us use Firebase and universal app campaigns (UAC) to improve our game and reach. Google Play also advised us how to make the game more appealing and featured us on the Google Play Store.
Thanks to this support, we managed to gain and delight a new global audience of gamers.  Magic Tiles became one of the top five most popular music games in the U.S. and even ranked as the single most downloaded game there for a week in 2017. With this international success, we were able to double our team to 50 people in the same year and expand our presence regionally with offices in Singapore, Ho Chi Minh City and Hanoi.
That's amazing! What have you done since then?
Our experience with Magic Tiles taught us that a solid marketing strategy is critical. There are a lot of great apps out there, but we never get to know about many of them.
We decided the best use of our experience would be to pass it on to other indie developers, helping them publish and market their music and music game apps. As a publisher, we support indie developers in creating quality music game apps and bringing them to global markets. We were really proud when App Annie recognized our efforts by ranking Amanotes as one of the top five publishers from Southeast Asia for 2017.
Amanotes team members love music and often play together during meetings.
What's next for your business?
In 2017, we were ranked 20th in terms of the most downloaded apps by App Annie. Our current users are mostly from America and Europe. Our priority is to keep up our momentum in these markets. We're also planning to do more to engage audiences in China, Japan and South Korea.
We're working on new apps that will let people enjoy music, teach them how to play it and even help them make a living from it. Our aim is that Amanotes becomes a companion in everyone's musical journey.
What's your big dream?
My personal motto, inspired by the late Steve Jobs, is "stay hungry, stay foolish." Our long-term goal is to build a complete music ecosystem, producing excellent apps for music lovers, and enabling other indie developers to do the same.