Bringing digital skills training to more classrooms in Korea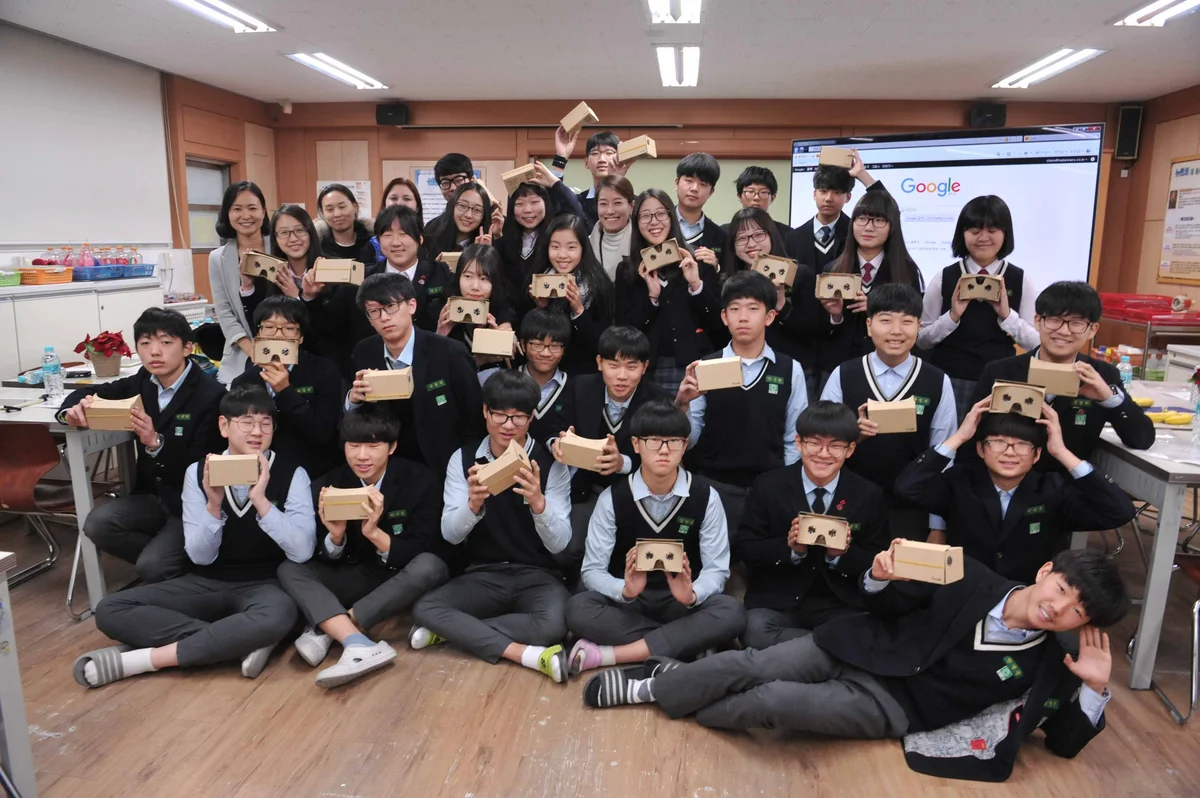 Recently a group of Googlers visited Ogeum Middle School in Seoul, where they joined a junior high school class that had some fun trying out machine learning based experiments. The students got to see neural nets in action, with experiments that have trained computers to guess what someone's drawing, or that turn a picture taken with a smartphone into a song.
Students at Ogeum Middle School trying out
Giorgio Cam
, an experiment built with machine learning that lets you make music with the computer just by taking a picture. It uses image recognition to label what it sees, then it turns those labels into lyrics of a song.
We're always excited to see kids develop a passion for technology, because it seeds an interest in using technology to solve challenges later in life.
The students at Ogeum Middle School are among the first of over 3,000 kids across Korea we hope to reach through "Digital Media Campus" (or 디지털 미디어 캠퍼스 in Korean), a new digital literacy education program. Through a Google.org grant to the Korea Federation of Science Culture and Education Studies (KOSCE), we plan to reach junior high school students in 120 schools across the country this year. Students in their 'free semester'—a time when middle schoolers can take up electives to explore future career paths—will be able to enroll in this 32-hour course spanning 16 weeks beginning next month.
KOSCE-trained tutors will show kids how to better evaluate information online and assess the validity of online sources, teach them to use a range of digital tools so they can do things like edit videos and create infographics, and help them experience exciting technologies like AR and VR. By giving them a glimpse of how these technologies work, we hope to excite them about the endless possibilities offered by technology. Perhaps this will even encourage them to consider the world of careers that technology opens up to them.  
Helping kids to recognize these opportunities often starts with dismantling false perceptions at home. This is why we're also offering a two-hour training session to 2,000 parents, who'll pick up tips to help their kids use digital media.
We ran a pilot of the program last year, and have been heartened by the positive feedback we've received so far. Teachers and parents have told us that they appreciate the skills it teaches kids to be competitive in a digital age. And the students are excited to discover new digital tools and resources that are useful to them in their students.
While we might not be able to reach every high school student with this program, we hope to play a small role in helping to inspire Korea's next generation of tech innovators.