Five science and engineering projects from Asia that could make the world a better place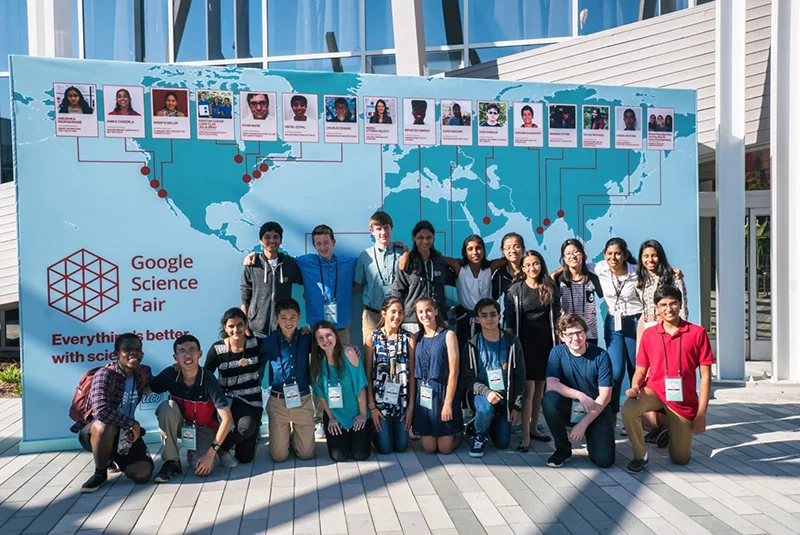 Editor's note: Today, we're announcing 16 Global Finalists for Google Science Fair 2016; five of them are from Asia. One of these top projects will become the Grand Prize Winner, announced live at the sixth annual Awards Celebration in September from Mountain View, California. To follow the final stages of this year's competition, visit the Google Science Fair site, and follow along with us on Google+ and Twitter.
Thousands of projects. Hundreds of countries. Months of anticipation.
Please join us and our partners — LEGO Education, Scientific American, National Geographic and Virgin Galactic — as we welcome the 2016 class of 
Google Science Fair Global Finalists
 and celebrate their incredible ideas!
From a breathalyzer test that could predict lung cancer to an irrigation system that may conserve significant amounts of water while improving crops, below are 5 projects from Asia that represent some of the brightest ideas to make things better through science and engineering.
Shriank (16) - India
In Bangalore, India, Shriank enjoys engineering and coding applications to build innovative solutions that can help people in his community. He noticed that as we get older our ability to keep track of items we use on a daily basis deteriorates. This can make life particularly stressful and difficult for people with memory-related illnesses like dementia, Alzheimer's disease, or amnesia. So Shriank created a wearable device that can keep track of static (non-moving) objects in the world around you, as well as objects you may pick up and move yourself. While wearing the device, you can use Google Now to easily find out where you left everything from your medicine to your keys. With the ability to track objects with over 90% accuracy in ambient light, the KeepTab app relies on only your smartphone and your wearable device, making it easy to use and afford. Shriank hopes his invention can help people struggling with memory loss to improve the quality of their everyday lives.
Marion (18), Joy (18), and Sonia (18) - Singapore
Marion, Joy, and Sonia live in Singapore and specialize in three different scientific fields: biomedical research, chemical engineering, and chemistry. These students decided to improve the design of the modern supercapacitor: an energy storage device that outperforms batteries significantly. It also lasts for over a decade, requiring less frequent replacement versus chemically-based batteries that can harm the environment as waste. Today, supercapacitors are physically created and mounted onto the surface of a device (like a smartphone). But, given their rigid shape, it can be difficult to apply them to non-standard shapes and they can be easily damaged. The trio of scientists created a paintable supercapacitor design: completely flexible, their design can adhere to a wide variety of surface types and still retain a significant amount of energy even when damaged. The group hopes their new design will be used throughout the electronics industry to improve devices like smartphones and even hybrid electric cars, making renewable, portable energy easily accessible for everyone.
Xin Yong (18) - Malaysia 
Xin Yong of Seremban, Malaysia, was shocked and worried when he heard that his mathematics teacher, a non-smoker, had suddenly developed advanced lung cancer — the most common form of cancer in the world. Whether or not smoking is the cause, patients' breath contains similar chemicals once they have the disease. As a young scientist particularly interested in nanotechnology, Xin Yong used his skills to create a sensor that can detect the progression of lung cancer by analyzing their breath. He tested his device on patients formally diagnosed with cancer, as well as patients suffering from chronic obstructive pulmonary disease (who were yet to be diagnosed), and finally patients who were non-smokers and not diagnosed to have pulmonary disease. Xin Yong's device costs only $1, is easy for anyone to operate, and it can provide test results within 10 minutes. Given that the device only requires the patient to breathe into it, it's an easy test to administer. Xin Yong believes his device can help doctors and patients to catch lung cancer early enough to treat it easily and potentially eliminate the cancer entirely.
Saliha (15) - Bangladesh
Growing up in Pakistan and Bangladesh opened Saliha's eyes to the sheer volume of waste being generated by these densely populated areas, leading her community to host some of the world's largest landfills. Determined to find a solution to cut down on non-biodegradable waste, Saliha turned to a common personal hygiene item: sanitary pads. With the local economy booming with the sanitary industry, she knew it was only a matter of time before landfills would become overwhelmed with these products, which contain plastics and harmful chemicals. So, Saliha created a safer, chemical-free option made entirely of plant materials that will degrade in just two year's time. She hopes her new "Sreshto" pads will help more local women feel comfortable while also making the environment safer for everyone.
Mansha (15) - India
Over 50% of people in India depend on agriculture, including rice cultivation, to make a living, but many farmers do not have the resources or knowledge to efficiently manage these crops. Even more alarmingly, many rice crops waste high volumes of water due to this problem, and farmers often over-water their crops, negatively impacting their own rice yields. Eager to find a solution, Mansha of Hyderabad, India, wanted to create a low-cost way to monitor water levels in rice paddy fields as well as automate water levels for the best possible crop yields. She designed an automated irrigation system that waters crops based on their age, with the potential to save 30% of the water normally used per hectare of land as well as increase rice crop yields by up to 13%. Mansha looks forward to seeing her system conserve significant amounts of water while improving crops and minimizing financial stress and labor for farmers.
What's next for the Global Finalists?
This is just the beginning. We can't wait to welcome these 13-18 year olds to the sixth annual Google Science Fair Awards Celebration in California for the chance to win one of our awards including a $50,000 scholarship. Here, an esteemed panel of judges will review the 16 finalists and announce the much-anticipated winners. Don't miss the Awards Celebration, livestreamed on our website, on September 27.