Future directions for technology and education in Asia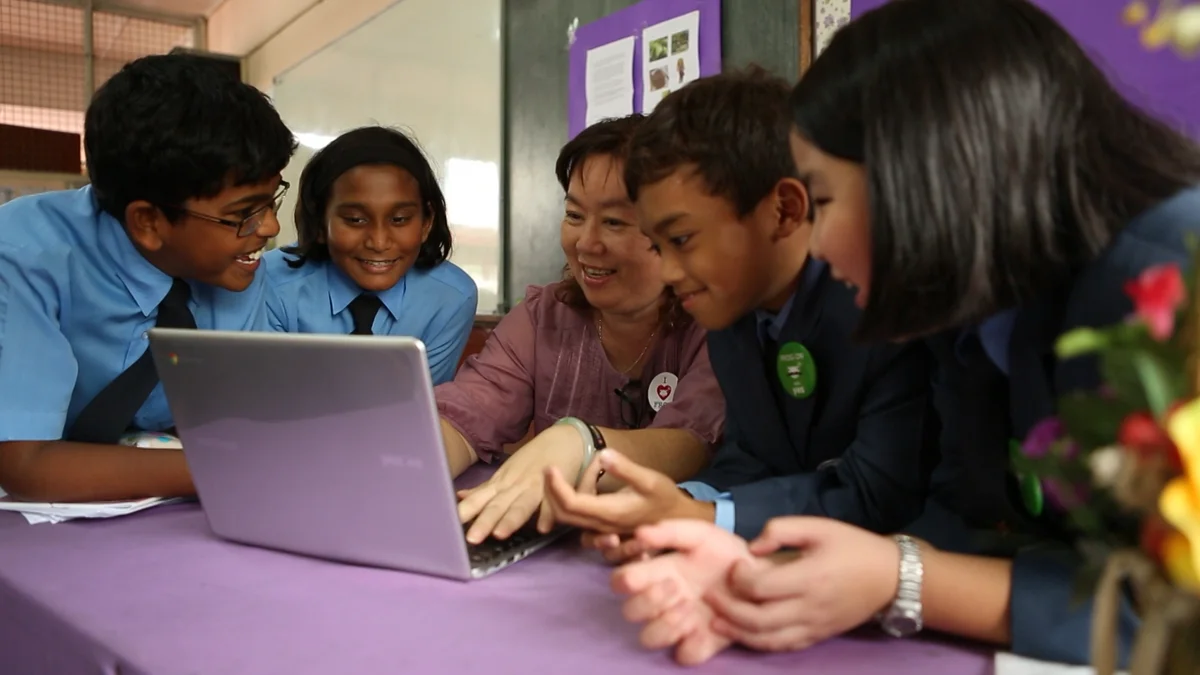 COVID-19 began upending education across Asia Pacific in January, forcing hundreds of millions of students to learn remotely. As a father, helping my sons learn from home left me grateful to their teachers—and deeply appreciative of the technology that helped keep their education going outside the classroom. 
Within Google, we've made it a priority to help education authorities and schools adapt— providing tools like Google Classroom and Read Along, working with governments to make hardware available, ensuring teachers have the resources they need, and supporting nonprofits like INCO through Google.org's Distance Learning Fund. Today, many students across the region are back at school. The question now is: where next from here?
Only around 22 percent of the schools the OECD surveyed in the peak of the pandemic want to go back to 'teaching as usual' afterwards. Almost 60 percent see hybrid learning—a combination of classroom and remote teaching—as the way forward. But there's a lot to do to make that approach work on a national or regional scale. 
To get an insight into how education might evolve from here, I spoke to
Andreas Schleicher
—Director for Education and Skills at the OECD—as part of Google's APAC Beyond series of talks looking at the economic and social outlook beyond the coronavirus.
Looking at it from a global perspective, what lessons did you take from a shift to remote learning on this scale? 
It reinforced two things for me. First, learning is not a place but an activity, and education and technology must work better together in the future. Second, education is not a transactional experience. It's a social experience. What students will remember from this crisis is the teacher who reached out to them when they needed it. So we have seen big social as well as technological changes in education. 
There is also the potentially dramatic economic impact of learning loss, totalling hundreds of billions of dollars, if the students affected aren't well-equipped for the workplace. 
What do you see as the role of technology in education from here?  
We can't manage learning loss by just adding back learning time—we need to focus on managing students' time better, finding out which students learn the best in what context and how we can best support them. A hybrid model is more than just an hour in the classroom, and hour virtually. It's about totally reconfiguring places and technology to enable learning. That's the model most of the schools we talk to want to adopt. 
So far, the way we teach via technology has been quite traditional. But where social distancing means there will continue to be capacity constraints in schools, we need different approaches in areas like project-based learning and working as a team.
A graphical summary of the discussion at APAC Beyond: The Future of Education
Where do you think we'll face barriers in combining technology and education? 
One is access to technology. At disadvantaged schools in parts of Southeast Asia, for example, only around 20 percent of students have computers they can use for school work. Within schools, there's often a lack of devices for instruction. 
We need to make sure, first, that schools have the online learning platforms in place for both remote learning and classroom teaching and, second, that teachers can use and contribute to the platform with confidence. In some countries — Japan for example — many teachers aren't comfortable incorporating technology into their teaching process. We should also work to foster better collaboration between teachers, within schools and internationally. Today, only 28 percent of teachers run classes as a team—yet we know collaboration is how new ideas and approaches emerge.  
Creating a culture of technology in schools will take time, but we're seeing progress. Over 80 percent of the countries that we surveyed are committed to ensuring secure internet connectivity for all teachers and students. There has been good collaboration between the tech industry and governments to equip schools with the software, hardware and training resources. These are steps we can build on, not just to mitigate the impact of school closures or restrictions, but to rethink how we provide education in future.