Building a better internet experience together with Indonesia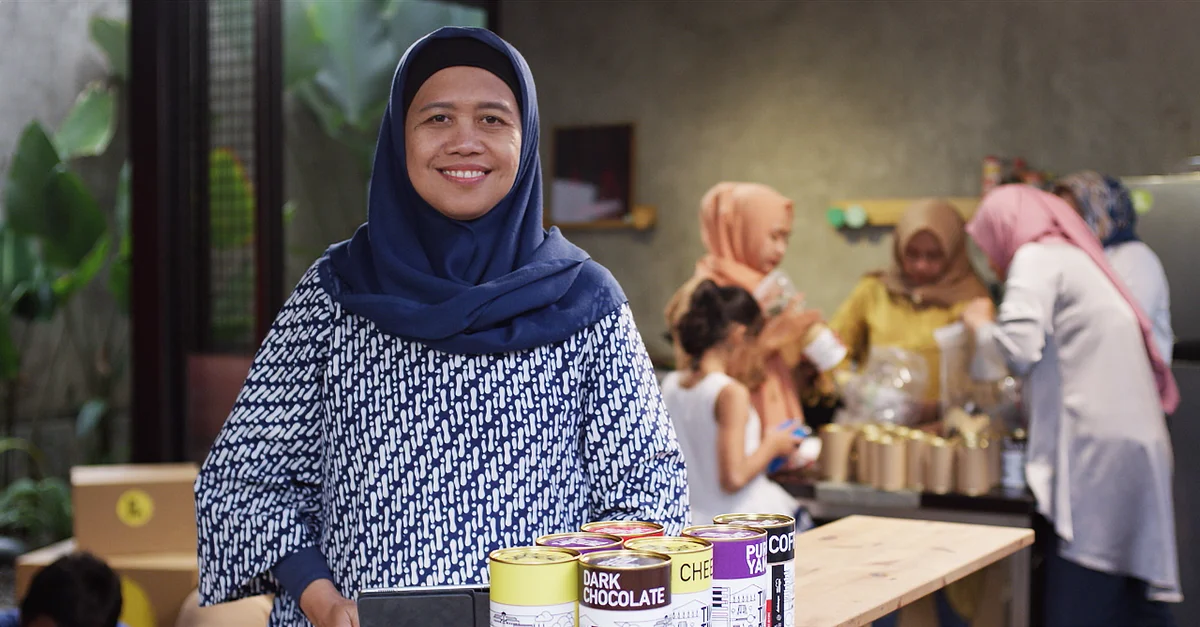 One of my favorite snacks is made by Rina Trisnawati, a 45 year old entrepreneur from Indonesia who bakes cookies for a living. I like them because they're not just a treat for the tastebuds. Her business, Tin Tin Chips, employs mothers of children with disabilities. Since Rina learned how to market her cookies online, orders have shot up 75 percent. Rina now employs 25 women and donates 50 percent of her profits to organizations caring for children with disabilities.
Indonesia has the largest and fastest growing internet economy in Southeast Asia. And Indonesians everywhere are getting involved—they're building the companies that create jobs, provide goods and services, and make life better for everyone. Today, at our annual Google for Indonesia event, we announced the next round of products and partnerships to help us move forward together with Indonesians in the internet economy.
A more accessible internet for Indonesians
Using the internet for the first time can be daunting. We're making it easier for first-time smartphone users to discover the web with Google Go, an AI-powered app that showcases the latest Search trends as well as Indonesia's most popular apps and websites. Google Go makes using the internet as easy as watching TV by allowing people to listen to any webpage being read out aloud.
But there's no point in web pages being read aloud if you don't understand what's being said. Less than one percent of the content on the internet is in Bahasa Indonesia, while more than half of all online content is available in English. To help close this gap, we are collaborating with Wikipedia on a new way to make English-only content accessible and useful for Indonesians. Now, our systems will identify relevant Wikipedia articles that are only available in English, translate them into Bahasa Indonesia using Google's AI powered neural machine translation system, and then surface these translated articles in Search.
Speaking of talking AI, we launched the Google Assistant in Bahasa Indonesia in April. Now, we're taking our Indonesian-speaking Assistant out of smartphones and putting it into feature phones. WizPhone is the first feature phone made by Indonesians that will have the Google Assistant built in and it will retail at less than $10 (IDR 99,000).
A more useful internet for Indonesians
The Assistant is becoming even more useful—and even more Indonesian—because of our partnerships with Indonesian businesses. For example, you can now ask the Assistant to Book a Ride in Indonesia––no more opening apps and typing in addresses or tell it to give you the news. With News Briefings, Indonesians can now hear the latest news hands-free and on-the-go from five Indonesian media outlets we partnered with.
To help connect those business owners with job seekers, we're introducing Jobs on Google Search. Starting today, searches for "job vacancies," will surface job listings in Indonesia, with options to organize them by different criteria like job type and distance.
And to support Indonesians in getting the skills to excel in the new jobs within the internet economy, we announced a new commitment to train a further one million Indonesian small and medium businesses by 2020. This is in addition to the one million that we have already trained since 2015.
A safer internet for Indonesians
We want Indonesians to have access to more information. But we want it to be better information—and that comes from high-quality Indonesian journalism. We've already trained 2,000 journalists through the Google News Initiative and we're training another 3,000 more by next year. As part of the CekFakta.com, Google News Initiative training includes fact-checking and verification best practices, plus how to fight misinformation.
Having better information is great, but using that information responsibly is greater. So that the next generation of Indonesians use the internet responsibly, our philanthropic arm Google.org is making a grant of $875,000 to non-profit organizations Maarif Institute, Peace Generation, RuangGuru and Love Frankie to teach more than 12,000 students to champion tolerance, multiculturalism, and positivity.
These are just a few of the announcements from today that we hope will build a more accessible, useful and safer internet together with Indonesians. We're excited to keep on working with Indonesia to realize the benefits of the internet for every Indonesian and every Indonesian business.