Google Korea's volunteering spirit runs deep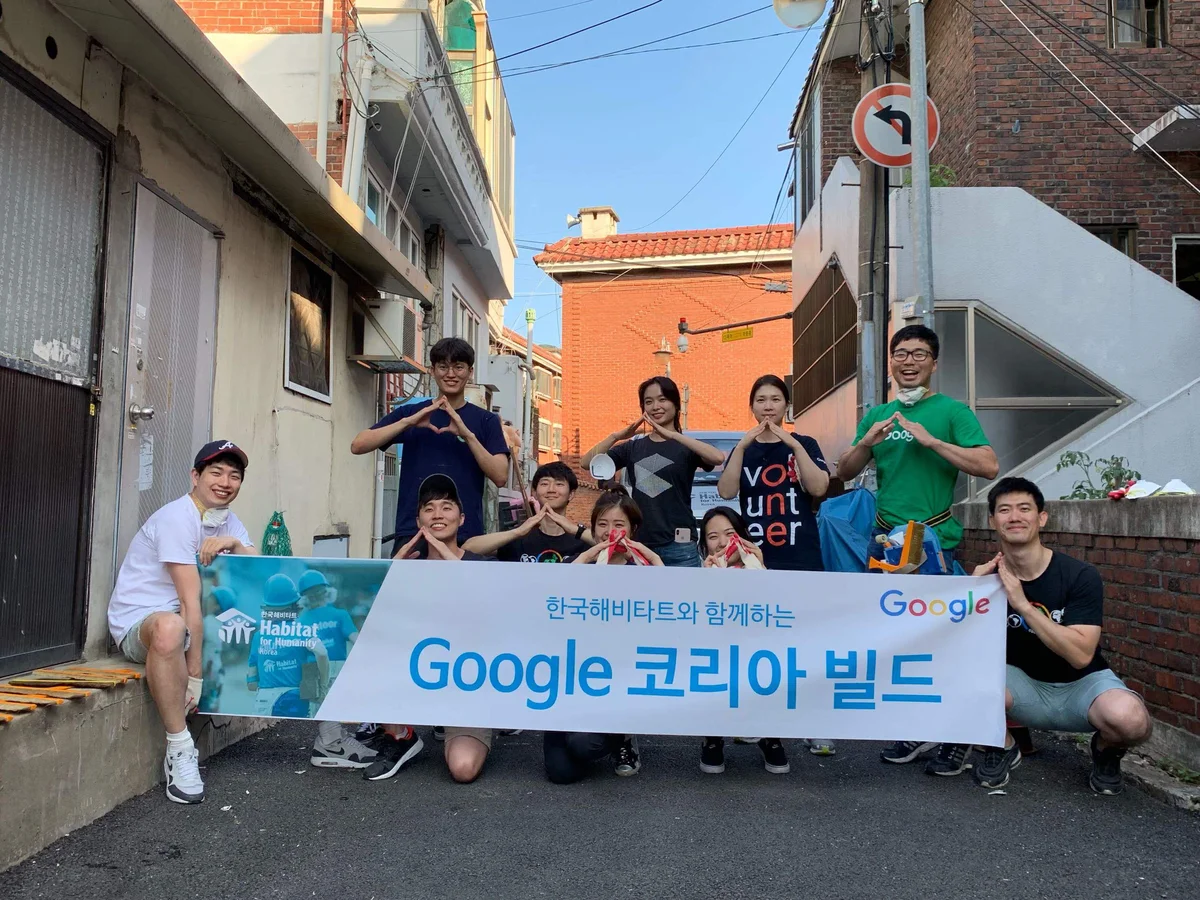 I grew up in a challenging environment, but I always felt fortunate to be surrounded by people who would always lend a helping hand when I needed it. Even at the young age of 10, their actions motivated me to extend help to people I interact with and that brought me joy. Thanks to the generosity of the people around me, I was able to complete my studies and build a career. Someone once told me that the best way to repay kindness was to pay it forward, and I made it a part of who I am today.
Since joining Google seven years ago, I've seen how Google has built a vibrant volunteering culture. Every year, we see Googlers around the world come together to participate in community service projects through GoogleServe — our annual volunteering event. I've led GoogleServe in Korea several times, encouraging Googlers to dedicate their time to volunteering. It's incredibly motivating to hear positive comments from Googlers who have volunteered for the first time — and to see them return the following year to do more for their community.
I also became the local ambassador for Google.org, our philanthropic arm, helping Googlers understand how we can make a bigger impact by connecting our corporate grants with donations and volunteering activities. I truly believe that when we're able to get everyone involved in doing good, we're able to keep volunteering an integral part of our culture.
As a Google.org ambassador, I had the opportunity to meet Jacquelline Fuller, President of Google.org while she was visiting the Seoul office
As we commemorate International Volunteer Day, I'd like to highlight other Googlers from our Korea office who share the same passion for giving back.
---
Narae Jeon
Site Administrative Business Partner
What was your most memorable experience through GoogleServe?
I decided to take care of abandoned dogs as part of my volunteering experience. A long time ago, a dog I'd been raising died in an accident, and I felt guilty for not responding in the right way. I started deepening my knowledge of topics like animal protection and breeding, and looked for opportunities to get involved in the community. I started volunteering with an animal protection center, where I helped rescue an abandoned dog that resembled the dog I had raised before — and made snacks for other abandoned dogs. I also created a Google group named 'Doglers' for Googlers looking to get involved with animal shelters, and ran a donation drive to raise awareness among Googlers.
Abandoned animal shelter in the Gyeonggi province where our 'Doglers' go to on a regular basis
I rescued the dog on the right in this photo from the highway.
What is one takeaway you'd like to share with others from your volunteering experience?
Take the first step. You can always start by going to a volunteering site and observing how others are helping the community. You'll be surprised how being on-site can inspire you to take action. Once you experience giving back, you'll realize what a rewarding experience volunteering can be.
---
Jaey Park
Strategy and Insights Manager, Korea
What was your most memorable experience through GoogleServe?
This year, I had the opportunity to mentor college students preparing for employment. I was able to share my experiences and knowledge in data analytics. We often think that we don't have much insightful knowledge to pass onto others, but I was surprised that what I shared with these students was valuable. From this experience, I decided to continue volunteering in this space.
Group mentoring session with other Googlers as part of GoogleServe 2021
What is one takeaway you'd like to share with others from your volunteering experience?
Once you start volunteering, you'll realize how you're impacting not only others but yourself too. It helps you feel more connected, and it creates a sense of belonging and purpose. I truly believe when we come together to do good, we're able to make a bigger contribution to the community we live in.