Happy Lunar New Year! Wag hello to the Year of the Dog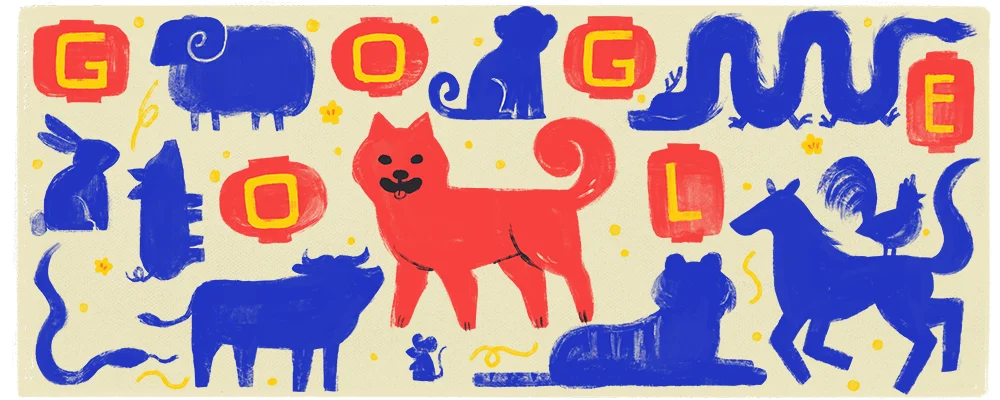 Today marks Lunar New Year. Across the world, people are celebrating the end of the year of the Rooster and the start of the Year of the Dog.
Whether you're enjoying tteokguk with family or handing out red envelopes for good luck, there are many ways to celebrate the holiday. According to Google Trends, Malaysia, Thailand and Vietnam are among the countries searching the most for "red envelopes." Meanwhile, top searched foods are nian gao, dumplings, pineapple tart, rice cake and peanut cookies.
Since we're dog people here at Google, we sniffed out a few non-traditional ways to celebrate. Howl you be spending the Lunar New Year?
Try your paw at drawing
In the last year, people have drawn more than 3 million doodles of dogs in Quick, Draw!—a fun game that uses neural networks to try to recognize your drawings. In honor of Lunar New Year, our team snuck in a special version of Quick, Draw! with
-related items. Put your doodling skills to the test.
If you're more of a data breed, you can check out the pawsome dog doodles from around the world in a special Lunar New Year version of Facets Dive, a tool that visualizes large sets of data (in this case ruff-ly 140,000 dogs that people have drawn in Quick, Draw!).
The dogs of Street View
Lunar Year of the Dog means dogs are everywhere–including on Google Street View! We've had a lot of fun finding furry friends all around, from this one
strolling through New York's Central Park
to this
hanging out in a small alley in San Sebastian
, to our friend here
enjoying the Coastal Walk in Sydney
. Scroll through our favorites below, or find dogs on Street View in your own neighborhood.
Statue at Temple of the 18 Lords, 

Taiwan
Photos of your pup
In Google Photos, you can create a movie of the dog in your life—select "Doggie Movie" among the movie themes and Google Photos will stitch together photos of the dog. Photos also lets you search for your dog using a dog emoji.
All dogs go to the Games
We couldn't let the moment pass without a Doodle (or two!). This cheerful pup on our homepage in many countries around the world isn't just welcoming the New Year—it's also celebrating the Doodle Snow Games!
In places not tuning into the Doodle Snow Games, you might see a different Doodle—also featured at the top of this post.
No matter how you celebrate or what language you say it in, happy Lunar New Year!