Have YouTube, will travel: Thai creators head to global meet-ups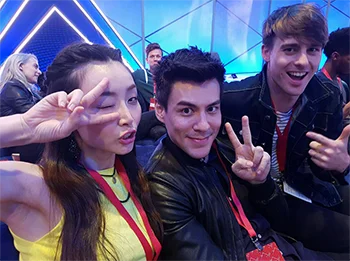 As part of our series of interviews with people across Asia-Pacific who use the Internet to create, connect, and grow, we spoke with Thai creators John Winyu of Spokedark.TV and Code of TigerCryChannel. They've just returned from the U.S. where they took part in the YouTube Global Creator Summit in New York and VidCon in California, respectively. Read on to hear about what they learned, what surprised them, and how they were inspired by their newfound YouTube experiences.

For more information on how to get started as a YouTube creator and how to grow your channel, check out the revamped Creator Hub at YouTube.com/creators, currently available in 23 languages.

Code shouting for joy at VidCon; John Winyu's selfie from the Creator Summit
How long have you been making videos on YouTube?

John Winyu: My show started back in 2011. I wanted to have a show that represented myself but without the limitations of TV channel ratings—so I found YouTube. It was a space for people with ideas who want to share them for other people to follow. We see YouTube as a huge online TV station where we can have our own programs and make a career out of it. We're happy to continue doing what we love.
Code: I made my first YouTube video under the name TigerCry in September 2012. It was really passion that ignited my idea, fueled by YouTube as a platform for anyone who doesn't otherwise have the opportunity to present their ideas on free TV. YouTube makes our dreams and ideas come true.

Code with folks from the YouTube team
What expectations did you have, and what were you hoping to achieve from your trips? 
John: Before I arrived at the YouTube Creator Summit in New York, I thought it would be as big as YouTube FanFest. But as it turned out, it was a very intimate gathering of creators from the U.S., Australia, Japan, and Korea. I learned a great deal from successful creators, and we even planned some collaborations which we will shoot in a few months. 
Code: In contrast, I thought VidCon was going to be a small event, but it turned out it was a whole city of YouTube creators and fans in one place. It was really eye-opening to meet so many creators from around the world there for three days. I also had a meal with my favorite creators. We shared ideas which gave me the inspiration to create new content. 

John Winyu with fellow YouTube creators
What were some of the highlights of your trip? 
John Winyu: I was thrilled to meet PewDiePie, who has the most YouTube followers in the world. I talked to him for half an hour and invited him to visit Thailand. He not only accepted but asked what we can do together. I also met Casey Neistat who documents what he sees or does everyday—his work is a great inspiration for me. He was so active: he walked, ran, went up and down stages just to capture video the whole time. This made me feel the vibrancy of his life, and that he has fun with what he creates. 

John Winyu with Japanese creator Asahi Sasaki and British-Korean creator Josh Carrott of Korean Englishman
What were you most surprised by? 
 John Winyu: The Creator Summit freed my creativity and led me to new perspectives. Meeting those creators from around the world also dissolved something that had boxed me in before. When I uploaded a video the first day after I returned, I could feel the freedom of my ideas flowing. 

Code's crew with Johanna Wright, Product Management VP at YouTube 
What is your hope for the Thai creator community? 
 John Winyu: Thailand has some of the most avid YouTube audiences in the world, but the majority of YouTube viewers watch established programs rather than independent creators. So I'd like to see more support for independent creators, giving them the confidence to create more great content. Code: Now that YouTube has launched its online Creator Community, Thai creators have a great place to go to share ideas or advice. Online creators are unique, unlike other business owners. The online community gives us opportunities to share ideas amongst each other and come up with solutions, as well as share easy access to resources.