High-speed Wi-Fi rolls into 100th railway station in India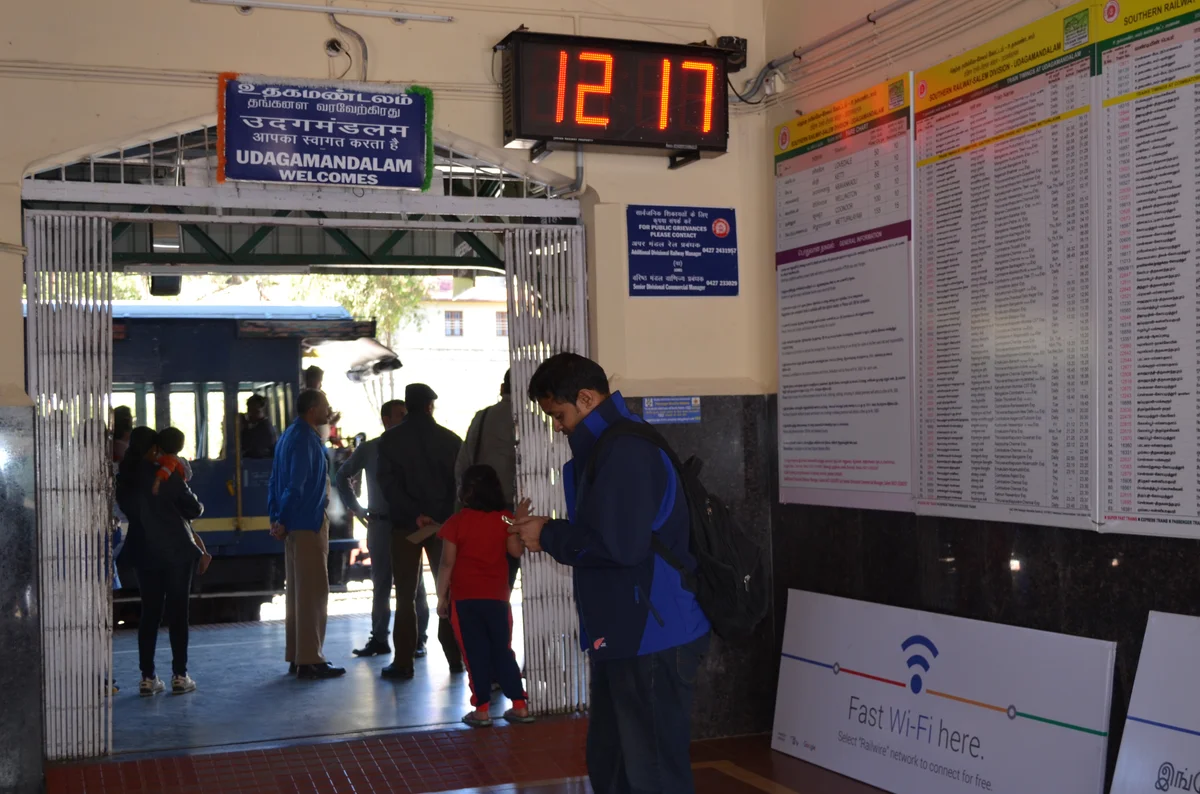 Jaipur station in Rajasthan was among the first stations to be connected to Railwire Wi-Fi.
"I visit [Jaipur station] every 3 to 4 days to get fast access to the Internet. I stop there for a few minutes, download apps, update them and get things my daughter wants. She is in 10th grade and uses my smartphone in the evenings to fulfill her educational needs. She also teaches my wife, her mother, to read and write using my smartphone." 
This is the story of Bhagwan Sahay, whom our team met at Jaipur Railway station, one of the earliest stations to be connected to Railwire Wi-Fi this year. It's one of the many stories we've heard from people across India who are using this Wi-Fi in many ways, big and small, that improve their daily lives. 
With Railwire Wi-Fi rolling into Udhagamandalam (Ooty) today, we've now brought high-speed Internet to 100 of the busiest railway stations across India. That means the 10 million people (think the entire population of Sweden) who pass through these stations every day now have access to fast enough Internet to stream (or offline) an HD video, research their destination or download a new book or game for the journey ahead. And for 15,000 people, every day, these stations connect them to the Internet for the first time.
We're really excited about how far we've come since announcing our partnership with Indian Railways and RailTel to provide Wi-Fi at 400 railway stations across India. But what has really inspired us are the stories of how people, like Bhagwan, are using this high-speed access to the full and open Internet to make their lives a little bit better.
Somesh Singh, an engineering graduate, has been using the Wi-Fi at Hazrat Nizamuddin station in Delhi to search the web for job opportunities and prepare for interviews. The high-speed connection helps him save money and time since he doesn't have to wait for slow-loading pages or worry about the cost of browsing. Ajay Jain, a teacher, uses the Wi-Fi to get schoolwork done on his daily commute from Indore to Ujjain, so he can spend more time with his family once he gets home. And Sandesh Awasthi, an avid cricket fan, has been having a lot more fun while waiting at Churchgate station in Mumbai, since he can now stream his favorite games to his phone in HD.
A traveler calls home while waiting for his train in Pune
"I am migrant worker from Bihar and I travel to Rajasthan for work. Traveling usually means I won't have a good connection. I got so excited when I saw free Wi-Fi here at the station. I just called my wife, and the voice and picture clarity were so good. I haven't seen her face this clear in so long, whenever I talk the image is blurred because the network isn't great. She also got so excited to see my call, she was very surprised to see me. I feel so good after speaking to her. I can't stop smiling." —Bholu
A look inside Churchgate station, one of Mumbai's busiest, which came online in August.

A traveler checks train timetables online

A young boy keeps himself entertained using the station Wi-Fi while his family waits for their train in Jaipur.

Our team at Udhagamandalam (Ooty) station today. Ooty is also the terminus station of Nilgiri Mountain Railway, a beautiful UNESCO World Heritage Site.
What's next? In September we announced Google Station, which gives partners an easy set of tools to roll-out Wi-Fi hotspots in public places. With all the possibilities that our partnership with Indian Railways and RailTel have created for 10 million Indians passing through 100 stations every day, we look forward to the many more opportunities that Google Station will open up to every Indian and the stories we hope to hear from them.