Indonesia's PicMix: Editing and sharing photos made easy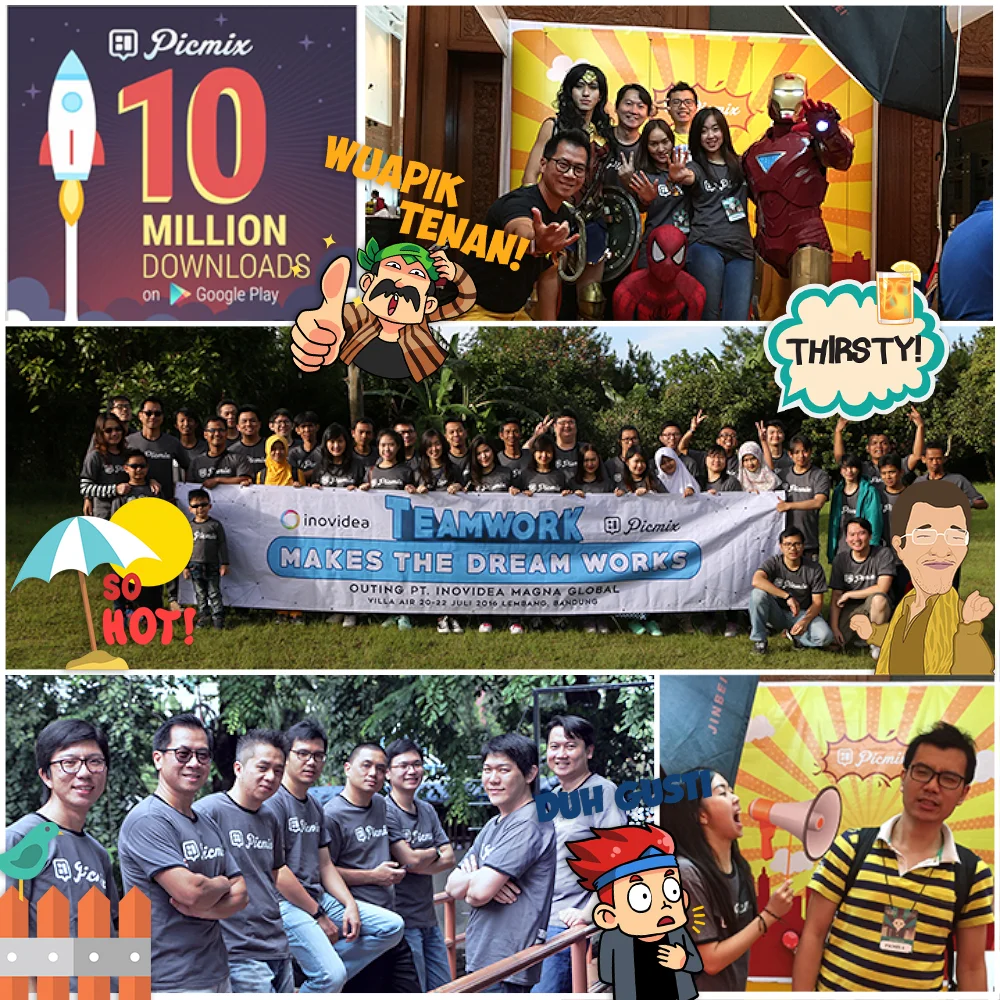 Indonesian developer Inovidea Magna Global might not be a household name, but their photo sharing and editing app PicMix is nothing short of a global social phenomenon. When the team got their start in Jakarta in 2012, they had no idea that their problem-solving idea would one day grow into an app that had 27 million users worldwide. 

As part of our series of interviews with people across Asia-Pacific who use the Internet to create, connect, and grow, we spoke to their CEO, Calvin Kizana, and co-founder Sandy Colondam, to find out all about the secret sauce behind the team that makes those little stickers people just can't get enough of. 

How would you describe the PicMix app in just one sentence?
PicMix is a photo and video editing and sharing app, that's evolved into a global sharing community powered both by content and commerce.
Why did you choose to become developers?
We really wanted to do something that had the potential to bring joy to people. Compared to some more traditional career paths, building cool mobile apps can enrich people's lives through delight. We wanted to find a mix of passion, tech and impact in our careers — this made becoming a developer an obvious choice. 

What inspired you to create PicMix?  
Back when we started our company in 2012, we were spending a lot of time editing, sharing and creating photo collages. We wanted to save time and create a one-stop-shop for all of this. That's how the idea for PicMix was born. We set out to answer the question: what if we could create a single app that could do all of this and still be easy enough for everyone to use? 

What lessons have you learned along the way?
Never. Stop. Innovating. One of the greatest things about being a developer is that things are always changing. We have to keep up with new trends pretty much on a daily basis. If PicMix had remained a simple photo editing tool, it would have died an early death. By keeping up with how people were spending their time online, we we knew that PicMix needed to become social. Being flexible about your product, taking on user feedback and analyzing trends are the key factors to stay afloat in a competitive market.

What has been your biggest challenge?
The global app market is a pretty competitive place, and back when we got our start, Indonesian developers lacked access to a lot of the resources and education available in some other countries. We solved this problem by using the Google Play Developer tools. This ensured that our apps are the highest quality and have the potential to go global. 

For example, we needed an intuitive and appealing interface that people around the world would not only know how to use, but enjoy spending time in. We decided to apply the Material Design guidelines which are the same principles that the Android OS is built on. Material Design is a visual language that merges principles of good design with technology. After implementing these guidelines, the time our users spent in Picmix jumped from 2 minutes to 8 minutes. The number of likes and comments we got also skyrocketed. 

What is your advice for anyone who wants to get started as a developer?
Keep challenging yourself, explore the best in you and don't be afraid of failing Success is 99% failure.