Meet Singapore's next makers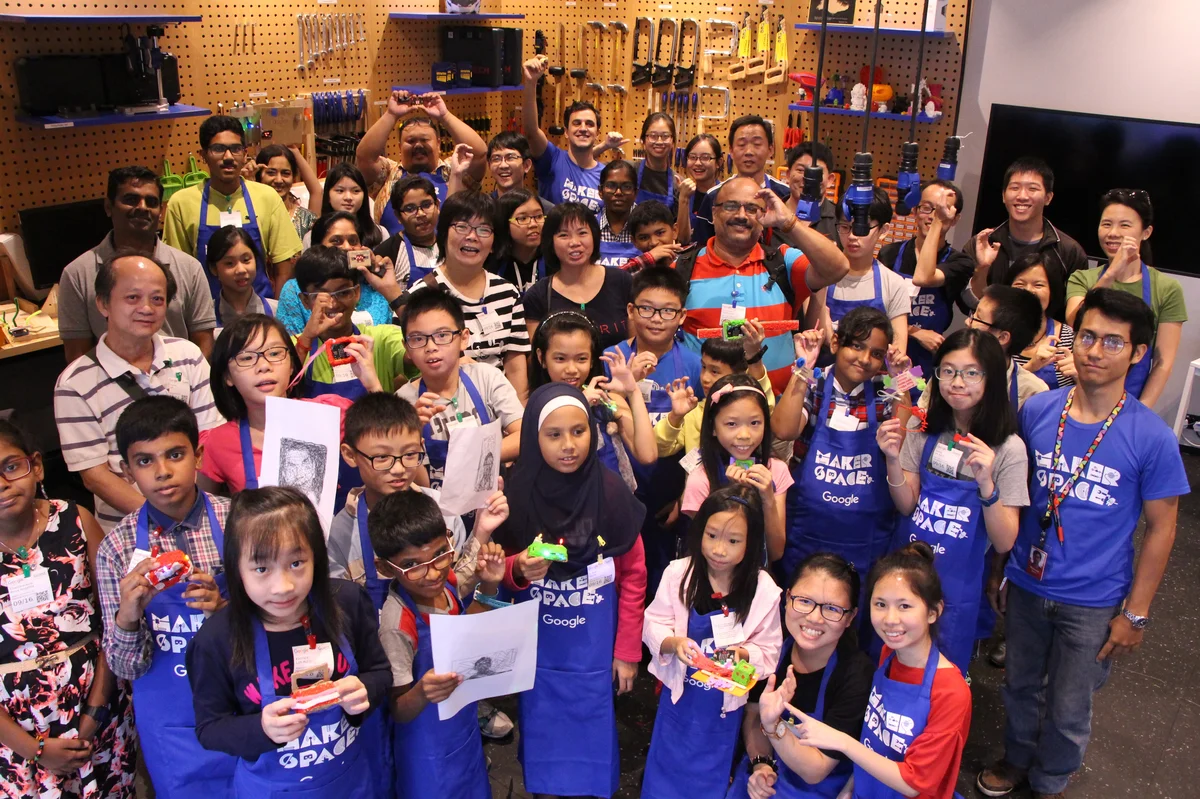 What happens when you invite kids to tinker and dabble with 3D pens, 3D printers and lots of colorful electrical components? They go on to make some pretty amazing things!
Step inside our Maker Space at Google's Singapore office! Our creative technologists have created an indoor playground for Googlers and collaborators to pursue ideas and build quick prototypes to explore and bring their ideas to life.
We recently opened our Maker Space to a group of kids that are part of Code in the Community—a program that encourages a wider diversity of Singaporean kids to get excited about coding and technology. We wanted them to experience Google's maker culture and learn the basics of creative and design-thinking. The idea was to combine their coding skills with their imaginations to build prototypes that might actually help solve everyday problems.

15-year-old Dheena Leonara built a 3D structure of the human heart using styrofoam and soft materials to encase a Micro:bit, which  lights up to point to different parts of the heart. Code in the Community has opened Dheena's eyes to how useful coding can be, and how it powers a lot of the world's most important technologies. So these were her first steps toward her dream of becoming a biomedical engineer, applying code to make and program artificial organs.

10-year-old Muhammad Taqiuddin Bin Mohd Firdaus wants to build a time-travel machine one day. For now, he made a light-up teddy bear using a 3D pen, some cardboard, LED lamps, batteries and a Micro:bit. If he had more time, he would have added an alarm clock to it. His big idea was to make waking up in the morning a lot more fun.
"Making" isn't just for kids. Our engineers here at Google are also encouraged to spend time in these Maker Spaces, being hands-on and trying out different ideas. Prototyping is an important part of working on products that billions of people around the world use.
It's been nearly a year since Code in the Community started, and we're really excited to have had 500 kids take part in these weekend coding classes in community centers across the island. It's humbling to see how far kids like Dheena and Muhammad have come, and we can't wait to see what Singapore's next generation of makers build next!
The kids learned how to sketch a robot using an IOIO board and to control it via an Android app

They were also fascinated to see their designs made on a computer come to life with an Ultimaker 3D printer.

Gracie built an interactive tic-tac-toe game board using conductive ink, LED lights, a battery and some craft materials.