Stay-at-home mom or fact-checker? She's both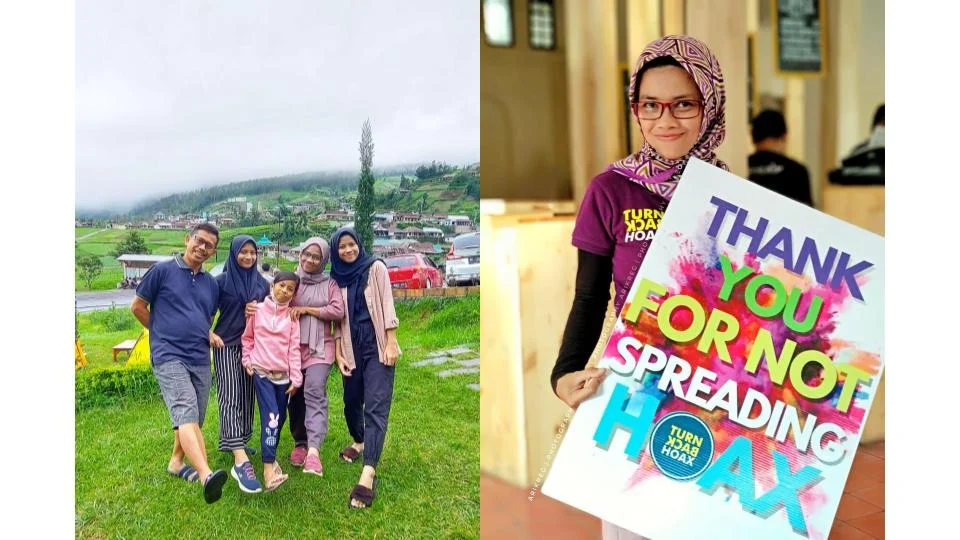 Back in 2017, Niken Satyawati's day was filled with the business of running her household — caring for her three daughters, preparing meals, and the many other tasks any stay-at-home mom would know all too well. But in May of that year, Niken traveled from her hometown of Surakarta to Google's office in Jakarta, where she attended a training session to learn the skills she needed to become a fact-checker.
"I saw many hoaxes on the internet. It affects real life. Friendships are broken, fighting between families," Satyawati said. "Someone must do something to reduce them."
So she decided to take matters into her own hands, joining a group of citizen fact-checkers who were gathering in online forums to fight misinformation. They called themselves Masyarakat Anti Fitnah Indonesia, the Indonesian Anti-Slander Society, or Mafindo for short.
A co-founder of Mafindo — Septiaji Eko Nugroho — was recruiting volunteers to join this verification training in Jakarta. Niken joined a motley crew of programmers, journalists, drivers, doctors and housewives to learn about search operators, reverse image search, video metadata, geolocation and other tools used by professional fact-checkers.
"I thought it was a great opportunity to learn about how to find the truth, thanks to tools I didn't know existed, by hearing from people who used them all the time," she said.
Since then, Mafindo has grown — building a professional fact-checking team that, along with the citizen fact-checkers, has debunked more than 8,550 hoaxes. They've trained more than 1,200 volunteers like Niken, organized anti-hoax festivals and delivered media literacy programs around the country, reaching nearly 1,000,000 Indonesians. To reach housewives, they created a web series about an anti-hoax family.
"I'm not a professional, full-time fact-checker, but I can do simple fact-checking and have gotten used to educating the general public at the family level," Niken said.
But her modesty belies her role in Mafindo. She is on Mafindo's presidium, or leadership committee, and is a leading figure for the organization in Central Java. She coordinated a 'train the trainers' program for media literacy program Tular Nalar that has reached 1400 lecturers and 6000 teachers over the past two years, and manages a weekly radio broadcast on anti-hoax issues in Surakarta.
To people interested in joining her and becoming a volunteer fact-checker themselves, her message is simple: "Every fact checker must have commitment. Commitment to integrity, and to making a better life for others by reducing the hoaxes around us. Expertise is certainly required, but can be learned. And don't forget to share your expertise, so there will be many fact checkers in the world."
For Indonesians who want to learn more about fact-checking — and become volunteers — Mafindo will be offering many more opportunities as it celebrates its fifth anniversary. Late last year, Google.org supported Mafindo and the MAARIF Institute with an $800,000 grant, so the two organizations can reach another 26,000 lecturers, teachers and students.
As we celebrate International Fact-Checking Day this Saturday, all of us can emulate Niken by learning more about how to identify misinformation online. We've compiled a list of five tips to help anyone read the news like a fact-checker — and we look forward to supporting many more people like Niken as they tackle misinformation and protect their communities.