A new home for Google in the Philippines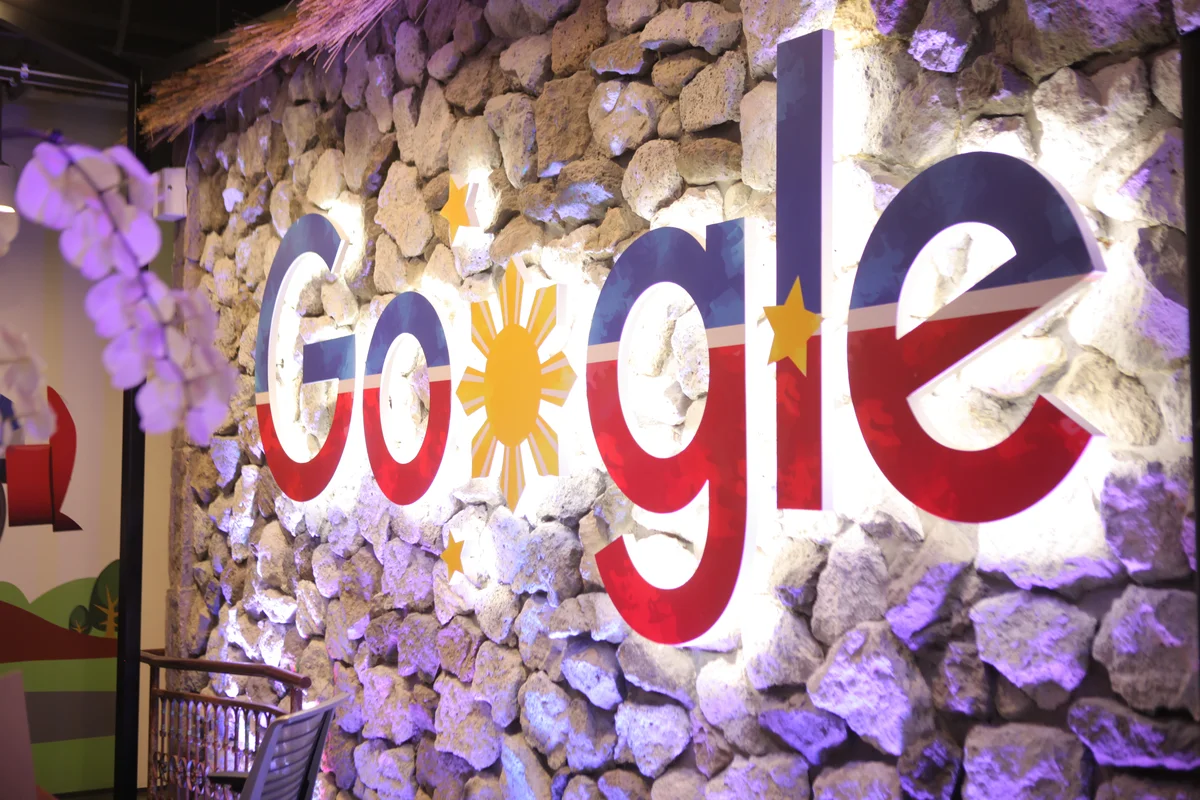 A lot has changed in the four years since we opened the doors to our first office in the Philippines: another 20 million Filipinos have come online, and with the number of smartphone users expected to hit 70 million people next year, Filipinos are consuming more online content than ever before.
Our team of Pinoy-Googlers working here has grown too, and we recently moved into a new office that's inspired by famous sites, sounds and a few stars from around the country.
The

jeepney

is quintessentially Filipino, so there's no better icon to welcome you to our office. These loud and colorful converted jeeps are the most popular way to get around the country. 

Having fun is all part of a day's work. We encourage Googlers to bond and get to know each other over a friendly game of ping pong, with stars like athlete Lydia de Vega and boxer Manny Pacquiao looking on.

Our spaces are built to encourage creativity and make collaboration easy — after all, that's how the best ideas come about. Here's one of our common areas inspired by the Tabon Caves. 
From the fiesta feeling in our cafeteria to the natural beauty of the limestone Tabon Caves, these Pinoy touches inspire us as we work on products and services that we hope will make Filipinos' lives online easier, and to showcase more of our country's culture and beauty for people around the world to explore on the Internet.
Take in a 360° view of Sabtang in the country's far north on Street View.
We recently added to the beautiful places you can visit in the Philippines on Google Street View, with nearly 200 new sites across the country from Batanes in the north, to Guimaras in the south. Check out this breathtaking 360° view of Sabtang Lighthouse.
Visit Plaza Roma in Intramuros in virtual reality on 
Google Arts & Culture
. Just select the Cardboard icon to switch to VR mode and pop your phone into a VR viewer like Google Cardboard.
Bringing more meaningful content online is just one way we're helping to unlock the Internet for Filipinos. We're also helping businesses of all sizes digitize so they can capture the opportunities of the country's Internet economy, which is expected to grow in value to US$19 billion by 2025.
In the last four years, we've also seen the growth of many more businesses that are built entirely off of the Internet, like Zipmatch, a start-up that is using 360° technology to differentiate itself in the real-estate marketplace. Zipmatch is the first Filipino participant in our Launchpad Accelerator program, which provides equity-free support to help start-ups scale into thriving companies. We hope to see many more Pinoy Internet entrepreneurs come through this program.
These are just some of the exciting ways in which Pinoys are using the Internet, and how we're working with them to make the most of it. But we want more people around the country to be able to take advantage of the opportunities that the Internet offers. With nearly two in five Filipinos still offline, we think we can play a role here. This is why we've announced that
Google.org
is supporting
DigiBayanihan
's efforts to bring basic ICT skills to 1 million Filipinos across Visayas and Mindanao. By training so-called "digibayanis" (or digital heroes), we hope to increase digital literacy in hard-to-reach places, and build a more inclusive online environment.
Department of Trade and Industry Secretary Lopez joined us at our housewarming
salu-salo
, where he gave the Cardboard tour of Intramuros a whirl. Here's what he had to say:
"With the population getting more connected and engaged every day, it is necessary for individuals, businesses, and communities to have the right skills to thrive in today's modern economy. We join Google in its commitment to promote digital inclusion, empower every Filipino online, and in effect, drive the country's economy forward."