Helping train Indonesia's next wave of mobile developers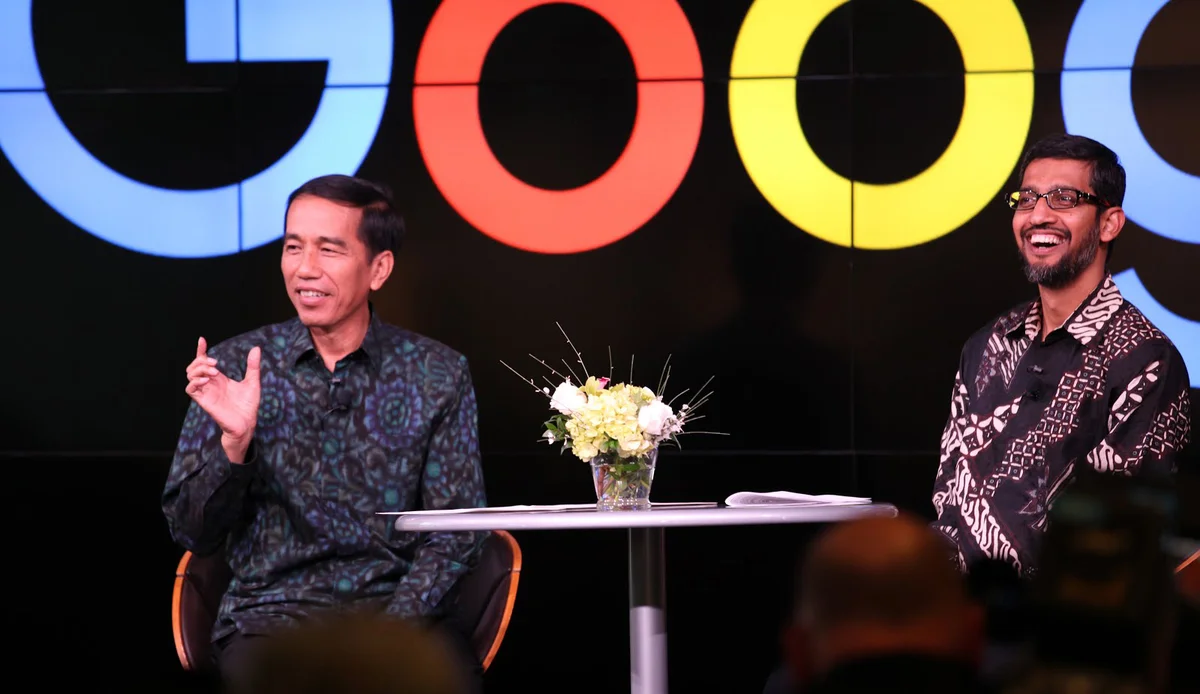 Baca turun ke bawah agar dapat melihat postingan ini dalam Bahasa Indonesia
Four years ago, husband and wife team
Andi and Idawati Taru
began developing digital story books and educational apps out of their home in
Salatiga
, around 500km east of Jakarta. They wanted to find ways to make education more fun for young families. Fast forward to today, and their company,
Educa Studio
, employs 13 people and has produced
200+ apps
that have been installed on more than 15 million phones, providing delightful education to kids around the world.
Unfortunately, stories like Andi and Idawati's are rarer than you'd expect in a country as creative and entrepreneurial and vast as Indonesia. Part of this must be because Indonesia's developer community—while growing quickly—is still one of the smallest in Southeast Asia.
That's why we were so thrilled to announce, with Indonesian President Joko Widodo visiting our headquarters in California today, a plan to help train 100,000 Indonesian mobile developers by 2020.
H.E. President Joko Widodo in a fireside conversation with Sundar Pichai, Google CEO, and IndoGooglers at Google's headquarters in Mountain View, California 
We'll accomplish this, over the next four years, by working closely with partners across Indonesia on three key efforts to reach these 100,000 developers.
First, we'll partner with universities to reach computer science students in their senior year, providing them with a semester-long curriculum on developing high-quality Android apps.
Second, we're working to translate all of our core
Udacity courses
into Bahasa Indonesia to reach anyone who's dreamed of turning their idea for an app into reality. These courses are taught by expert instructors from the Google Developer Relations team and can be taken for free from anywhere on any device. We hope that the translated content will make it easier for aspiring developers in Indonesia to get started.
And third, we'll hold Google Developers Study Jams. These are more intensive, facilitator-led study groups that also provide mentoring to all levels of developers. We'll run these groups across five cities—in Bandung, Jakarta, Semarang, Surabaya, and Yogyakarta—to reach as many people as we can.
Equipping developers with training to help them create world-class apps is just part of the equation. We're also helping them promote their apps to reach more people and giving them an additional boost to really get their businesses off the ground. Our annual
Google HackFairs
bring together developers to showcase their apps, highlighting exciting Indonesia-born innovations, while programs like
Launchpad
equip them with skills ranging from marketing to UI/UX design and how to pitch a business idea. Through our
Google Developer Groups
(GDGs), we're also providing them with a community of like-minded individuals in six Indonesian cities.
And with
Google Play
, we're providing developers with a truly global platform to turn their apps into successful businesses that reach more than 1 billion people around the world. We recently
reduced the minimum price
of paid apps, games, and in-app products on Google Play from Rp 12,000 to Rp 3,000 to enable developers to reach many more people.
Through these programs, we want to do our part to contribute to a digitized Indonesia, and a country that's home to thousands more technopreneurs like Andi Taru and Idawati.
---
Membantu melatih generasi baru pengembang aplikasi mobile Indonesia
Empat tahun lalu, pasangan suami istri 
Andi dan Idawati Taru
 mulai mengembangkan buku cerita digital dan aplikasi pendidikan dari rumah mereka di 
Salatiga
, sekitar 500 km di sebelah timur Jakarta. Mereka ingin mencari cara untuk membuat pendidikan lebih menyenangkan bagi keluarga muda. Kini perusahaan mereka, 
Educa Studio
, mempekerjakan 13 karyawan dan sudah memproduksi 
200+ aplikasi
 yang telah dipasang di lebih dari 15 juta ponsel dan menyajikan pendidikan dengan cara menarik bagi anak-anak di seluruh dunia.
Sayangnya, kisah Andi dan Idawati terbilang jarang di negara yang kreatif, berwirausaha dan luas seperti Indonesia. Sebagian alasannya adalah karena komunitas pengembang di Indonesia—meskipun tumbuh pesat—masih salah satu yang terkecil di Asia Tenggara.
Itulah mengapa, berbarengan dengan kunjungan Presiden Indonesia Joko Widodo ke kantor pusat kami di California hari ini, dengan bangga kami mengumumkan rencana untuk membantu melatih 100,000 pengembang mobile hingga tahun 2020. 
Presiden Joko Widodo dalam perbincangan hangat dengan Sundar Pichai, CEO Google, dan IndoGooglers di kantor pusat Google, Mountain View, California 

Kami akan mencapai tujuan ini selama empat tahun ke depan dengan kerja sama erat dengan mitra di seluruh Indonesia dalam tiga upaya utama untuk mencapai jumlah 100,000 pengembang.
Pertama, kami akan bermitra dengan perguruan tinggi untuk menjangkau mahasiswa ilmu komputer di tahun terakhir dan menerapkan kurikulum selama satu semester mengenai cara mengembangkan aplikasi Android berkualitas tinggi.
Kedua, kami tengah menerjemahkan semua
kursus Udacity
terpenting ke Bahasa Indonesia untuk menjangkau siapa pun yang ingin mewujudkan ide membuat aplikasi. Kursus ini diajar oleh instruktur ahli dari tim Developer Relations Google dan dapat diakses gratis dari mana saja di perangkat apa saja. Kami harap konten yang diterjemahkan ini akan mempermudah calon pengembang di Indonesia untuk mulai berkarya.
Ketiga, kami akan memperpanjang sesi komunitas studi kami yang telah sukses yang sekarang dikenal dengan nama Indonesia Android Academy. Ini adalah grup studi yang lebih intensif dan dipimpin fasilitator yang juga menyediakan bimbingan bagi pengembang pada semua tingkatan. Grup ini akan diadakan di lima kota—Bandung, Jakarta, Semarang, Surabaya, dan Yogyakarta—untuk menjangkau masyarakat seluas mungkin.
Memberi pelatihan kepada pengembang untuk membantu mereka menciptakan aplikasi kelas dunia hanya sebagian dari upaya kami. Kami juga membantu mempromosikan aplikasi mereka untuk memperluas jangkauannya dan memberi dorongan lebih agar mereka dapat meluncurkan usaha sendiri.
Google HackFair
 yang kami adakan setiap tahun mengumpulkan para pengembang untuk memamerkan aplikasi rancangan mereka, dengan sorotan khusus pada inovasi-inovasi unik karya anak negeri, sementara program seperti
Launchpad
memberi mereka keterampilan mulai dari pemasaran, merancang UI/UX hingga cara menjual ide bisnis. Melalui
Google Developer Groups
(GDG), kami juga memberi ruang bagi komunitas pengembang di enam kota di Indonesia.
Dan dengan
Google Play
, kami menyediakan platform global untuk mengubah aplikasi menjadi usaha sukses yang dapat menjangkau lebih dari 1 miliar orang di seluruh dunia. Baru-baru ini kami
menurunkan harga minimum
aplikasi, game, dan produk dalam aplikasi berbayar di Google Play dari Rp 12,000 ke Rp 3,000 agar pengembang dapat menjangkau lebih banyak orang.
Melalui program-program ini, kami ingin memberi sumbangsih dalam perubahan Indonesia menjadi negara digital, negara di mana ada ribuan lagi wirausaha teknologi seperti Andi Taru dan Idawati.