A $4 million fund for Europe's Black founders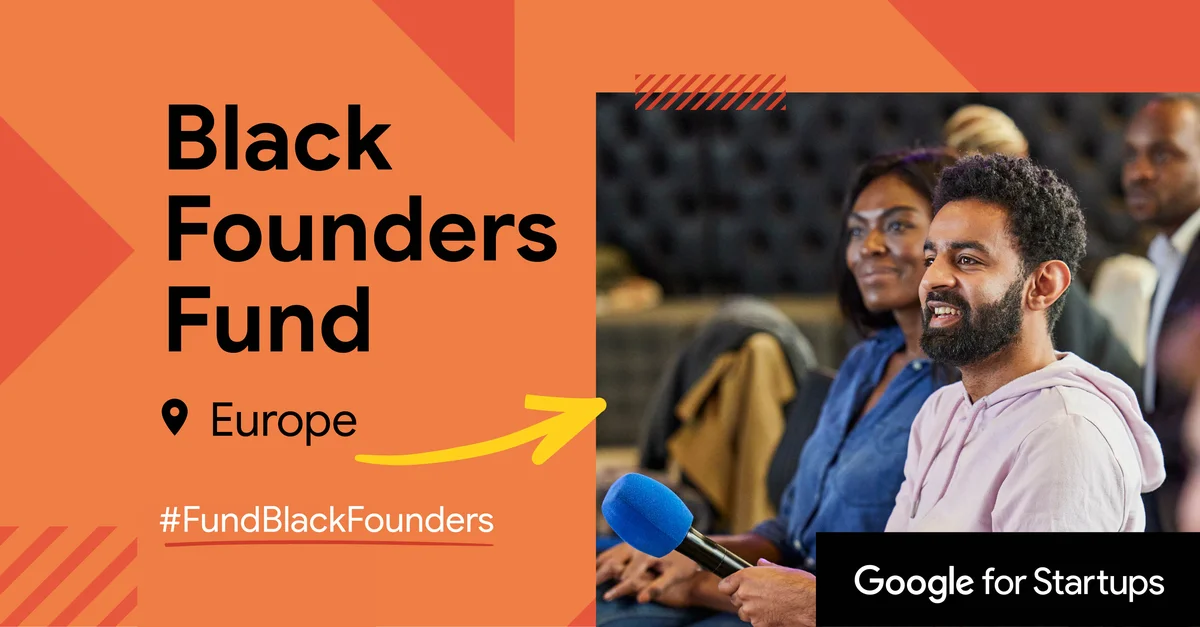 Black founders have long been playing a key role in Europe's economy by solving challenges with agility, resilience and innovative technology. But we've known for a long time that Black founders do not have the same opportunities and support as many others. Less than 0.5 percent of venture capital (VC) funding goes to Black-led startups, despite the fact that 77% of Black-led tech startups generate revenue and create an average of 5.4 jobs each.
When we opened applications for the first $2 million Google for Startups Black Founders Fund in Europe last year, we were blown away by demand. Almost 800 people applied from across Europe, and 30 startups were selected across fintech, healthcare, beauty, gaming, healthcare and commerce. These startups have gone on to raise over $63 million collectively in funding, and hired more than 100 people, since the program began. When given the right opportunities, Black founders thrive.
Since receiving capital from Google in 20201, founders have gone on to raise funding, hire new employees and grow.
That's why today, we're launching a second round of investments in the Google for Startups Black Founders Fund in Europe, a $4 million fund for Black-led tech startups in the region. With double the funding from our inaugural fund, we hope to help even more startups succeed this year.
Established in 2020, the Google for Startups Black Founders Fund provides cash awards — without giving up equity in return — and hands-on support to help Black entrepreneurs build and grow their businesses. The Black Founders Fund has awarded more than $16 million in Europe, Brazil, Africa and the U.S. toward making a resounding impact to help Black-led startups secure funding, strengthen communities and create generational change.
In addition to up to $100,000 (approximately 89,000 Euros) in non-dilutive cash awards, Black Founders Fund recipients receive ongoing Google mentorship and product support to help them navigate every stage of their startup process—including up to $200,000 (approximately 179,000 Euros) in Google Cloud credits.
Founders will also be introduced to each other and the global Google for Startups community of experts for leadership, growth and technical support. This includes partnerships with leading firms to provide specialist support ranging from marketing support from WPP; advice on raising capital from Tier 1 venture capitalists; to donated media campaigns and creative support from national broadcasters like ITV.
Last year's Black Founders Fund recipients have seen tangible growth and success in the nine months since first receiving the awards. That includes AudioMob, a UK-based startup transforming how game developers are monetizing their games, who recently raised another $14 million; Berlin-based Kwara, which digitizes financial cooperatives to give their members an easier way to manage money and build a credit history, which raised $4 million in follow-on funding; and Playbrush, a startup based in Vienna, Austria, making oral health care fun by connecting toothbrushes to phones and tablets, which was acquired by Sunstar in September. We can't wait to see what this year's cohort will achieve.
La La Land, a Startup which received funding from the first European Black Founders Fund

Bosque, a Startup which received funding from the first European Black Founders Fund

Scoodle, a Startup which received funding from the first European Black Founders Fund
Applications for the Google for Startups Black Founders Fund in Europe are open from today. Black-led startups with a live product in market and early traction are encouraged to apply. Applications will close on April 17th.
To find out more about the program, and to apply, visit this link: https://www.campus.co/europe/black-founders-fund/