Artists and entrepreneurs ignite creativity at Campus Madrid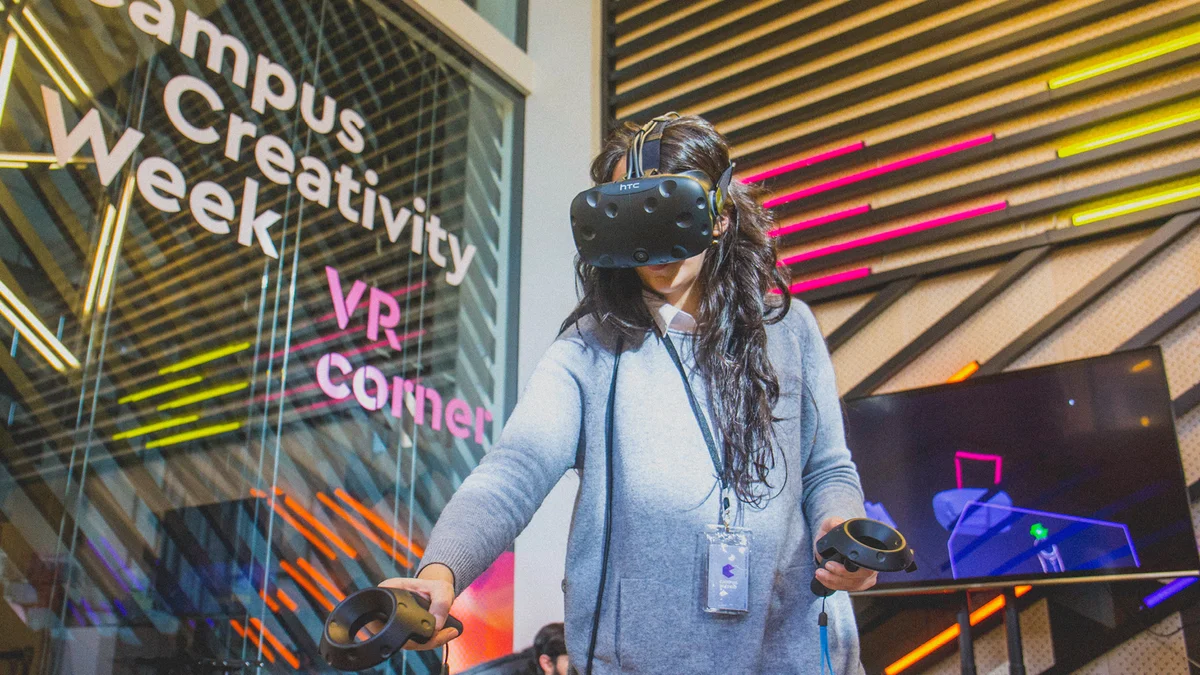 Last week, we hosted the first Campus Creativity Week at Campus Madrid, one of Google for Entrepreneurs' six spaces for entrepreneurs to learn, share ideas, and launch startups. Over 100 artists and entrepreneurs gathered from across Spain to explore how creative minds can use technology and inspire one another as they create art and build businesses.
Artists and entrepreneurs share a similar challenge—to create something new with limited resources, no instruction manual, and the power of their creative thinking. For seven days, we celebrated unique approaches to this challenge, with a a mind-bending series of artist exhibitions, creative thinking workshops, and community-inspired artwork. We're grateful to each one of the participating artists and entrepreneurs for sharing their time, expertise and talents with our Campus Madrid community. 
Artist Carla Fuentes painted a mural in the Campus Residency working area. "We need more women in the world of programming. And the world needs more women in management positions. This mural represents all the women who fight in this world."

Illustrator Celia You from Mumablue, a Campus Madrid resident startup that promotes reading among children by letting them be heroes in their own storybook. Celia's teammate Eduardo Gilsanz remarked on his first experience with Tilt Brush, "Campus Creativity Week changed my perception of the art-technology relationship, and how to apply these new advances to our startup."

Artist Maria del Prado and photographer

Juan Herrero

collaborated on a daily series titled "Crystal Startups." To represent that ideas take time to crystallize, each day they created installations of objects (inspired by Campus Residency startups) undergoing crystallization.

Valeet

, the startup represented by the red car above, is a resident company building an on-demand valet parking and car services app.

Campus Madrid members interact with a temporary installation of the Google Arts & Culture's X Degrees of Separation, which uses machine learning to find visual patterns between any two artifacts, connecting the two through a chain of artworks. For example, it could connect a 4,000 year old clay figure and Van Gogh's "Starry Night."

A

Gaudi-inspired

weekend design-thinking workshop engaged artists and entrepreneurs in small working groups and challenged them to address two prompts: "How can entrepreneurs be more creative?" and "How can artists be more entrepreneurial?"

Muralist Antonyo Marest creates artwork inspired by the ongoing talks at the Gaudi-inspired workshop.

Sculptor

Juan Garaizabal

has been commissioned to create many monuments around the world. On stage at Campus Creativity Week, he demonstrates how Tilt Brush enables him to push his artistic limits and prototype even more rapidly than with his typical steel tools.

Creative mind Eduardo Santamaria adds some flair to Campus Madrid's community stairs using artist Antonyo Marest's patterns.

Participants of the Gaudi Inspired Design Thinking Challenge in front of Campus Madrid. Artist

Guillermo Fornes

used the walls to project his video

ORIGEN

, which shows biodegradable ink flowing through a river, referencing what it's like for entrepreneurs to pour their energy into a startup idea and grow their business into something bigger.

Masaaki Hasegawa

https://www.masaakih.com/

adopted Campus Madrid's external windows as his canvas with his calligraphic script.
Since we launched Campus Madrid in 2015, we've welcomed over 38,000 members, with startups working in fields as diverse as ecommerce, education, data analytics, and health. Six Madrid-based startups participate in Campus Residency, a six-month growth program for dozens of startups across our network that offers personalized support and unique access to Google resources, experts, and global connections. Startups in the Campus community worldwide have created more than 11,000 jobs and raised more than $537 million in funding.
We hope you're as inspired as we are by all of this progress, and by our Campus Creativity Week with these talented entrepreneurs and artists.