Impact and adventure: revisiting France's Google Impact Challenge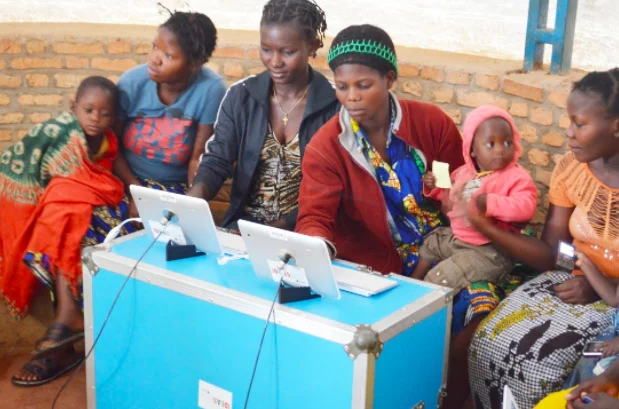 Last year Google.org launched its first French Google Impact Challenge, a national competition for nonprofit organisations that use digital technologies to scale their work in the country.
We received hundreds of ideas from non-profits across France and were blown away by the creativity, passion, and innovation we saw in the submissions. After public voting, ten French organisations stood out and were awarded at an emotional ceremony at the French Ministry of Foreign Affairs. Each received funding (500,000 euros for each of the four big winners, 200,000 euros for each finalist) and a tailor-made mentoring program, supported by Googler volunteers, with the support of the Social Factory and Invest &+.
A year later, we're looking back at the progress of ten organisations with impressive goals and even more impressive results. We wondered: have they managed to change scale? Have their projects have come to fruition? What additional impact have they had?
MakeSense: meeting with volunteers and social entrepreneurs
We were not disappointed. Each organisation reported that their projects have taken off in three key areas with Google's support: adding new staff members, benefiting from mentoring to build technical tools and building credibility to secure new funding or partners.
Progress report...
1001 Fontaines, an entrepreneur-driven network of water purification stations in rural areas to give people access to clean water, has opened 10 new water treatment plants, giving access to safe drinking water to an additional 20,000 people
Libraries Without Borders has grown from 15 to 60 employees and will deploy 70 mobile media libraries in the field before the end of the year, compared to just four one year ago. This project will give access to the Internet, books and educational resources to populations around the globe in the greatest need.

Jaccede, whose mission was to crowdsource accessibility ratings of public spaces for people with physical disabilities has designed, developed and launched a new simplified platform that lists more than 13,000 additional places.
Ticket for Change: at a training session to help people change move from ideas to action
The adventure continues...

During the exchanges we had with the associations throughout the year, we saw how important it was for them to have consistent support that allows them to grow, to consolidate their strategic plans and to continue to improve their technical tools.

With continued work ahead of them, Google.org answered the call. Each winning organisation will receive a supplementary grant of $ 50,000 and continue in the mentoring program. This allocation will allow, for example, the Banque Alimentaire du Rhône to finance an electric vehicle to collect donations and bring them to associations; For My Human Kit, it will secure an additional employee for the year to come.
The Google Impact challenges have been run elsewhere in Europe too, including in
Germany
and the
UK
. These awards recognise entrepreneurial organisations who think on an ambitious scale and have a healthy disregard for the impossible and we look forward to seeing what they do next.