Increasing Google's investment in Poland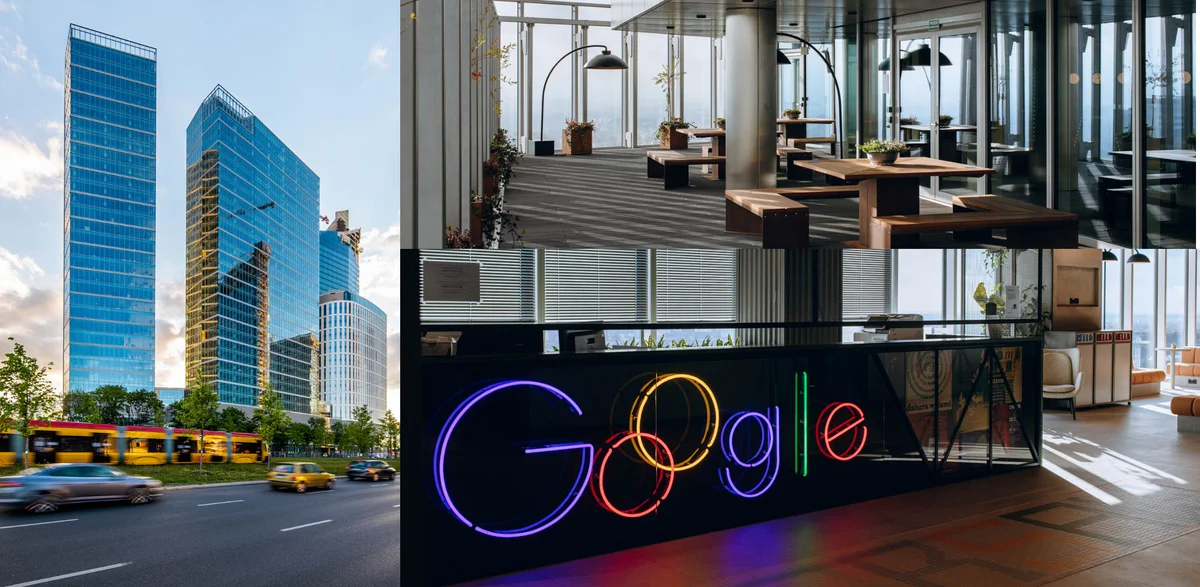 It has been over 15 years since we opened our first office in Poland. Back in those days, it had one room and could fit no more than three people. Since then, we have invested dynamically, mirroring the growing potential of the Polish economy. Now, we employ more than 1000 Googlers in the country. Only last year, we added over 350 people, opened our new office in Warsaw and launched a Google Cloud region — the first such investment not only in Poland, but in Central and Eastern Europe.
We are now making another step forward in reaffirming our commitment to Poland. We will invest nearly $700 million in the purchase and further development of The Warsaw HUB, a modern office complex right in the heart of Poland's capital city. Google had moved into The Warsaw Hub as a tenant last year, opening a new office there — a home to teams working primarily on our most advanced solutions powering Google Cloud and its many global customers. It is already our largest site working on cloud technologies in Europe. With this new investment, across our sites in Warsaw we will have capacity for 2500 employees, with potential for future growth. We hope it also signals our long-term confidence in the potential that Poland and the region have as an attractive location for top talent and place to develop cutting-edge technologies.
Our work in Poland goes beyond supporting its digital economy, and right now we are extremely focused on helping those who need it most at this time. Last week we announced that Google will provide $10 million to local organizations helping refugees from the war in Ukraine who arrive into Poland. The funding will support both immediate humanitarian efforts and assistance for refugees in the first weeks of their stay in Poland, as well as their longer-terms needs. We will also be using Google's spaces and resources to support those affected, including by using the Google for Startups Campus in Warsaw as a space where local NGOs can provide legal and psychological support to refugees. As the needs of those affected by the war change, we will be looking at other ways in which we can help.
View of the Warsaw skyline from Google's office at The Warsaw HUB
Contributing to Poland's digital growth
Over the years, we've seen first hand in Poland how technology can help people get through difficult times, but also to grow their careers and businesses for the future. As we continue to invest not only in infrastructure, but also in talent and knowledge, we are confident that Google can continue helping Poland's economy use its advantages and the power of technology to support its future economic growth. Much like the last 15 years, we will continue partnering with business, academia, public sector and the non-governmental organizations in Poland to ensure that our continued investments in the country enable society to benefit from what technology has to offer.
Investing in the future flexible workplace
We also believe that the future of work in this new, digital economy is flexibility. Whilst the majority of our Poland-based employees want to be on-site some of the time, they also want the flexibility of working from home a couple of days a week. Some of our people will want to be fully remote. Our future office spaces in Poland will have room for all of those possibilities.
Over the next few years, we will be investing in the construction of the next workspaces in our new office in The Warsaw HUB to ensure that it is best equipped to meet the needs of our new ways of working. We'll be introducing new types of collaboration spaces for in-person teamwork and inclusive meeting rooms for hybrid working as well as de-densifying the offices to improve wellbeing and providing many amenities (like outdoor terraces) to make sure that we offer the best possible work environment for the many talented people that will be joining us in Warsaw in the near future.