Louder, prouder, safer: Get ready for Pride 2022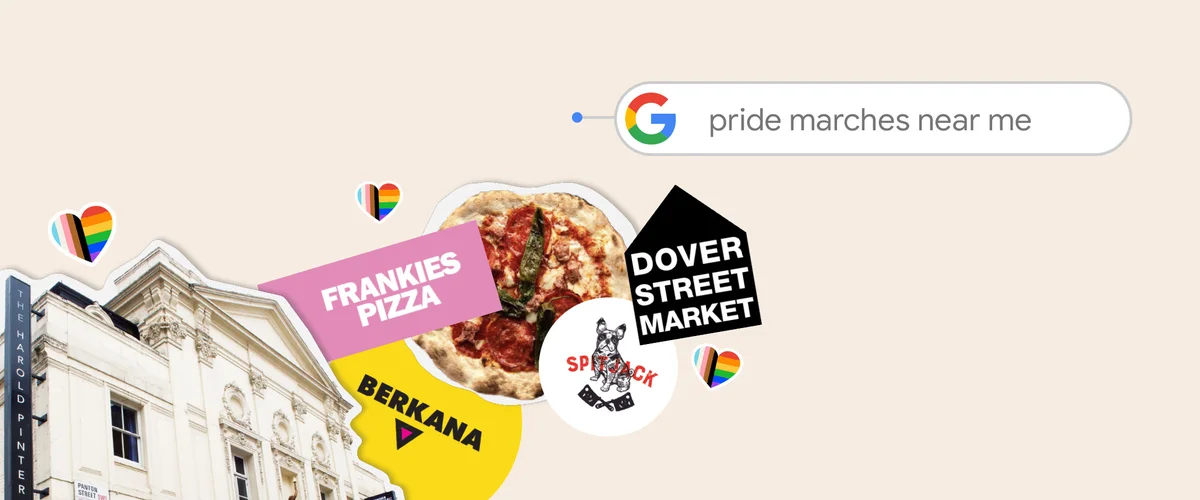 Wherever you happen to be celebrating Pride this year, the standout moments are bound to be the Pride parades. After a quiet couple of years due to the pandemic, you can be sure this year's processions will be bigger, louder and prouder than ever before.
The other good news is that because more than half a million businesses across Europe have now activated the 'LGBTQ-friendly' and 'transgender safe space' attribute on Google, it's now easier to know where you'll get a warm welcome, and feel part of the community.
Let's wander the routes of some of Europe's most popular Pride processions, and check out some of the best LGBTQ+ friendly places you can find along the way.
First stop, London
It's a massive year for London, which is preparing to celebrate 50 years since its first official U.K. Gay Pride Rally in 1972. Back then, just 2,000 people took part. This year, well over a million will attend – making it Europe's largest free music festival.
When:
Saturday, July 2, 2022
Starts/ends:
Portland Place to Whitehall
Don't miss:
LGBTQ+ friendly 🌈
18-22 Haymarket, SW1Y 4DG
This eclectic multi-story clothes emporium was founded by Comme des Garçons' Rei Kawakubo and her husband, Adrian Joffe. It's definitely worth a look.
LGBTQ+ friendly 🌈
Panton St, SW1Y 4DN
This charming Victorian theater opened in 1881, and has staged many world-famous productions over the years, including the West End debut of "The Rocky Horror Show."
Calling in at Copenhagen
Copenhagen's Gay Pride Parade has been held every year since 1996. Around 13,000 people are set to join the fun, with a further 200,000 spectators expected to line the route.
When:
Saturday, August 20, 2022
Starts/ends:
Frederiksberg City Hall to Studiestræde
Don't miss:
LGBTQ+ friendly 🌈
Vester Farimagsgade 3, 1606 København
A perfect little spot to grab brunch, hand brewed coffee, outrageously good croissants, microbrewed beers, wines and most importantly good vibes.
LGBTQ+ friendly 🌈
Allegade 2, 2000 Frederiksberg
If you're looking for delicious and affordable pizza surrounded by pink balloons and neon signs, today is your lucky day.
Touching down in Athens
Greece hosted its first official Pride celebration in 2005, and has never looked back. This year, more than 100,000 people are expected to head into the capital to enjoy the parties and famously-colorful pride parade.
When:
Saturday, June 18, 2022
Starts/ends:
Syntagma Square
Don't miss:
LGBTQ+ friendly 🌈
Skoufou 10, 105 57
Meat lovers are in for a treat at this friendly and cozy eatery in the heart of buzzing Athens. Perfect for a quick lunch or sumptuous evening meal to round off the day.
Last stop, Madrid
Madrid's Gay Pride is known as the Orgullo Gay de Madrid, or MADO for short. The Pride Parade is undoubtedly the climax of the festivities, with more than two million people enjoying the floats, live music and reading of the manifesto of freedom, inclusion and diversity.
When:
Saturday July 9, 2022
Starts/ends:
Atocha Station to Plaza de Colón
Don't miss:
LGBTQ+ friendly 🌈
Welcome to Spain's oldest LGBTQ+ bookstore. Run by a lesbian couple, it stocks a wide range of gay books, novels, essays, biographies, comics, and more. Why not learn more about its founder, Mili Hernández.
Show local businesses your support
However you're planning to celebrate Pride this year, be sure to check which shops, restaurants and other places are showing up as LGBTQ+ friendly on Google Maps and Search. Just look for the rainbow flag below their contact details and phone number. Remember to show them your support by leaving reviews, posting photos of your visit, and encouraging others from your community to drop by next time they're in town.