Investing in the UK, building for everyone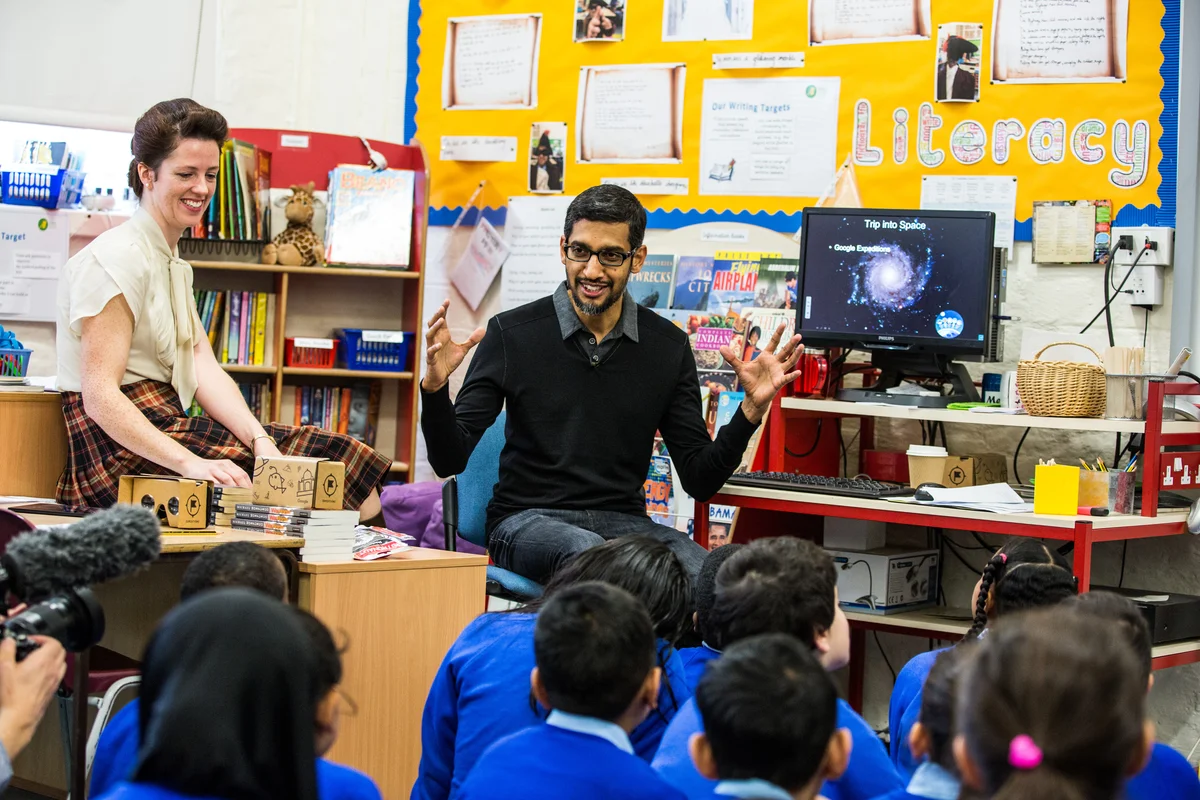 Google's CEO Sundar Pichai, gave a talk at our new campus in King's Cross, London, where he spoke about the UK's digital heritage, our investment in the country, and ensuring everyone is part of the digital economy:
Building a new London campus:
"It's great to be in the UK, a place where innovators have changed people's lives on a mass scale—from cracking the Enigma code, to inventing the world wide web. The UK is also home to institutions that improve the lives of people from every walk of life. Think about the BBC or the NHS—even the Premier League. The inclusiveness of these institutions may at times be taken for granted in the UK, but they greatly impress those of us looking in.
In the UK, it's clear to me that computer science has a great future with the talent, educational institutions and passion for innovation. That's why we're investing in London in both engineering talent and infrastructure. 2,000 people—mostly engineers—moved into our current building in October, and we're excited to continue our investment in King's Cross with a brand new building right across the street. We plan to start construction in 2018, and when complete we'll have more than a million square feet of space across three offices in the King's Cross campus—enough for more than 7,000 employees."
Announcing 5 hours digital skills training for everyone:
"We understand there's uncertainty around topics like Brexit and the pace of technological change in our times. But we know for certain that the web and digital technology will be an engine of growth for years to come. As in most countries, many people in the UK lack the digital skills to feel a part of this fast growing economy. They need to learn skills like building a web presence, driving online growth and reaching customers over mobile and video. And to provide that support, we've been investing in digital skills training programs across Britain, and already visited more than 80 towns and trained 250k people.
And I'm pleased to announce our pledge to provide five hours of digital skills training to every person and every small business in Britain. Starting in 2017, no matter where you're based, you'll be able to get free training from our online academy. And for those who prefer to do these things face to face, we'll bring our experts to more than 100 cities and towns so you can get the advice that matters to you."
Announcing Expeditions for a million school children:
"Beyond reaching people currently in the workforce, we also see an opportunity to reach students earlier in the educational process—where technology can help acclimate the next generation to new tools and enrich the educational experience itself.
Take Expeditions, our collection of virtual reality content that can be used alongside existing curriculum to deepen learning. Think of these as virtual field trips, where no school bus alone could transport students. From the Great Barrier Reef to a firsthand encounter with dinosaurs at the Natural History Museum. It's an amazing experience that electrifies the learning process. We're also bringing Expeditions at no charge to a million British children by the end of 2017. We hope this not only brings science and the natural world to life, but inspires children to think about an emerging field like Virtual Reality."

The UK is a tech leader:
"We believe the ingenuity and enterprise of the UK will ensure it remains a leading hub for discovery and opportunity. Taking a step back—just like Google in its early days, I know somewhere in the UK a couple of kids are tinkering with software and gears in a garage. While unknown to all of us, chances are, they may actually be inventing the future. By bringing the information, tools, and skills to serve them, our hope is that their ideas aren't left to chance alone, but can someday take off—and make as positive a contribution to the world as UK inventors have consistently proven is possible."