Supporting journalism in Europe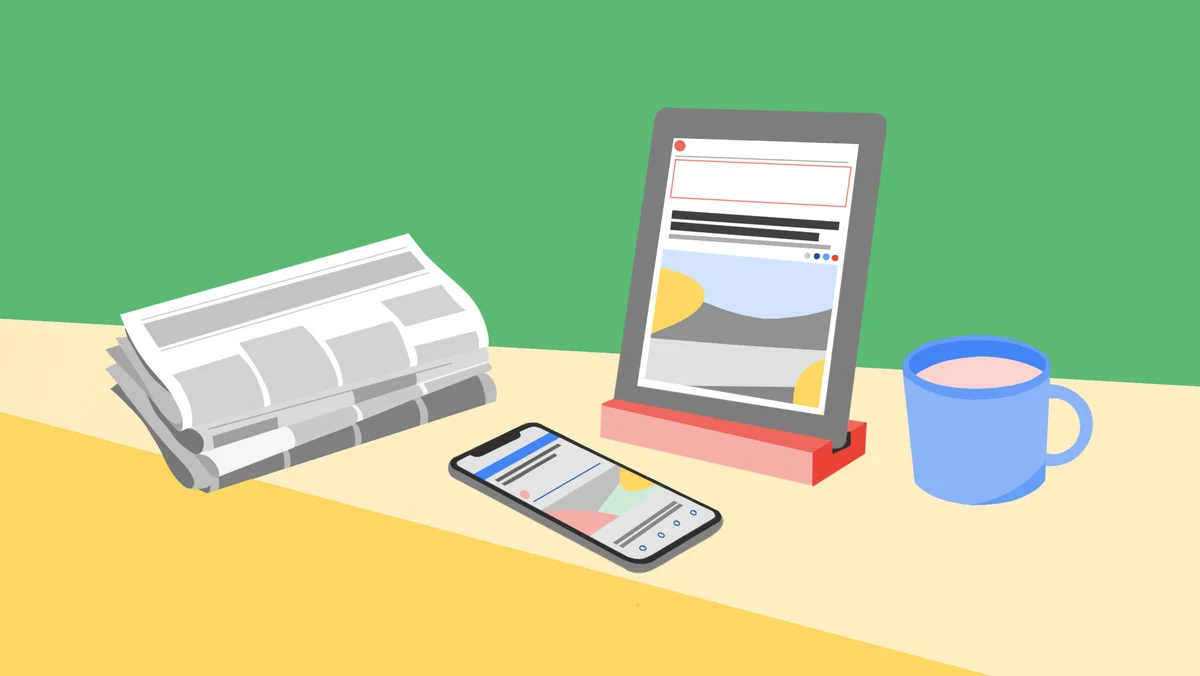 When people searched for the "Twin Towers" in the aftermath of the 9/11 attacks, access to online news was unreliable. Websites crashed as people tried to keep up with the rapidly-developing story and breaking news couldn't immediately be found. To make it easier for people to find multiple points of view about the same story, Google News was built to better display, group and sort links to news stories from publishers from around the world. Today, Google News turns 20.
The world has changed a lot in the past 20 years — now anyone with an internet connection has the same access to information as professors and PhD students. The way people learn and seek information has changed as a result. This has led to huge debate about the relationship between platforms like Google and publishers who are navigating this changing world.
With the growth of the internet changing how newspapers are funded, and how people find news, publishers have transformed their business models. Both legacy newspapers and new digital-first companies are succeeding online by turning to new ways for distribution, analytics, advertising and subscriptions. Some publishers are reporting record revenues and hiring new journalists. New types of publishers are also emerging, increasing the diversity of information online. Traditional newspaper funding from classified adverts has shifted online, mainly to so-called "pure plays" that are, or were, formerly owned by newspaper groups.
This commercial success is a result, primarily, of innovation from publishers. Google in turn has sought to partner with publishers by building products like Google News that help people better understand and find news and send valuable traffic to publishers. Each month, people click through from Google Search and Google News to publishers' websites more than 24 billion times around the world. This traffic increases publishers' readership, builds trust with readers and earns them money through advertising and subscriptions. European publishers are making millions of Euros a year from using our advertising tools.
Beyond Search and advertising, we're investing in other ways to support journalism - whether it's funding innovation, training newsrooms in digital skills or developing products like subscription tools, as part of the Google News Initiative. We are also directly paying for content from more than 750 publications in Europe through our licensing product, Google News Showcase.
Alongside these efforts, we have been negotiating with news publishers to license content under the European Copyright Directive, which EU countries are in the process of implementing into national law. So far we have agreements which cover more than 650 publications and we look forward to concluding many more.
And where there have been disputes with publishers in the past, we are making progress to find solutions. This week, after many months of complex negotiations, the French Competition Authority approved our commitments, which will govern the way our negotiations with publishers will work. In Spain, after an almost eight-year hiatus, we are bringing Google News back to Spain. This is thanks to an updated copyright law allowing Spanish media outlets – big and small – to make their own decisions about how their content can be discovered. The removal of Google News in 2014 led to a reduction in both news consumption in Spain and traffic to news sites, especially impacting smaller publishers, so we hope this will do even more to support the Spanish ecosystem.
Creating the right framework for platforms and publishers to work together is fundamental to the future success and sustainability of journalism. Without innovation, publishers will miss the opportunity to reach their readers who are using digital tools to find the information they need.
After all, access to information should not be restricted to PhD students or those in privileged positions. And that's where technology and policymakers can help journalism reach people wherever they are.