Supporting small businesses in a hybrid world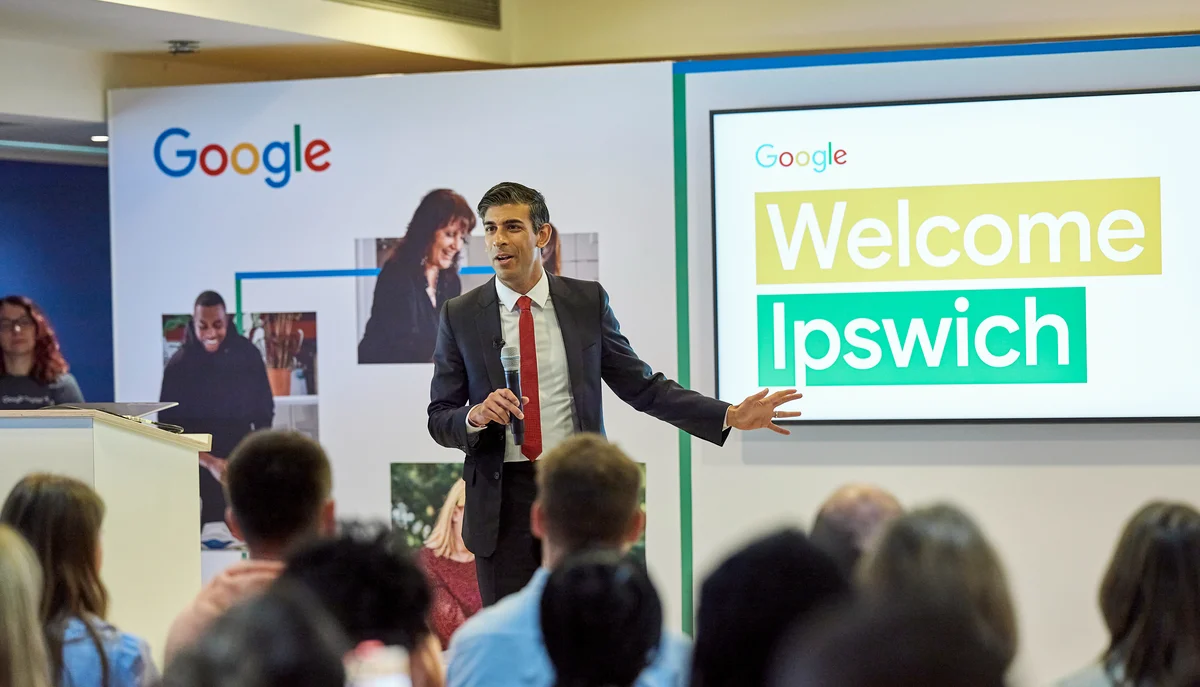 As we all moved online during the pandemic, businesses learnt how to adapt quickly to stay connected to customers and employees.
We grew accustomed to using QR codes in place of queueing, online workouts instead of visiting the gym and video calls replacing real-life conversations. It's estimated that in 2020, the use of technology leapt forward five years in about five months.
Now, as we make the switch to hybrid working and welcome the return of face-to-face experiences, businesses — including Google — are having to adapt again. New research we commissioned shows 60% of the UK's small and medium-sized enterprises (SME) owners believe they are operating in a post-pandemic "new normal," with customer and employee expectations dramatically altered.
And while there has been much focus on post-pandemic return-to-office for big businesses, 60% of SME leaders say they need more support to help adapt to the permanent changes brought about over the past two years.
Over a third (35%) of SMEs say they have changed their business radically, and 63% say that digital skills and tools are now more important than they were pre-pandemic, as they look to grow in a hybrid and more digitally mature world.
In spite of that, a majority of SME leaders find that it's harder now to recruit staff with the right digital skills. They are eager for the next phase of digital skills that will support them: almost three quarters (72%) of businesses say they would be interested in government or third party funded digital skills training, and in incentives for providing training (68%). But many of them don't know where to get help.
That's why today, with Chancellor Rishi Sunak, we're launching the next phase of our in-person digital skills training, along with new support via Google Career Certificates to help small businesses adapt to this post-pandemic 'new normal.'
Delivering in-person digital skills training nationwide
Starting today in Ipswich, Suffolk, our in-person Google Digital Garage team will be visiting towns and cities nationwide, making stops in places like Leeds, Lincolnshire, Salisbury and Glasgow, to teach small businesses and individuals digital skills that can help them maximize their potential. As well as classes on topics like 'How to write a CV', 'Digital Marketing Strategy' or 'Coding,' we're offering one-to-one mentoring with digital experts.
Small businesses are at the heart of our economy – creating jobs and prosperity across the UK. It's been fantastic to meet so many SMEs in Suffolk today and to see Google's digital workshop in action which is giving them the tools to grow.
High-impact tech skills with Google Career Certificates
We're also working alongside the Federation of Small Businesses to offer up to 500 Google Career Certificate Scholarships to SMEs, worth up to £87,000 per business, to help them grow and develop high-impact tech skills. The programmes, which are available on Coursera, offer flexible online training in high-demand areas such as project management, IT support, data analytics, UX design and digital marketing. We're proud these certificates are giving learners the opportunity to gain entry-level digital skills in competitive fields and helping businesses across the UK to fill their skills gaps.
Entrepreneur Levi Roots on stage with two small business founders at today's Google Digital Garage skills training event
When work moved from offices and studios to online, no one knew how we'd adapt to such sudden change. But adapt we did. Small businesses leaders looked for creative ways to bring their offline services online and many saw how powerful that could be. Like Zoe Chapman, founder of Kiddiwhizz, who used digital tools like online advertising and social media to supercharge growth, build brand awareness and increase profitability.
Going digital helped me to grow my new business at an incredible rate, despite launching mid-pandemic. Opportunities that may have otherwise taken years to materialise are already in the works.
Zoe added that, "Having access to a Google Digital Garage mentor was like having a hand to hold whilst learning."
The UK's growing digital economy has created opportunities for record numbers of British small businesses to thrive. We're committed to helping more businesses, and their employees, make the most of that opportunity to maximize their growth.