The tale of the Dutch bookstore, the pivot and the Golden Pin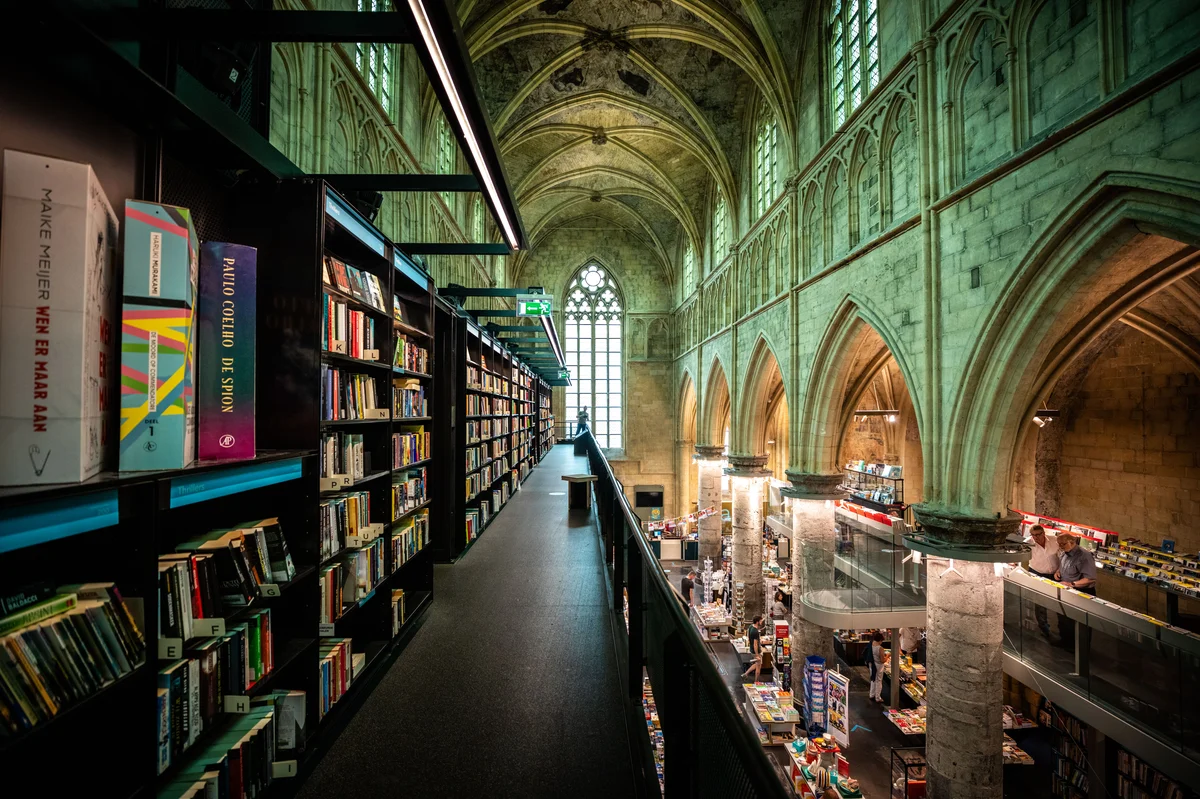 Bookstore Dominicanen can be found in a former Dominican church in the city of Maastricht, a thriving cultural hub and one of the oldest cities in The Netherlands. Before COVID, the bookstore welcomed almost one million visitors a year. They mostly relied on customers visiting in person to shop for a good read or to enjoy a coffee while admiring the store's vault paintings and the unique 14th century fresco depicting scenes from Thomas Aquinas' life. And then the pandemic hit.

The Covid-19 pandemic has had a major impact on businesses worldwide but it also sparked creativity and accelerated many businesses' use of digital tools. In The Netherlands for example, 81% of Dutch SMEs made more use of digital tools to stay in touch with their customers during the lockdown and inform them about changes in their services. 
Dominicanen was one such business to respond to the continuously changing circumstances, something that was recognised by Google with the awarding of the Golden Pin Award.
What are the Golden Pin Awards?
In summer 2021, the Google Netherlands team awarded Golden Pin Awards to twelve inspiring entrepreneurs across the country who managed to continue their services during the pandemic with creativity and the smart use of digital resources whilst receiving high user reviews on their Business Profiles on Google Maps and Search. The list of winners was diverse: from a game store to a knife sharpener, and from a fair fashion clothing shop to a brewery cafe. 
The winners all demonstrated creativity in continuing to offer their services both online and offline, ranging from pop up drive-through restaurants to online tastings and fitting sessions for women's clothing on YouTube.
Bookstore owner Ton Harmes with his Golden Pin
How did Bookstore Dominicanen pivot?
For the owner, Ton Harmes, the key was perseverance. With the store having to close during the busiest weeks of the year - right in the middle of the holiday season - they had to adapt to survive. Their staff and volunteers immediately started delivering books by foot, bicycle and car. They also set up a takeout counter (offering click and collect online) and when numbers of visitors were limited, they decided to launch a pop-up store: Do(mini)canen.
Online, they invested heavily in their visibility on Google and in their social channels to keep in touch with their customers. Prioritising keeping their Business Profile on Google Maps and Search up to date, they were always able to indicate the changes in shopping times and services. Every change was immediately visible for their customers. They also started streaming book presentations and interviews with writers live on YouTube and communicated a lot more through all social media to keep customers informed.
Ton is convinced that the internet will continue to play a role in their business operations now they have reopened. Speaking to The Keyword he said, 'We realized that with a million visitors a year, it seems like you don't really need these 'modern developments'. But when we closed it was suddenly dead quiet in the store. Then we realized how vulnerable we are if we rely solely on in-person customers and that we have to develop our digital channels faster. We now see online, even after corona, playing an increasingly important role in our contacts with customers - for both engagement and actually finding us. Our YouTube channel has received a boost and we keep reaching out to customers through our social channels. The crisis has really caused a change in our mindset.'
The Golden Pin Award has been given a special place in the store and serves as a reminder for the perseverance and pivoting that had to be done. Their ability to continue to conduct business through the worst of it is down to what Ton refers to as 'Haw Pin': Hold on.