The U.K.'s top nostalgic films: Access now on Pixel's 5G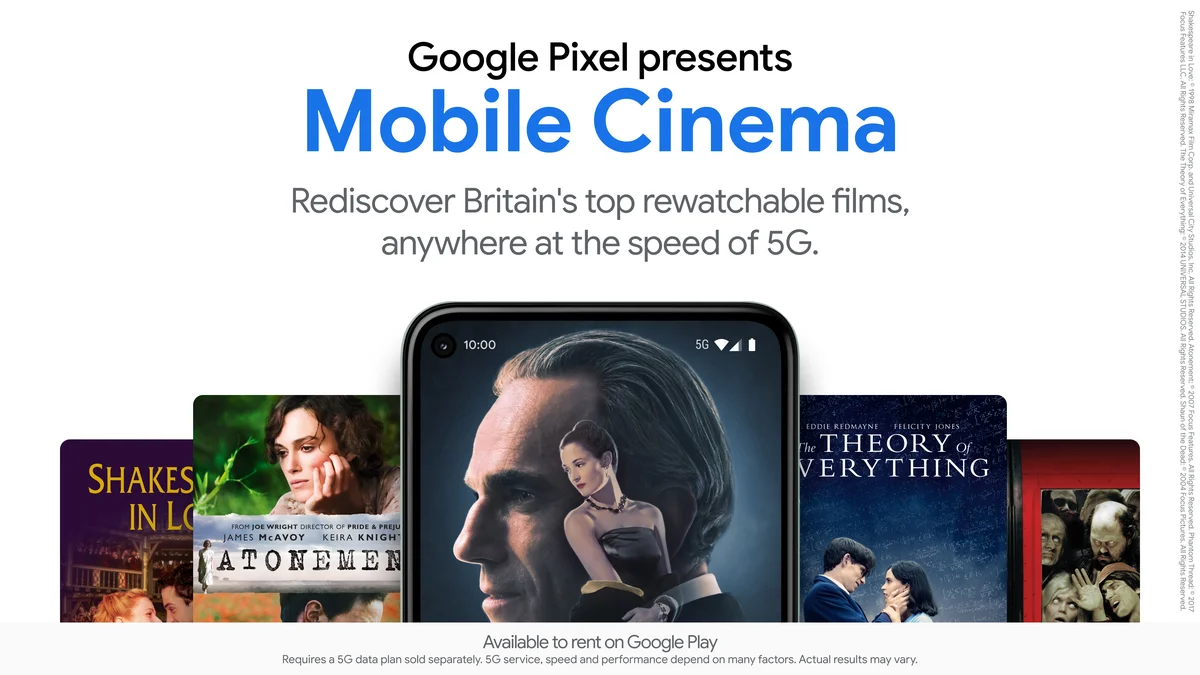 With so many countries now returning to various forms of lock down, and winter steadily drawing in, many of us are turning to our favorite films and movie moments to find some familiarity in a time of uncertainty. 
In other words, we're embracing nostalgia.
And why not? The movies we love are usually steeped in happy memories, attached to dreamy locations or feature music that temporarily transports us out of the present moment. They bring us joy and a sense of change, breaking up some of the monotony of life in lock down.
We asked Dr. Wing Yee Cheung, a Senior Lecturer in Psychology at the University of Winchester, about this, and learned that films are a great way to relive memories of happier times. "Movies are embedded with sensory memories of when we first watched them and whom we watched them with," she writes. "Sensory inputs and social interactions are two key triggers of nostalgia. Watching these can be a way to walk down memory lane and reminisce [about] the way life used to be, what we used to do, and the people surrounding us."
And because it's the season of giving, we have our own gift for you: If you're in the U.K., you can download classic films, such as "Four Weddings and a Funeral" or "Monty Python's Life of Brian," all from a unique Google Map, now until Dec. 10. Transport yourself to a world of nostalgia by searching the map for symbols that represent the films in relevant locations. If you find one, you'll receive a code to rediscover and enjoy the movie in Google Play*1. 
Anyone in the U.K. can take part, regardless of what type of phone you have—but of course if you do happen to own a new Pixel 5G-enabled device, you'll be able to start your viewing party in a matter of seconds1. Thanks to movies on-demand combined with the technology of 5G networks2, you can choose your film, download1 it and settle in on the couch, all while the popcorn is still warm. Currently, 5G2 is one of the fastest ways to download a movie on any device. Both Pixel 5 and Pixel 4a with 5G2 enable you to download a film in seconds1. Whether you're curled up on your sofa, pottering around the house, or outside on a walk, Pixel with 5G2 gives you access to the stories and characters you know and love, on the go; the speed of a 5G2 device immediately transports you to where you want to be.
So let's lean into the nostalgia. As Dr. Cheung notes, it actually helps us cope with uncertainty: "Immersing ourselves in nostalgic moments is not about hiding our heads in the past. On the contrary, it can create new memories which can feed into future nostalgic experiences."
It's a great way to spend lock down with your family: Watching much-loved classics is a natural way for parents to share their experiences with their children and to make new memories together. And even if you're physically on your own, you can use Google Duo on Pixel 5 to share your screen and watch your favorites with socially distant family and friends3. 
"An old movie that makes us feel nostalgia can inject us with a complex range of emotions," concludes Dr. Cheung. "We feel sentimental, predominantly happy, but with a tinge of longing." And that's something we can probably all relate to right now. 
*Offer begins on 25th November 25, 2020 and ends 10th December 10, 2020.  Limited number of codes available. Subject to availability. Terms Apply. See here for full terms. 
1.  Testing based on download speeds for content file sizes between 449MB and 749MB at off-peak times. Average download time was twenty seconds or less. Download speed depends upon many factors, such as file size, content provider and carrier network connection and capabilities. Testing conducted by Google on pre-production hardware in the UK in August 2020. Actual download speeds may be slower.  
2. Requires a 5G data plan (sold separately).  5G service and roaming not available on all carrier networks or in all areas and may vary by country. Contact carrier for details about current 5G network performance, compatibility, and availability. Phone connects to 5G networks but, 5G service, speed and performance depend on many factors including, but not limited to, carrier network capabilities, device configuration and capabilities, network traffic, location, signal strength and signal obstruction. Actual results may vary. Some features not available in all areas. Data rates may apply. See g.co/pixel/networkinfo for info.
3. Requires a Google Duo account. Screen sharing not available on group calls.  Requires Wi-Fi or 5G internet connection.Not available on all apps and content. Data rates may apply. 5G service, speed and performance depend on many factors including, but not limited to, carrier network capabilities, device configuration and capabilities, network traffic, location, signal strength, and signal obstruction.
*Promotional code offer is provided by Google Commerce Limited (Google) for use on Google  Play Store UK only, and subject to the following terms. Offer begins on 25th November 2020 and ends 10th December, 2020 ('Offer Period'). One (1) promotional code per user per film release, and up to a maximum of five (5) promotional codes per User during the Offer Period. Limited number of codes available. Subject to availability.
Available only to Users 18 or older with a delivery and billing address in the United Kingdom. Users must have internet access and must have or add a form of payment at checkout . Promotional codes cannot be used with Guest checkout, Users must be signed-in to their Google account to redeem the code. 
Promotional codes can be redeemed by visiting play.google.com/redeem or the Google Play Store app and entering the 16 digit code to receive a £5 or £10 discount for purchase or rental of any product on the Google Play Store UK. The discount will be applied at checkout. Promotional code must be redeemed by 31st December, 2021 or it will expire. Promotional codes may only be used once and may not be used in conjunction with any other offer or promotion. Any unused promotional balance will be applied to the associated Google account. Users may continue to use the unused promotional balance for Google Play purchases until such balance is £0, or any remaining promotional balance expires. Promotional codes are a discount off price for up to the promotional amount, are for one-time use only, cannot be transferred to other users, are not reloadable, cannot be exchanged for cash. Google and its third party partners if applicable, are not liable for lost or stolen promotional codes, or for expired promotional codes that are not redeemed within the redemption period. Terms subject to applicable laws. Void where prohibited.