Crime fiction for your commute with Pixel Fold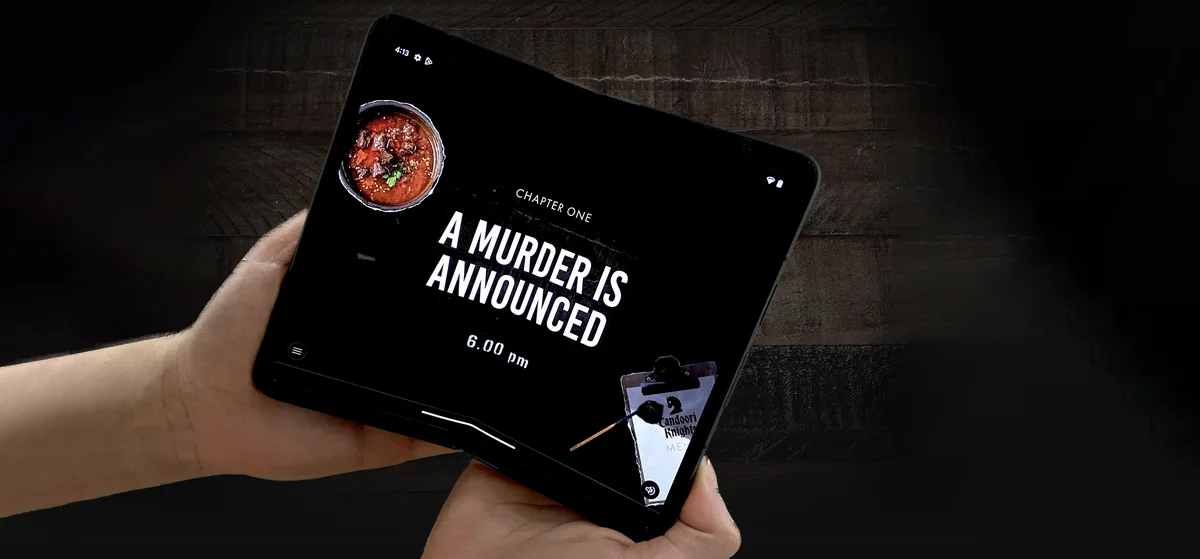 It turns out a lot of people in the UK love chewing over a good murder mystery, and with the average commute in the UK lasting 32 minutes — and lots of people turning to their smartphones to pass the time on public transit — what better time to play detective?
Which is why, ahead of the Google Pixel Fold going on-shelf in the UK at the end of the month, we have teamed up with crime fiction author Ajay Chowdhury to create a gamified murder mystery eBook designed especially for commuters. (It just takes 20 minutes to read!) Anyone can download the book for free on their device, but for those using a Pixel Fold, the experience is designed to be particularly immersive (and frightening!), helping you to escape entirely via the large unfolded screen.
"The Invitation," written exclusively for the launch of the Google Pixel Fold in the UK, is the latest installment of Chowdhury's celebrated "Kamil Rahman" crime fiction series. Free to download to any device, the interactive tale takes us to London's Brick Lane and Liverpool Street, following characters Anjoli and Kamil as they decipher clues to find a killer, gripping you right until the end while you head into the office. The story is embedded with puzzles designed to stimulate and challenge, while the eBook is also optimised especially for the Pixel Fold — Google's first foldable phone — to give readers a full-screen tablet reading experience, and to pull you right in.
New research conducted by Censuswide on behalf of Google Pixel reveals there is a surge of interest in the crime genre, with a massive 82% of people in the UK consuming this on average, and almost a third of UK commuters (30%) carving out this time to absorb crime content on their journeys to work — making the commute more fun than arduous, overall.
Interestingly, this research also reveals that over half (55%) of commuters who consume crime on their way to work believe that it enhances their confidence and problem-solving skills, and that preference rises to three quarters (74%) among high earners. Engaging in fun forensic science before presenting that proposal to your boss may just have a positive effect!
Commuters can download their free copy at the-invitation.ajaychowdhury.com.
People who download the book also have the chance to win a fresh-off-the-shelf Pixel Fold — if they can correctly count how many "folds" are in the book.