Formula E is racing into the future of data intelligence with Google Cloud AI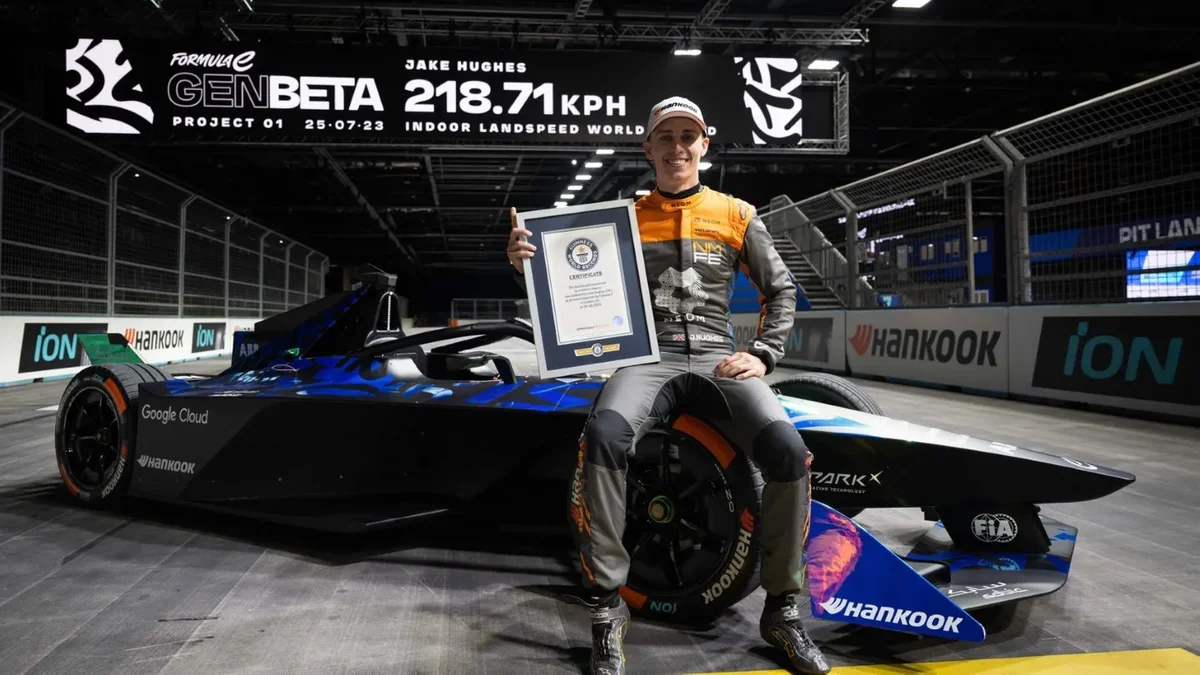 For state-of-the-art race cars, it's hard to beat Formula E. They're all electric. They can go from 0 to 100 km/h in less than 2.8 seconds. They can race indoors, where their 'unlocked' GEN3 race car, the GENBETA prototype car, hit a world record speed of more than 218 km/hr (yep, that was start to stop in less than 400m inside a London building. On a big outdoor track they are regulated to go 100 km/hr faster than that.) And now, building on the GENBETA project, Formula E drivers and Formula E racing fans might soon be able to ask the car questions, and get answers back while the action is on, using generative Artificial Intelligence.

All that, and a pretty powerful lesson about the future of business intelligence, too.
One of the great advances in gen AI is that, for the first time, humans and computers can interact in natural language processing, or NLP. Computers can also command staggering amounts of data to handle a range of questions, along the way deriving unprecedented insights or creating new kinds of content.
Formula E is hypercompetitive street racing and highly technical, so putting the cars' huge amounts of telemetry data from a large number of sensors into Google Cloud's BigQuery could allow gen AI to provide a conversational interface, along with prior race data. Midway through a race a driver in their car could engage with data — "What was the exit speed from turn 1 on lap 2?" — and have an instant answer that helps them on the spot. In parallel, a fan could also ask questions about Formula E, or prior races and even live races.
This story doesn't end there. The way Formula E traditionally looked at data was a little different from a modern business seeking all kinds of information about product performance, customer satisfaction, manufacturing efficiency, or the scores of other things currently handled by Business Intelligence systems. BI systems require a lot of training, can answer a few relatively highly restricted questions, and rely on fixed "dashboards", which would limit the information that drivers or fans would want. Now with gen AI it is possible to provide a conversational interface in the style of the needs of everyone.
The cars aren't the only fast things when it comes to gen AI in Formula E. The GENBETA world record project was executed by a small group from Google Cloud, and McKinsey QuantumBlack, the consultancy's advanced AI group, working with Formula E and their partners ABB, SABIC and Hankook, in less than two weeks. A standard BI project would barely have got past the starting line in that time.
In the first race weekend it successfully handled over 700 questions from fans who visited the stand for fans at the London Formula E event, with basic questions, and experienced aficionados looking for niche information like build changes between race car generations.
On its own, this project was a nice accomplishment, but putting gen AI in Formula E says much more about the likely future of all kinds of analysis. BI dashboards require manual analysis of a data corpus, identifying important features, followed by the manual creation and maintenance of a dashboard. If certain data, like speed data, wasn't identified, it gets ignored, even if it may be significant. Gen AI, by comparison, doesn't limit itself from the start, and can react to new data streams with new and meaningful insights.
Powered by the large language models (LLMs) and other AI services in Google Cloud's Vertex AI portfolio, the gen AI chat interface that was built for the GENBETA caters to both drivers and fans , with possible expansion at other the events. The new conversational interface would allow teams to more quickly see and analyze data on their performance, and help fans get answers to questions about everything from build changes to track conditions. It could also make the racing more exciting and engaging for fans, getting a deeper understanding of the sport.
Formula E's GENBETA partnership with Google Cloud is a shining example of how technology can be used to improve performance and make sports more exciting and engaging for fans.
Want to know more on the technical side? Here's how the Formula E system was built.