Honouring Andrew Watson's footballing legacy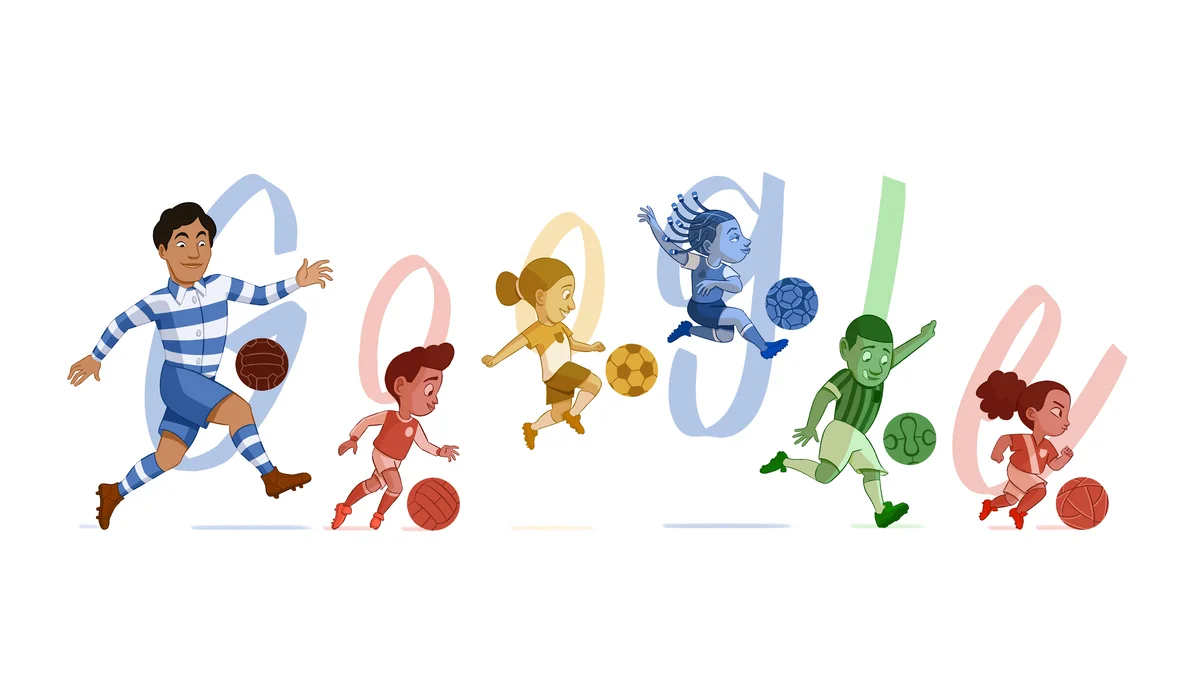 The year 2022 will be remembered as a historic one for English football. The beloved Lionesses won their first major tournament in a dramatic Euro Cup final against Germany at Wembley. After 56 years of hurt, Sunday, 31 July 2022, marked the day that football finally came home. As a lifelong Arsenal fan who grew up idolising Ian Wright, I remember feeling immense pride as I watched history being made.
The country came together to celebrate the beautiful game — but for me, as character designer and illustrator, I am fascinated by the stories behind the big moments. So for me, this was a chance to reflect on the sacrifices that players from minority groups have been forced to make in order to play the game that they love. For example, many female players have had to maintain full-time jobs whilst pursuing their football career, often a side effect of sometimes disproportionate funding for the women's game. And it wasn't that long ago that players from minority ethnic backgrounds were largely excluded from the sport.
Andrew Watson was a Scottish footballer widely believed to be the first black footballer to play in the Football League and the first player of colour to play in an English Cup match. Born in 1856 in what is now Guyana, Andrew was one of the most influential footballers of his time, captaining Scotland and leading his team to historic victories over England and Wales. Balancing his business entrepreneurship with his football career, he played for both Scotland and England, typically in the full-back position.
When I was asked to create a Doodle dedicated to Andrew's achievements, it felt like a dream come true. After reading about his incredible life, I decided to not only illustrate his career, but also the trajectory of those who have followed in his path. Coming so soon after the euphoric celebrations of the Lionesses' victory, it was important to me to capture that connection in the Doodle — to demonstrate that one person's contribution can spark a positive and lasting chain reaction. This is why I settled on the idea of incorporating other generations into the Doodle, and hence the original sketches depict Andrew himself with a football, proudly watching on as other generations follow in his footsteps.
My initial idea was to depict this chain reaction in the artwork, with Andrew proudly watching on as new generations play the beautiful game.
The second sketch captures a greater level of detail and movement.
The final Doodle introduces character into the concept, and brings Andrew's story to life.
With the finished product, I wanted to capture the beauty of football: the pace, the excitement, the vibrancy and, most importantly, the fun. Each character has their own experience with the ball, in the same way that each football player has their own unique style and strength.
I feel very proud and humbled to have been chosen to create this Doodle, and sincerely hope that people feel it captures not only Andrew's legacy, but the legacy of all who follow in his footsteps.