A milestone for King's Cross: a local innovation hub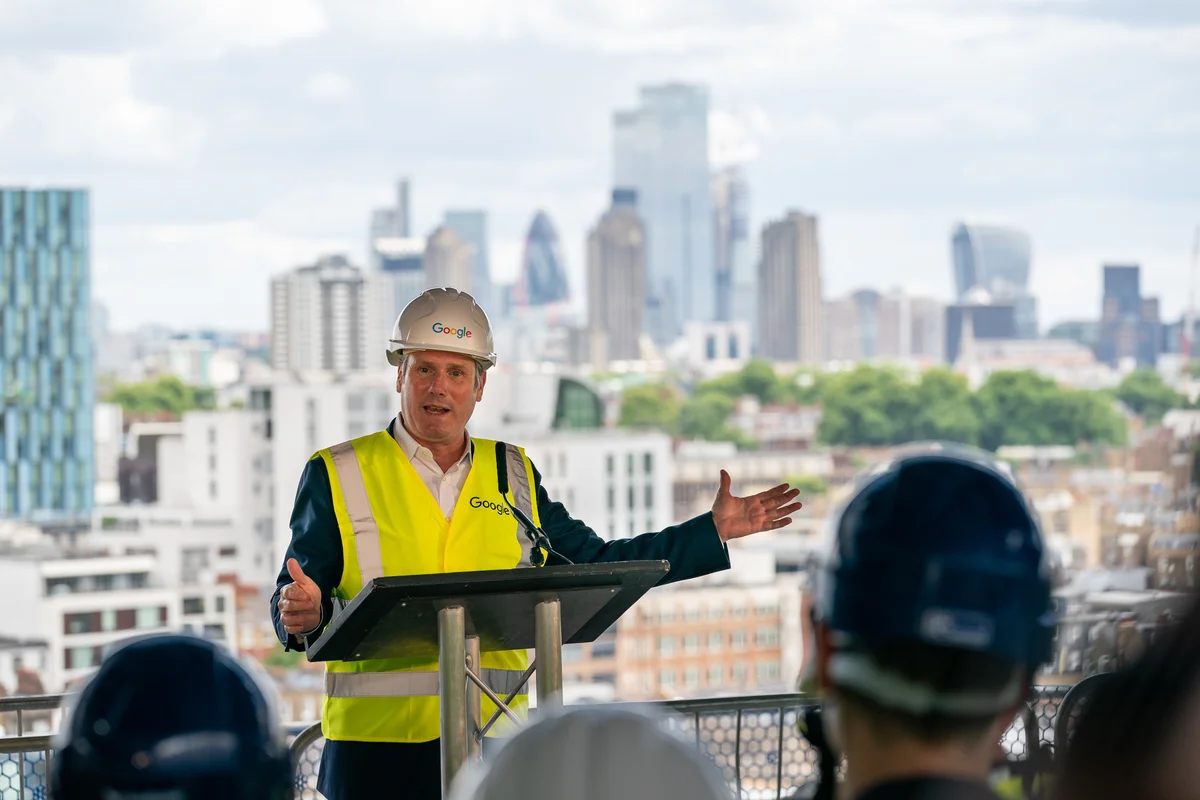 Over the last few years, King's Cross has truly transformed, becoming a thriving hub of innovation and creativity. The transformation is a sign of the UK's strengths, with its incredible local talent and strong history of leading technological and scientific progress. These strengths inspired us to invest here in King's Cross, in one of our most ambitious developments to date.
Today, together with local MP, Keir Starmer, Mayor of London Sadiq Khan, leader of Camden Council Georgia Gould, and our building partners, we celebrated a major milestone in the construction of our new King's Cross office – and in our long-standing commitment to the UK – as we placed the final beam on our new development.
Keir Starmer, Leader of the Labour Party and MP for Holborn and St Pancras said:
"It's fantastic to attend not only as the leader of the Labour Party and local MP but as a proud local resident of more than 25 years. Congratulations to Google on your magnificent new building, and for all it represents – a seizing of opportunity, harnessing of talent, the creation of good, sustainable jobs and an immense contribution to our community. You're showing what can be achieved when forward looking local government partners with the ingenuity of the private sector."
We have long believed that creativity is spurred by environments that promote connection and wellbeing. This is more important than ever as we adapt to a future of flexible, hybrid working. Our new King's Cross building will be equipped with new workplace technologies to help global and remote teams collaborate more effectively, build relationships, learn from colleagues and dream up new ways to solve complex challenges.
It will also be a place for community and connection thanks to the ground floor retail and community spaces, which are being curated with — and for — the local community. In the coming weeks, in partnership with more than 30 youth organisations in Camden, we're excited to open our doors to 500 local young people for a week of taster sessions to inspire school students and job seekers with careers in technology, as well as more than 100 local work experience students.
Innovation extends to the design of the building itself, which is playing an important role in helping us to achieve our goal of going carbon free by 2030. We're pioneering new technologies that will make our King's Cross office our most ambitious smart building to date, including a system of 13,500 interconnected devices that will work together to improve energy efficiency in real time.
While the doors of our new King's Cross development won't open until 2024, incredible work is already underway nearby. The neighbourhood is home to thousands of our engineers working on products like Android, Wear OS, Search and Google Business Profiles, which are used the world over. In fact, many of the team behind some of our newest products – to be released later this year – are based right here in King's Cross. We look forward to growing these teams and being a part of the local community's future growth and development.
Mayor of London, Sadiq Khan
Mayor of London, Sadiq Khan commented:
"London has built a reputation as a world leader in technology and innovation, so I'm delighted to see Google reaffirming its commitment to London with the first wholly owned and designed Google building outside of the United States. I was lucky enough to be present for the original ground-breaking at this site back in 2017. So, it's incredible to see the progress that's been made since then on this hugely ambitious project.
"My ambition, as Mayor, is to build a better London for everyone – one that is fairer, greener and more prosperous for all. And this magnificent building is a shining example of confidence in our city."